Frank Miller's politics are… interesting. Dark Knight Returns, a fairly libertarian volume was nevertheless heavily critical of Ronald Reagan's interventionist policies. Holy Terror was seen as Islamophobic and reactionary. He spoke out against the Occupy Wall Street protestors, suggesting they should sign up for the US Army. And he talks negatively about Donald Trump, telling us he voted for Hillary Clinton.
Basically, you never know what you are going to get. Well in tomorrow's Dark Knight Returns: The Golden Child by Rafael Grampa and Frank Miller, you get the Dark Knight Universe version of the re-election campaign for Donald Trump. As an anti-Trump march demanding No More Hate and Not Him Again, is hit by a marauding gang of counter-protestors, dressed as The Joker. Trump was previously seen in Frank Miller, Brian Azzarello and Andy Kubert's Dark Knight III: The Master Race as a talking head.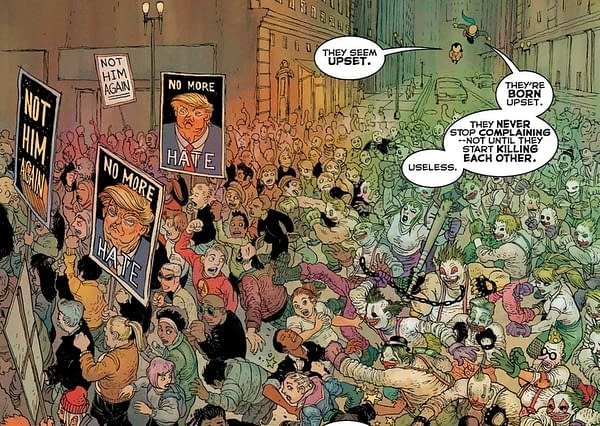 With the Dark Knight Universe versions of Supergirl and Superboy, young gods amongst men, watching and commenting on the chaos taking place. And judging it as just what elections are.

Leaving Carrie Kelly, the current Batwoman, to deal with the violence, And get her batarangs stuck in…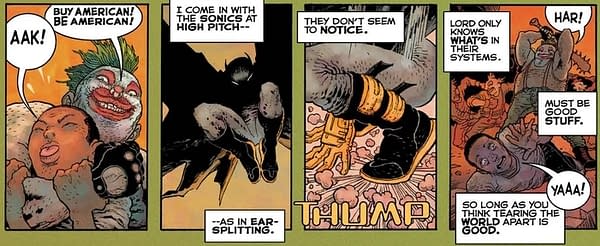 Published tomorrow from DC Comics, here's the full preview, that begins with a very spooky Golden Child,
DARK KNIGHT RETURNS THE GOLDEN CHILD #1
(W) Frank Miller (A/CA) Rafael Grampa
Frank Miller returns to the Dark Knight Universe!
It's been three years since the events of Dark Knight III: The Master Race. Lara has spent the time learning to be more human, and Carrie Kelley has been growing into her new role as Batwoman. But a terrifying evil has returned to Gotham City, and Lara and Carrie must team up to stop this growing threat-and they have a secret weapon. Young Jonathan Kent, "the golden child," has a power inside of him unlike anything the world has ever seen, and it's about to be unleashed…
Dark Knight Returns: The Golden Child is Frank Miller's triumphant return to the world of the Dark Knight and joining him is the superstar artist Rafael Grampá, the mastermind behind the groundbreaking Mesmo Delivery. Following work in advertising and film, this incredible collaboration marks Grampá's first comics work in six years, bringing his extraordinary detail and storytelling to the Dark Knight saga, resulting in a Dark Knight story like nothing you've ever seen before.In Shops: Dec 11, 2019
SRP: $5.99
Enjoyed this article? Share it!