Free On Bleeding Cool: Battlestar Galactica Vol. 3 #1 By Bunn And Sanchez
Dynamite and Humble Bundle have paired up again for a new charity bundle featuring digital Battlestar Galactica comics. The bundle features 100 issues of the BSG universe and a few Humble Bundle exclusives. There are 18 collections (83 issues), plus 17 single issues. You can check out the bundle now right here.
Part of the proceeds from the bundle goes to AbleGamers Foundation, a non-profit charity dedicated to breaking down the barriers of economic and social isolation for people with disabilities through their disabled gamers assistive technologies that allows those with limited real-world mobility to experience what it is like to walk, run, climb, drive, and even fly — in a virtual world.
To help promote the bundle, Dynamite has sent over a few — and by few, I mean five — free Battlestar Galactica digital comics to share with you, the readers.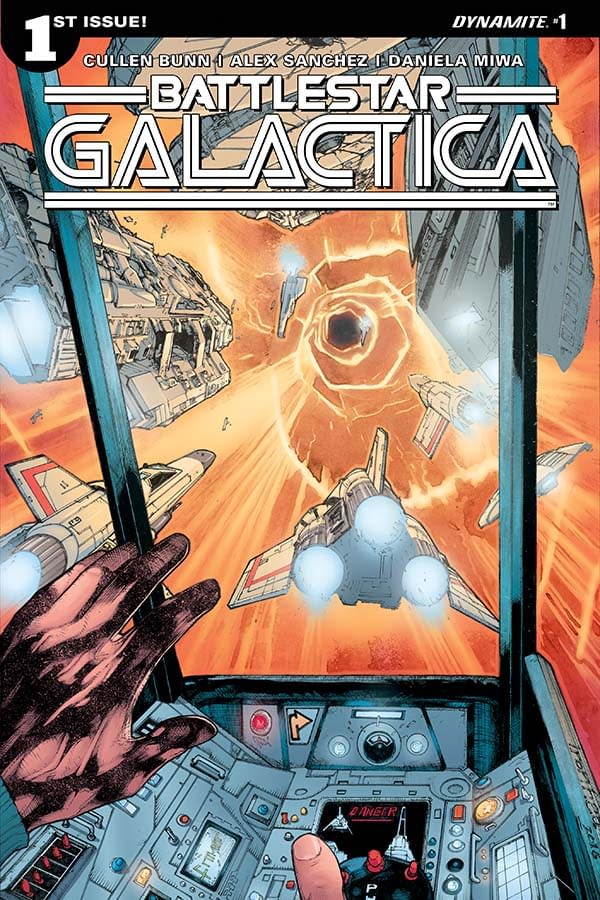 And our second free comic of the day (fourth of the weekend) is Battlestar Galactica Vol. 3 #1 by Cullen Bunn and Alex Sanchez. In this story the Galactica's search for sanctuary takes them beyond the limits of known reality and into a cosmic mystery where the hunters become the hunted, ruin and despair dot the skies, and Adama goes where friend and family can't follow. This issue has a cover by Sanchez.