Friday #1 Review: It Has Intent As It Adds Layer Upon Layer
If you took Sally Kimball, mixed her with the introspection and self-doubt of Harriet the Spy, and sent her home from college to work through all the unresolved issues of her mystery-laden childhood, you'd find someone a lot like Friday Fitzhugh. The lead here has a pack of cigarettes in her pocket, an annoyed glare, and a desire for something different. None of which is noticeable enough to penetrate the borderline obsessive-compulsive disorder of her counterpart (here, Lancelot Jones) or the almost cliched denseness of the aging lawman Sheriff Bixby, grateful for the help. Friday is part glass ceiling victim and part Debi Newberry, struggling against the awful gravity of her past.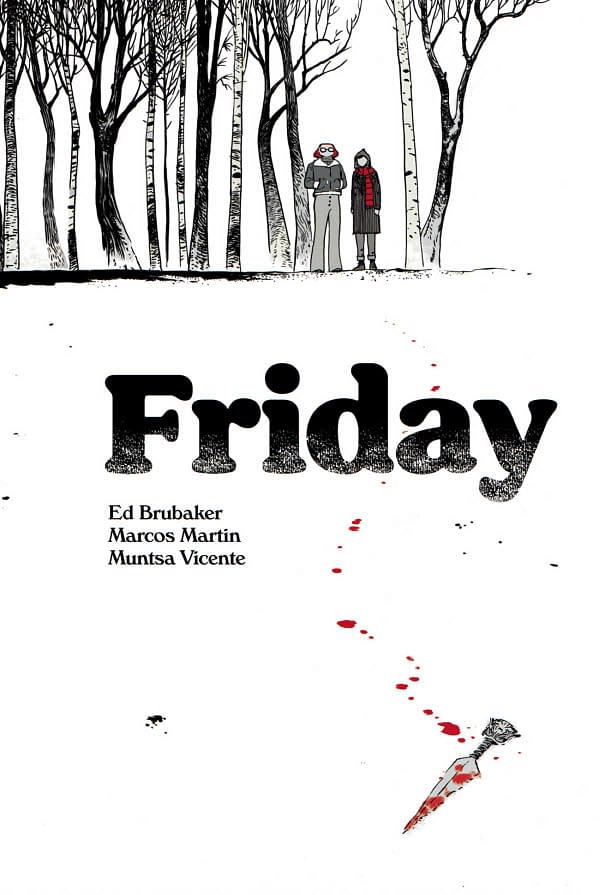 The art from Martin and Vicente might remind you of the slow boil energy of Postal in tone while using similar color tones to the horror line from Archie Comics. If you liked Stranger Things, this might pique your interest. Ed Brubaker's script is precise and sure, deliberate, and intent as it adds layer upon layer. Something happened between Lancelot and Friday before she left for college. Like Cumberbatch's Sherlock, he can't focus on anything that's not a mystery, so they never get around to discussing it.
On top of that is something seriously strange with a dagger dug up at an archaeological site. On top of that is the dynamic between these three people — the lawman, the amateur sleuth, the woman who thought she left it all behind — unchanged despite her desire to be different. These layers dance and weave themselves together in a genuinely literary fashion that's almost too slow for its own good, but just manages to make it work, updating old ideas as well as Spencer and Locke.
Our pals at Panel Syndicate say you can pay what you want for this book. This book is certainly good enough to own, and will easily reward repeat readings (the same way those dog eared Encyclopedia Brown editions did), so the mystery you'll have to solve becomes how much is that worth to you? This is clearly a work of high value and gets better the more you think about it. RATING: BUY.
Friday #1
Friday Fitzhugh spent her childhood solving crimes and digging up occult secrets with her best friend Lancelot Jones, the smartest boy in the world. But that was the past, now she's in college, starting a new life on her own. Except when Friday comes home for the holidays, she's immediately pulled back into Lance's orbit and finds that something very strange and dangerous is happening in their little New England town …