Gambit Remembers Cyclops in Next Week's Mr. and Mrs. X #5
In next week's Mr. and Mrs. X #5, Gambit is still mourning the loss of a loved one. No, we're not talking about his wife, Rogue, who was disintegrated at the end of the previous issue in a space battle between the Imperial Guard, the Starjammers, and the rebel Shi'ar forces of Deathbird. Gambit may love Rogue, but even he knows that it's only one member of the X-Men whose loss has the most effect. And that's who Gambit thinks of when battling the Imperial Guard's Pulsar…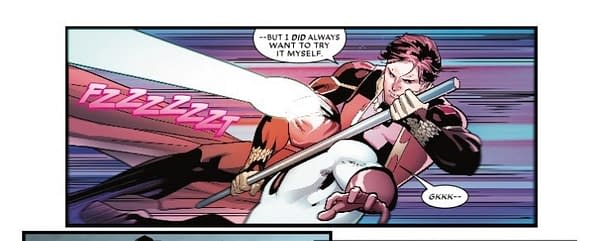 We know how you feel, Gambit. We still miss Cyclops too. Luckily, he's on his way back by February to become the center of the mutant universe once more, as it should be.
But we probably should figure out what happened to Rogue.
Mr. and Mrs. X #5 hits stores next Wednesday.
Mr. and Mrs. X #5
(W) Kelly Thompson (A) Oscar Bazaldua (CA) Terry Dodson
• Gambit and Rogue's honeymoon/mission has been crashed by the likes of Deadpool, the Imperial Guard, the Technet, Deathbird, Shi'ar rebels…
• …and now the Starjammers! Best honeymoon ever?
Rated T+
In Shops: Nov 21, 2018
SRP: $3.99