Making good on the tease posted on TheFarSide.com back in September, Gary Larson's beloved classic comic strip, The Far Side, makes its return today… kind of. The Far Side is launching a new online destination today, which will feature past strips, historical sketches and doodles from Larson, and in perhaps the most exciting part, the "periodic unveiling of new work by Larson." No word on how frequent this new work will be, but some new work from Larson is better than no new work from Larson.
Running for fifteen years from 1980-1995, The Far Side is considered amongst the elite tier of comic strips, but Larson's aversion to publishing his work online has meant that anyone wanting to experience the strip needed to purchase collected editions (or hoard old newspapers, we guess). All that changes today, so head over to TheFarSide.com to experience The Far Side in all its now-digital glory.
More info in the press release below:
Back to The Far Side® — Online — with TheFarSide.com

Kansas City, MO (December 17, 2019) — If social sharing had been measured during the fifteen year run of The Far Side®, Gary Larson's creation would rank as the "most shared" of all time. From science labs to dorm rooms, mail rooms to executive suites, The Far Side worked its way into our lives and invited us into a whole new world: brilliant, bold, and bizarre. The iconic comic panel has never been authorized to be available online. Until now. TheFarSide.com, the only official website, can be viewed here.

To the delight of legions of fans, TheFarSide.com celebrates Larson's twisted, irreverent genius as never before. The digital destination site debuts today, December 17, 2019.

An unparalleled comic masterpiece, The Far Side revolutionized conventional considerations of humor in general, and of comics in particular. Its impact and influence cannot be overestimated; the panel has been revered by fans from all walks of life and every corner of the world. At the time of Larson's retirement from daily syndication, The Far Side appeared in nearly two thousand newspapers; over the years, more than forty million books and seventy-seven million calendars have been sold, and it has been translated into more than seventeen languages.

The Far Side is without peer — no need for a reboot, remake, or sequel — just a new way to discover and enjoy. Highlights of the new site will include:

The Daily Dose, an ever-changing, random selection of cartoons from The Far Side
A weekly themed comic collection
Sketches and doodles from Larson's sketchbooks
Periodic unveiling of new work by Larson

Passionate throngs of established fans will be thrilled, but so will an entirely new generation of soon-to-be devotees. The Far Side has been a cross-generational and cross-demographic favorite since its origin, and TheFarSide.com will fuel its appeal to an even broader enthusiastic audience.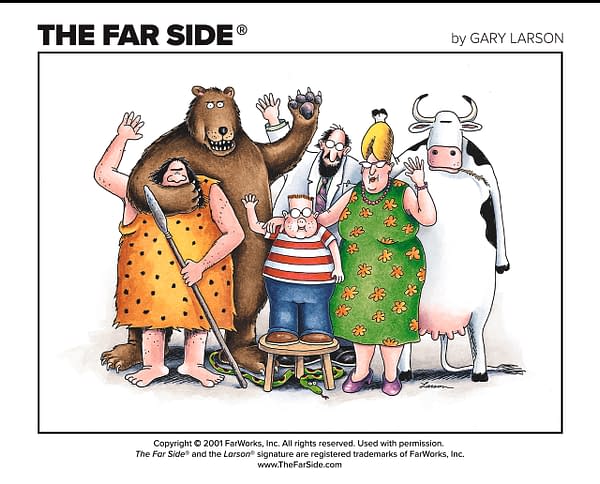 Enjoyed this article? Share it!