Gary Friedrich passed away yesterday, aged 75.
Best known for comics such as Sgt. Fury and his Howling Commandos and The Monster of Frankenstein, he also created the motorcyclist from hell Ghost Rider, which spawned movie and TV shows, and the less-merchandisable Son of Satan for Marvel Comics.
Joining Marvel Comics in the 1960s, he mostly wrote romance, westerns, war, and horror comics, which segued into superheroes as the industry changed.
Titles he wrote for included Blue Beetle, X-Men, Captain America, Captain Marvel, Daredevil, Nick Fury, Agent of S.H.I.E.L.D., and Black Widow. He also wrote most of the 1970s Captain Britain comics published in the UK.
But it will be for Ghost Rider that he is most remembered — and the lawsuit that followed.
Eleven years ago, Friedrich sued Marvel Enterprises, Sony Pictures, Columbia TriStar Motion Pictures, Relativity Media, Crystal Sky Pictures, Michael DeLuca Productions, Hasbro, and Take-Two Interactive over their use of Ghost Rider, claiming that he had created the character prior to Marvel publishing it and that his copyrights to the Ghost Rider character had been exploited and utilized in a "joint venture and conspiracy".
Four years later, Marvel and associated companies prevailed on all but one count, and they countersued, with Friedrich having to pay Marvel $17,000 in damages and ordered to stop selling his own Ghost Rider-related items or promoting himself as the creator of Ghost Rider.
Friedrich appealed, and in 2013 that decision was overturned and sent back to trial. Shortly afterwards it was declared that the matter had been settled.
Friedrich was living in Jefferson County, Missouri with his wife Jean and their daughter, Leslie. He had been suffering from Parkinson's disease.
Our thoughts go out to his friends, colleagues, and family.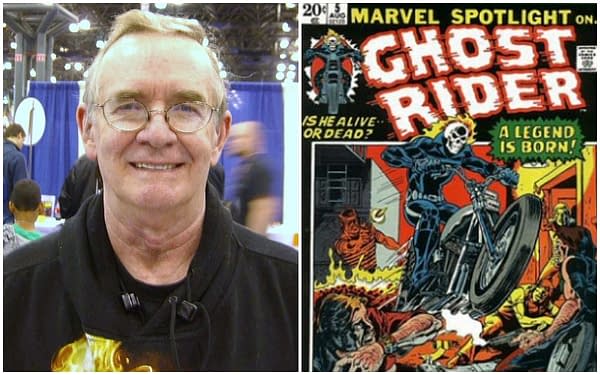 Enjoyed this article? Share it!