Grant Morrison's Birthday- Eden's End, Liam Sharp & James Gunn DCU?
It's Grant Morrison's birthday - which includes a present to us all courtesy of Liam Sharp, but might James Gunn have something to add to the mix with a DCU announcement?
---
Today is the birthday of Grant Morrison. Given James Gunn's reading matter of late, is he going to give Grant some kind of birthday present if that DCU film and TV slate is announced as many expect today? Batman & Robin? All-Star Superman? Animal Man? Arkham Asylum? Sebastian O? We3? Who knows what announcement will be timed for today that may exploit the previous work for DC by the Morrison one on the occasion of their sixty-third birthday.

But Grant Morrison may have a present for all of us as well – at least those who subscribe to their Xanaduum Substack. For that newsletter's own one-year anniversary, Grant Morrison has announced "We've been busy in the lab making a new breed of comics with our virtuoso artistic collaborator on The Green Lantern, the omni-talented Liam Sharp! Today's the day the teddy bears celebrate the 1st birthday of Xanaduum!" – a new collaboration with Liam Sharp, who they worked with recently on The Green Lantern run starring Hal Jordan, called Eden's End, asking "where did we go wrong?" and promised for 2023. Grant Morrison promises "more teaser art, plus behind the scenes and future plans later this week" from Eden's End as well as a Manifesto for their Xanaduum Presents publishing line on Substack.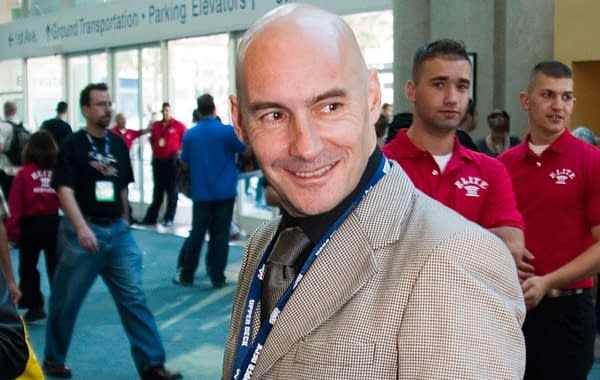 Grant Morrison, MBE is best known for writing and reinventing comic books such as Animal Man, Doom Patrol, JLA, Action Comics, Kid Eternity, The Green Lantern, Arkham Asylum, Wonder Woman, Seven Soldiers, The Multiversity, DC One Million, Final Crisis, All-Star Superman, Batman, Batman and Robin, Batman Incorporated and co-created the characters Danny The Street, Flex Mentallo, Damian Wayne, President Superman and many more, all for DC. At Marvel, Morrison wrote New X-Men, where they co-created Beak, Dust, Glob, Cassandra Nova, Nowhere Girl, Xorn, and the series Marvel Boy. For 2000AD, Morrison co-created Zenith. Morrison's creator-owned work includes We3, Seaguy, The Filth, Proctor Valley Road, The Invisibles, Happy, The Annihilator, Nameless, Klaus – which was turned into a Syfy Tv series. Morrison would also be showrunner of Brave New World for Syfy. Between 2016 and 2018, Morrison was also Editor-in-Chief of Heavy Metal magazine, and is responsible for "discovering" Peach Momoko.
Liam Sharp, is a comic book writer, artist, editor and publisher, who apprentices with Don Lawrence, before working for 2000AD on Judge Dredd and Marvel UK on Death's Head II and Bloodseed, before working in the US on X-Men, Hulk, Spider-Man, Venom, Man-Thing, Superman, Batman, Spawn: The Dark Ages, Gears Of War. co-creating The Possessed with Geoff Johns and Testament with Douglas Rushkoff. His own publishing company Mam Tor created the anthology series Event Horizon, which published my own Chase Variant comic. Sharp co-founded digital comics publisher Madefire with Ben Wolstenholme and Eugene Walden, collaborated with Grant Morrison on Green Lantern, recently published his fully creator-owned series The Star Henge through DC Comics and relaunched X-O Manowar for Valiant.