Posted in: Boom, Comics, Comixology, Digital, IDW | Tagged: Comics, digital, entertainment, graphite
---
Graphite Launches as a Netflix-Meets-Spotify-Meets-YouTube for Comics For Free – or $4.99 Per Month Ad-Free
That's the one. Graphite Comics, Inc. today announced the launch of Graphite, what they call 'the most innovative and technologically advanced digital comics distribution and consumption platform ever built'. And for headline writes like me, 'a Netflix-meets-Spotify-meets-YouTube for comics.' It is available right now for free on Apple and Android devices, where people can read the comic books for free, as well offering as an ad-free premium option for $4.99 per month. Click here for the Apple download, and here for the Android download.
Okay, so I just downloaded it.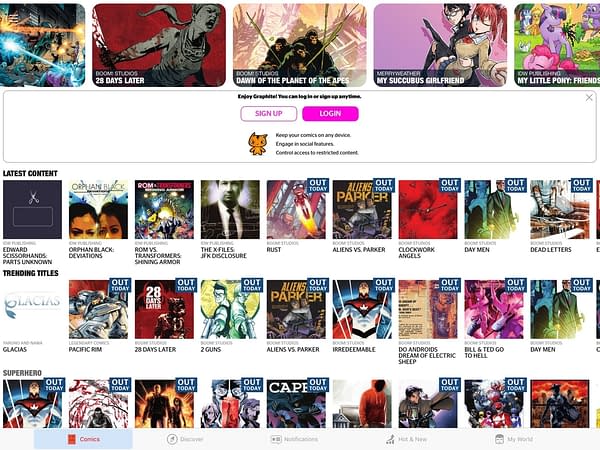 Not bad at all. They say that publishers and creators will receive 70% of all ad and subscription revenue, that there will be full transparency in providing monthly analytics and gives the ability for publishers and creators through the platform to send notifications and offers to users reading their content. More over 'Graphite simultaneously offers publishers complete and unfettered access to readership data and analytics, as well as the ability to market directly to their reader base on the platform.' How about they rename themselves Bifrost Bridge Analytica?
So we can see who has signed up so far in terms of traditional comics publishers… that's Boom Studios, IDW Entertainment, Legendary, Tokyo Pop, Aspen, Dynamite Entertainment, Papercutz, Top Cow… hang on, Markosia? That means…

Bloody hell. Well, you wouldn't want to pay for that, Nice art by Gary Frank and Mike Collins though.
Freemium to do what you want, any old time.
They state that 'Graphite Comics will set a new standard as the first-of-its kind freemium, global streaming service for comics of all formats and readers at all ages and stages of comics fandom.'
They've announced the head team – one of whom we really recognise, Tom Akel, Chief Content Officer at Graphite Comics – previously he was well known to Bleeding Cool readers as the Head Of Conent at LINE Webtoon, the Korean free comics publisher, who co-wrote a webcomic with Stan Lee.
Akel is quoted as saying "We are thrilled to reveal Graphite, the future of digital comics, to the world today. The comics industry is primed for a seamless and universal platform to provide creators and publishers with a platform to reach new audiences through next generation features and for fans to have a singular, freemium home to engage with their favorite series. Graphite is truly the first platform to embrace comics in all its forms." He joins CEO Michael Eng and CTO Rick Strom, who have an background in developing apps and experiences for big brands and have, apparently, been laying the groundwork for Graphite's technology for years.
Akel tells Bleeding Cool, 'content is still rolling out and with an app this ambitious there's a lot of tweaking to be done now that we're live. Our readers and partners can expect frequent updates.' I feel an interview coming on.
Show me the money.
They state that they have ' raised an undisclosed amount with Mucker Capital as their lead investor' and that 'Graphite is set to redefine the digital comics experience for both casual and hardcore comic fans, provide publishers with an exciting and fully transparent way to monetize and market to current and potential fans, and open an new door for emerging comic talent to showcase and have their work discovered. Moreover, it will offer advertisers a fresh new way to reach the diverse range of tens of millions of male and female comic fans globally.'
Advertising-funded digital comic books? They state ' the AI-driven platform has already attracted the attention of a wide range of traditional comic book, webtoon and manga publishers and creators who have signed on as partners, providing the platform with more than 10,000 titles at launch, with hundreds more being added monthly.'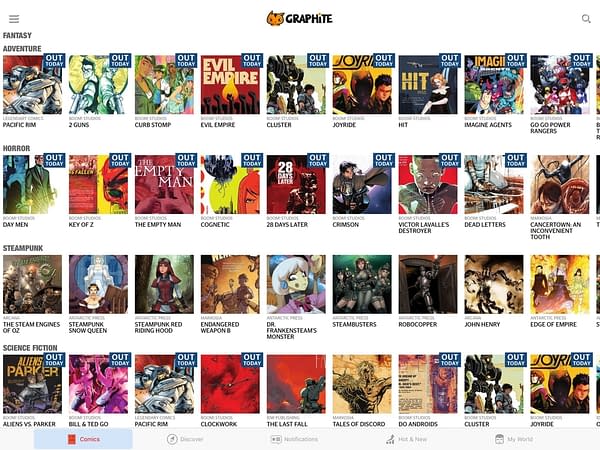 But this is what they state they are offering – and to who.
'For the consumer, it offers mass accessibility to a huge assortment of comics in a single, seamless global platform that caters to all ages, genders and comic tastes — supporting every conceivable comic format (traditional comics, vertical and horizontal animated webtoons, comic strips and manga) with robust community features and the most sophisticated, custom built AI-driven comics search and discovery engine ever created'. Not sure I want an AI-driven comics publisher/distributor of my comics. I feel I may be judged.
It is nice when people get paid.
'And for aspiring comic talent, Graphite has developed the most robust tool set available to help them create, market, get discovered and monetize their content.'
Oh and it looks as if Boom Studios are fully on board. They quote Filip Sablik, President of Publishing & Marketing of Boom as saying "Graphite is one of the most innovative digital platforms we've seen in a long, long time. It's been built from the ground up to expose and convert brand new fans of the wonderful medium of comics – whether that's in the form of comic books, graphic novels, comic strips, or webtoons – and we couldn't be more excited to be part of the lineup of launching publishing partners. Central to BOOM! Studios' mission is to help potential fans discover their favorite comic and Graphite is a perfect way to Discover Yours!" He was good to get the plug in.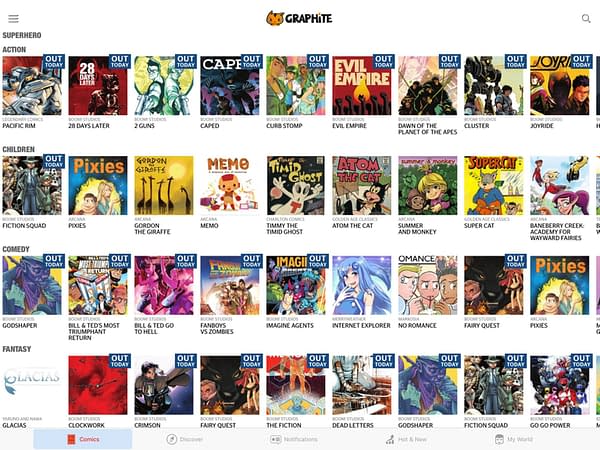 They will include the following licensed comic book brands: Power Rangers, WWE, My Little Pony, Transformers, Priest, TMNT, Sunstone, Star Trek, Goldfisch, Angry Birds, Bob's Burgers, Skylanders, James Bond, Powerpuff Girls, Godzilla, Popeye, Army of Darkness, Back to the Future, The Crow, The Boys, Bloom County, Witchblade, Garfield, Dungeons & Dragons, G.I. Joe, Gears of War, Ghostbusters, Barbie, Goosebumps, Judge Dredd, Magic the Gathering, Samurai Jack, Silent Hill, Planet of the Apes, The Smurfs, True Blood, Pacific Rim, Sherlock Holmes, The Shadow, Zorro, Adventure Time, Bill & Ted, Hellraiser, Mouse Guard, The Expanse, Cyanide & Happiness, The Dark Crystal, and more.
And these creator-owned titles will be joining at launch: Katie Cook's webcomic Gronk, The Middle Age by Steve Conley, Cooking Comically by Tyler Capps, Cyko KO by Rob Feldman, Bonnie N Collide by Monica Gallagher, Girls Have a Blog by Tara Kurtzhals and Sarah Bollinger, as well as webtoon series including Glacias by Yaruno and Nawa, Phase by Joukijo, ZomCom by EmiMG, Never Ever Done by Victoria Robado, Knights of Asherah by Anadia-chan, Love N Life by Kirinu, and Internet Explorer by Merryweather and Princess Hinghoi.
And they have these creators joining their Board of Advisors whch is always a good thing. Leeanne Krecic, creator of Let's Play, Ryan Benjamin, of Brothers Bond and Nick Seluk of Heart & Brain and Lars the Awkward Yeti. it was Ryan who designed their mascot.
Here are a few more of their boasts to add to the list:
Advanced Tech Platform – Graphite Comics will set a new standard for digital comics platforms. In addition to a custom-built AI that that works across different comic formats and brings comic search to new levels, Graphite Comics' tech advancements also include:
Web comics reader – new reader that seamlessly presents every comic format from traditional comics to vertical
webtoons.
Image quality – retina quality comics in ultra-high definition.
Compression algorithm – presents best quality comics based on connection and bandwidth
Advanced parental controls – a kids mode will provide access to just kid-friendly content, and will disable
commenting and other more adult community features.
Community Functionality – Graphite Comics incorporates the best aspects of community from other social and content platforms. This includes: profile pages, comments sections, shared reading lists, ratings, series subscriptions, and posting to social channels. (Comments sections are age-gated and can be turned off by creators if requested.)
Transparency – Graphite Comics provides publishers and creators 70% of all ad and subscription revenue; full transparency in providing monthly analytics; and the ability for publishers and creators through the platform to send notifications and offers to users reading their content.
Best Creator Toolset – UGC creators will have access to develop content using the most advanced creator toolset, from incorporating sound and gifs to other interactive experience features.
Okay so folks… download away and tell me what you think. Is this the death knell for paid digital comic books? Will Marvel, DC, Image or Dark Horse sign up? And will you switch?
---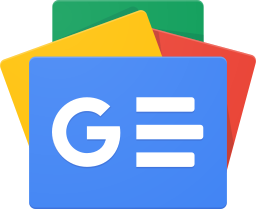 Stay up-to-date and support the site by following Bleeding Cool on Google News today!