[rwp-review-recap id="0"]
The identity of the Thin-Air Killer is revealed, and we learn how much this person has affected the history and events within the Grass Kingdom. Will the killer face the justice they deserve? Will they get away? Will the Grass Kingdom survive?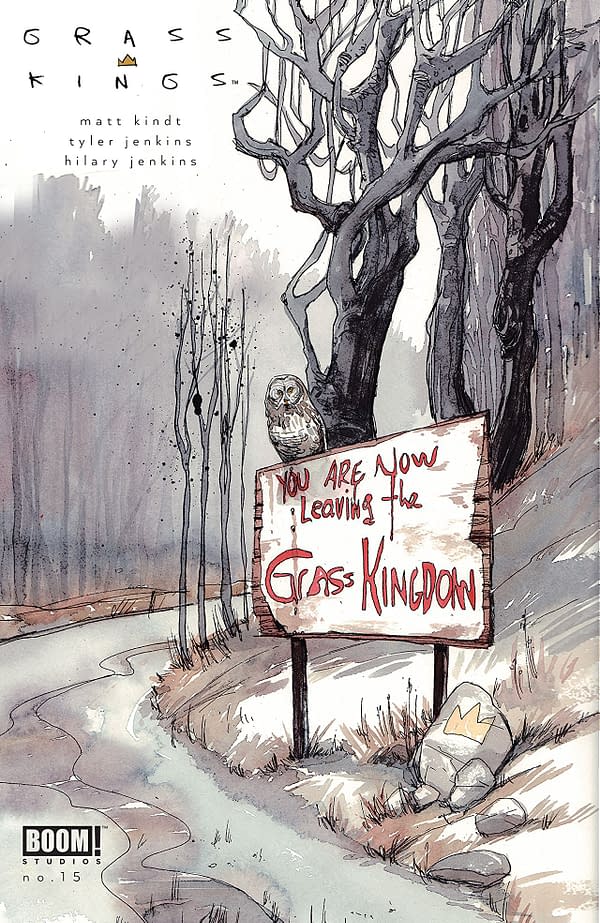 Grass Kings #15 brings an understated yet brutal conclusion to Matt Kindt, Tyler Jenkins, and Hilary Jenkins' series. Not all questions are thoroughly answered, but you are given a general idea where everything goes from here. Not everyone gets a happy ending, but they receive endings that feel real and honest.
There are moments of outright brutality that aren't for the faint of heart, and the comic goes to some dark places. The Thin-Air Killer is an interesting figure for sure, and this person's motivation, calculation, and actions are nothing short of chilling.
That's not to say this issue is all doom and gloom. There are some satisfying moments and hope for the future. Some people receive upbeat endings, and the overall story ties together very well.
This is one of those comics where it's difficult to talk about without spoiling it, which I won't do. So, just trust my word when I say this comic is great.
Tyler and Hilary Jenkins bring the visual identity of Grass Kings to life one last time for this finale. The world still looks gorgeous in its faded, gritty, and almost storybook manner. The color work is cold and at-times alienating, and the line and color art come together to create a truly unique aesthetic that fits the tone and narrative of the comic perfectly.
Grass Kings #15 is a somber, unnerving, yet ultimately satisfying ending to the Boom! Studios series. It closes off its story in a way where you can intuit where many of the characters are going to go. Some people have happy endings, some people don't, but it all feels honest. This one earns one last recommendation. Give it a read tomorrow.
[rwp-review-ratings id="0"]
[rwp-review-form id="0"]
Enjoyed this article? Share it!