Greg Nicotero Publishes Creepshow #0 With Heavy Metal Magazine for San Diego Comic-Con 2019
Creepshow fans attending this year's San Diego Comic Con got a sneak peek at the upcoming AMC/Shudder series based on the 80's films of the same name. Today, the show's executive producer, writer and director, Greg Nicotero (The Walking Dead) will be signing a limited release Creepshow comic book produced in collaboration with Heavy Metal. Writer/Editor, Tim Seeley and Artist Chris Anderson will be singing alongside Nicotero. The signing will take place at Heavy Metal's San Diego Comic Con booth #1529 right now.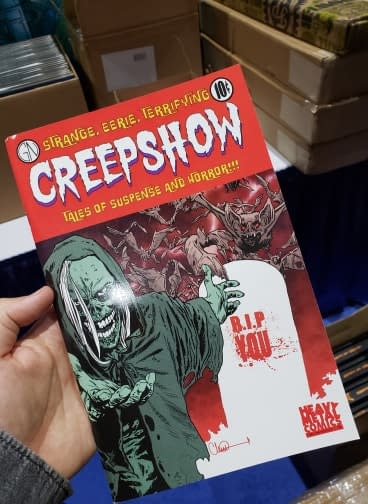 "This is really exciting for me to be putting out the very first Creepshow comic book", said Nicotero, "Having been a lifelong fan of Heavy Metal Magazine, Its dream come true to see the two come together."
The Creepshow San Diego Exclusive comic book, limited to 1,000 numbered pieces, has a cover by The Walking Dead artist, Charlie Adlard and two original stories – one by Nicotero & Jordan's Arkin and drawn by Chris Anderson and another by Byron Willinger & Philip De Blasi with art by Gideon Kendall. Artist Kelley Jones, who provided art for the upcoming series has a fun intro and exit as well.
Fans not able to attend the show can also pick up a copy online for twenty bucks…