Hal Jordan and the GL Corps #36 Review: Which One is Ric Flair?
[rwp-review-recap id="0"]
Hal Jordan, John Stewart, Guy Gardner, and Kyle Rayner have finally found the Controllers. While the Green Lanterns seem to have gotten the drop on the Controllers, the immortals were prepared for an attack from the Green Lantern Corps. Worse yet, they are accelerating their plans for the Guardians. Can these four Green Lanterns save their former leaders?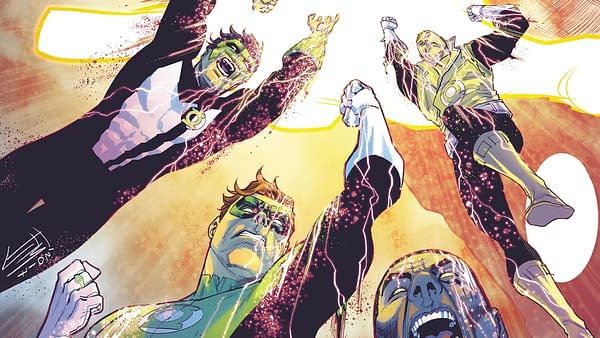 Hal Jordan and the Green Lantern Corps #36 brings an explosive finale to the "Twilight of the Guardians" arc. The "Four Horsemen" Green Lanterns unleash their full potential on the Controllers.
The Controllers' immortality and durability also allows for our heroes to fire off a number of dazzling attacks. Guy Gardner makes a Doomsday fist, Hal Jordan makes a missile pack, John Stewart makes a wrecking ball, and Kyle Rayner makes mecha-fists. Also, Guy Gardner conjures a car just to slam a Controller's head in the door. Guy gets to be pretty awesome in this comic.
Ganthet makes some dramatic decisions in this comic, and we get another look into his psyche in this issue. Robert Venditti always makes sure to leave something in each arc which will have some impact on the future issues of Hal Jordan and the Green Lantern Corps, and, in this issue, that something circulates around Ganthet.
Also, in case you were wondering, the Four Horsemen in question is the one with Ric Flair.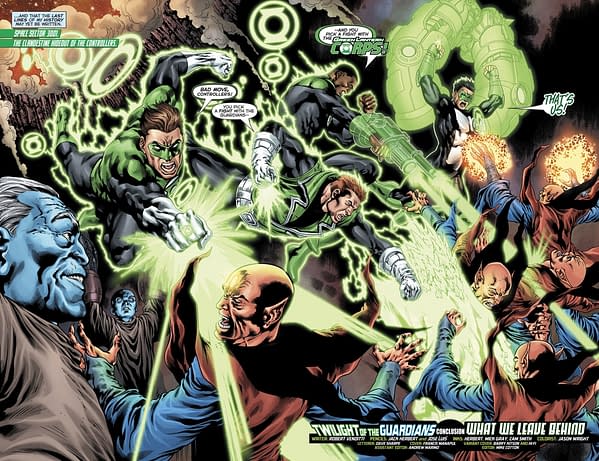 Jack Herbert and Jose Luis are able to steal the show in this issue, as high-action comics like this usually give the artist room to stretch their legs. As was already stated, the action scenes look fantastic. The Green Lanterns get to display their personality and power with their Rings, and that is thanks to Jack Herbert, Jose Luis, Mick Gray, Cam Smith, and Jason Wright. The ink work is top notch in this book, and Wright's color art is absolutely stunning.
Hal Jordan and the Green Lantern Corps #36 is an exciting and fun issue. Venditti and company continue to knock this series out the park, and it may very well be the best book out of DC's offerings. I highly recommend this issue, and you should definitely give it a read.
[rwp-review-ratings id="0"]
[rwp-review-form id="0"]