Happy Birthday Dan DiDio: Marriage, The Creators Leaving Question, And Breaking Out Of The Comic Industry's Infinite Loop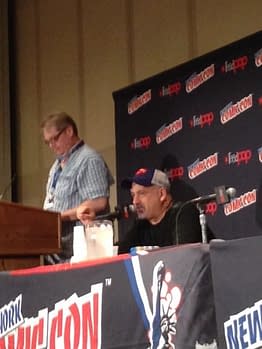 Madeline Ricchiuto reports on A Sunday Conversation with Dan Didio from the BC Liveblog:
We got to ask Didio questions. And do some whining about the New 52, but mostly questions.
The panel kicked off with the usual housekeeping and a plug for the DC Convention app and the We Can Be Heroes program.
Donate at indiegogo.
DC All Access – 10/15/2013
Also:
Today is Dan's birthday!
Q: What about the walk offs?
A: "There are always going to be creators who walk off… With social media, it's easier to get that news out… We put out 70 to 80 books a month… So there's gonna be changes… We don't only make good decisions, we make some bad ones, but every change we make is based on the book. Is it going to be better for the book? … We try to behave properly, but not everyone does. It's not done maliciously. We went through a lot of changes these last few months but I am very happy with everyone working at DC right now."
Q: all of your key moments have screwed over female characters, disabled characters, and characters of color, what do you have to say?
A: we have the most books with female leads.
Q: What about married characters?
A: "there have to be sacrifices when you become a hero… So it has to come from the personal life… That doesn't mean DC won't have married characters, but why do you want to rush to the end? We're only two years into the new continuity. Why do you want to get to the end- not that marriage is the end!
About Vertigo: "We wanted to get Neil Gaiman back to do Sandman, but he said 'I won't do sandman until I have the story' and that's a great comic book moment, when you get the call from Neil that he had Sandman."
"The industry should never be just about DC. It's not about Marvel vs DC. It's about building an industry…marvel got back into the game. We can't do half the things they do… It can't be about one company all the time. You'd burn out. So it's good."
Unsurprisingly, Dan is a huge comic fan. "I have 100 long boxes in my basement – pre-DC."
"Before the New 52, the reason DC had a reboot every few years, because Superman, Batman, and Wonder Woman can't change… So we had to keep rebooting the world around them. So we have to start over… The real reason for the New 52 is this: we were in a meeting and no one at Marvel or DC has made a book that sold a million copies in the last six months… So we raise the prices, and when we raise the prices we sell less books, so you get into an infinite loop."
"So we're sitting in a retailers meeting and we say 'see you next year' and one of the retailers says 'I hope we're still in business in a year.' So we knew we had to do something big."
"But I need these new kids to buy these new books, I need to sell to them. So we needed to restart the line…some of it worked, some of it didn't, but that didn't change"
Dan Didio "I was never comfortable working with artists. They work different than writers… The next morning they said "it was so great working with you guys"- they didn't say a word to each other!"
Mark Chiarella is the man behind all the best art. The Wednesday Comics, the Batman black and whites, etc… He does the art things since Didio is baffled by artists and their process.
"Garcia Lopez is the quintessential DC artist. In the best way."
"I wasn't a huge fan of Grant [Morrison]'s work. I didn't like the way he did Superman [in Justice League]… He is a huge fanboy at heart… [on Batman RIP] Everything that you see, up to the moment Damian dies, was in [his] pitch." Basically, Grant Morrison has managed to shape the entirety of the DCU for the last decade. Which we all knew, but still, damn.
"One of the secrets we do, to work on a cohesive universe, every three months we'd have a defining moment. And multiple titles tie into that."
"52 was an interesting one. We had a missing year and we decided "wouldn't that be fun if we did a story about the missing year?" And we realized that we had no story, but we did have four great writers… And all of a sudden we have story… Sometimes you gotta let the story take its course."
"52 is the book everyone wanted to fail." – some of the covers were drawn before the issues were written, so they pulled covers into the stories. Used as inspiration. Which is all kinds of madness.
Batman: Hush was the driving force of getting Infinite Crisis together, gave DC the momentum to really bring the major event together.
Blue Beetle was a way to show that "not every hero can do everything, Blue Beetle can't do it, but he'll still try." And, along with Identity Crisis, was very successful at bringing it all together.
"Crisis is a DC word"
"There wasn't anyone who took [the scene with Sue Dibney] lightly… It was done well, it wasn't exploited." – well, that's not really true, is it?
"We don't lose the fans who quit every week. We lose the quiet ones. And that's why we did the New 52. To get those guys back"
He was brought in by Paul Levitz to shake things up, "So blame him for everything I've done! It's nice to shift the blame like that."
Infinite Crisis was an attempt to builds cohesive universe, to combine voices and companies. So, the based it off of the first five years of a Marvel books, since they all started with the same voice thanks to Stan Lee.
"Infinite Crisis is the one spot I feel most proud of… We were in the trenches working so hard."
News: he consults the Phantom Stranger for all business decisions!
Everything makes so much more sense now!
Dan did not appreciate story time. "The people who sent in the photos, I know where you are and I will hunt you down"
We sang happy birthday, but don't tell Hallmark. It's totally copyright infringement.
There were baby photos and embarrassing childhood stories. Dan Didio, International Man of Mystery is a comic I would read.