Pete Townshend Turns Unmade Album, Lifehouse Into a Graphic Novel With Heavy Metal
Back in 1971, prog(ish)-rock band The Who were planning a rock opera movie with Universal Studios called Lifehouse as a follow-up to Tommy.
It never happened. Abandoned as a rock opera in favour of the album Who's Next, its songs would appear on various albums and singles by the Who, as well as Pete Townshend's solo albums, including Behind Blue Eyes, Won't Get Fooled Again, and Baba O'Riley.
Fifty years later, it is fully coming to fruition as a graphic novel with Heavy Metal Magazine. And may even get back on the screen as a result.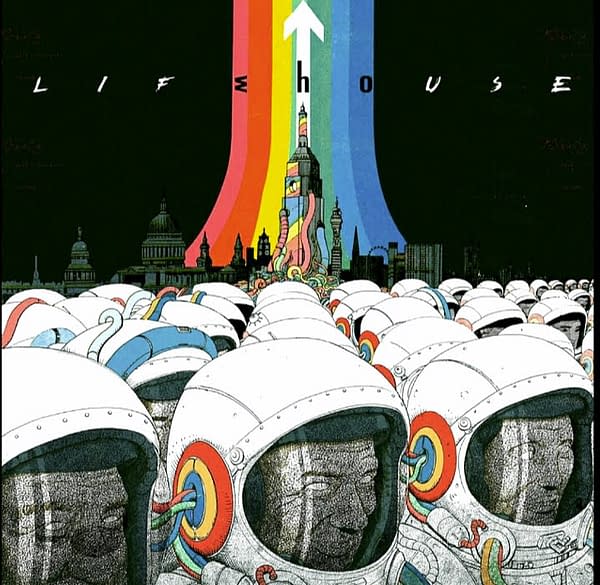 Lifehouse will be published in July 2020, as a 150-page graphic novel based on Pete Townshend's screenplay and music, written and drawn by Little Nemo's James Harvey, set in a dystopian world that relates to today's themes of politics, global warming, and technological reliance.
In liner notes at the time, Townshend described it,
"a fantasy set at a time when rock 'n' roll didn't exist. The world was completely collapsing and the only experience that anybody ever had was through test tubes. In a way they lived as if they were in television programmes. Everything was programmed. The enemies were people who gave us entertainment intravenously, and the heroes were savages who'd kept rock 'n' roll as a primitive force and had gone to live with it in the woods. The story was about these two sides coming together and having a brief battle."

"Under those circumstances, a very old guru figure emerges and says 'I remember rock music. It was absolutely amazing—it really did something to people.' He spoke of a kind of nirvana people reached through listening to this type of music. The old man decides that he's going to try to set it up so that the effect can be experienced eternally. Everybody would be snapped out of their programmed environment through this rock and roll-induced liberated selflessness. The Lifehouse was where the music was played, and where the young people would collect to discover rock music as a powerful catalyst — a religion as it were."
Which does sound a bit like Ben Elton's Queen: We Will Rock You doesn't it?
He said that "then I began to feel 'Well, why just simulate it? Why not try and make it happen?'"
Lifehouse's story was inspired by Pete Townshend's experiences on the Tommy tour, saying at the time, "I've seen moments in Who gigs where the vibrations were becoming so pure that I thought the whole world was just going to stop, the whole thing was just becoming so unified."
He believed that the vibrations could become so pure that the audience would "dance themselves into oblivion". Their souls would leave their bodies and they would be in a type of heaven; a permanent state of ecstasy. And that the only reason this did not happen at Who gigs was because there was a knowledge in the listener's mind that the show would end and everyone would wake up and go to work the next morning.
Lifehouse was intended to be a piece of music that could be adapted to reflect the personalities of the audience. To do this, Townshend wanted to adapt his newly acquired hardware, VCS3 and ARP synthesisers and a quadraphonic PA, to create a machine capable of generating and combining personal music themes written from computerised biographical data. Ultimately, these thematic components would merge to form a "universal chord". To help this process, the Who would encourage individuals to emerge from the audience and find a role in the music.
The plan was for the Who to take over the Young Vic theatre with a regular audience, develop the new material on stage and allow the communal activity to influence the songs and performances. When the concerts became strong enough, they would be filmed along with other peripheral activity from the theatre. A storyline would evolve alongside the music. Although the finished film was to have many fictitious and scripted elements, the concert footage was to be authentic and would provide the driving force for the whole production.
And so Townshend worked out a complex scenario whereby a personal profile of each concert-goer would be compiled, from the individual's astrological chart to his hobbies, even physical appearance. All the characteristics would then be fed into a computer at the same moment, leading to one musical note culminating in mass nirvana that Townshend dubbed 'a kind of celestial cacophony.'
This philosophy was based on the writings of Inayat Khan, a Sufi master musician who espoused the theory that matter produces heat, light, and sound in the form of unique vibrations. Taking the idea one step further, making music, which was composed of vibrations, was the pervading force of all life. Elevating its purpose to the highest level, music represented the path to restoration, the search for the one perfect universal note, which once sounded would bring harmony to the entire world.
And in reality?
Well, the theatre itself wasn't available on a regular nightly schedule that Townshend insisted was necessary for the band to sustain a "euphoric level" of performance. No one else in the band seemed to understand what he as going on about. And his inability to translate the ideas in his head to those around him eventually led to a nervous breakdown. Townshend said that "The fatal flaw…was getting obsessed with trying to make a fantasy a reality rather than letting the film speak for itself."
The film was indefinitely postponed until the album had been issued. Which never happened.
In 1978, aspects of the Lifehouse project were revisited by The Who on Who Are You. In 2000, Townshend revived the Lifehouse concept with his set Lifehouse Chronicles and the sampler Lifehouse Elements and in 2007, he released online software called The Lifehouse Method in which any "sitter" could create a musical "portrait".
Townshend also revisited the concept, in modified form, in his radio play and recording Psychoderelict, which incorporated outtakes from the Lifehouse/Who's Next sessions and demos. In the plot of Psychoderelict, a reclusive rock star named Ray High is lured out of retirement by a fan-letter hoax between his manager and a gossip columnist, ultimately staging and broadcasting a virtual reality concert similar to the Lifehouse climax. He continued discussion of these themes in his later opus The Boy Who Heard Music.
Townshend told Variety that "A graphic novel based on my very first 1970 concept for The Who's abandoned Lifehouse project is perhaps the most exciting creative development in my long career. Lifehouse always had a strong and important visual story that was never even touched on" while
Artist for the comic, James Harvey, says "Lifehouse is the last great artifact of the counterculture of the mid-20th century. I'm taking my duty as custodian, curator and shepherd of this unique project with the seriousness and the sense of joy it requires. Going over the treasure trove of notes, scripts and unheard music, it's clear that Pete's vision was 50 years ahead of its time. A story for our generation and the generations beyond as much as it was a story for his."
Heavy Metal CEO Jeff Krelitz looked to the art, saying "Harvey's storytelling, an infusion of graphic design, mod and Japanese styles, exactly fit what we were looking for". Heavy Metal has been putting out an increased number of music-based comics of late. including for Iron Maiden and Megadeth. We can expect more.
While Townshend it seems had his own comic book plans. "If I had completed my art studies, instead of staying with The Who, I might have made my own graphic novels. I am excited then, with huge anticipation, that at last Lifehouse can be realized visually, and as a story –- part science fiction, part spiritual allegory."
The book will be edited by Bleeding Cool's former EIC Hannah Means-Shannon, and Tim Seeley.