In the world of Watchmen – and its unauthorised sequels – America won the war in Vietnam, courtesy of Dr Manhattan at the behest of President Richard Nixon. So much so, that Vietnam became a full member of the United States Of America, the 51st state – and its citizens could vote in American elections. So, in the fourth consecutive Presidential campaign from Robert Redford, this week's Rorschach #4 by Tom King and Jorge Fornes revealed that it was Vietnam electoral college votes that put him over the top.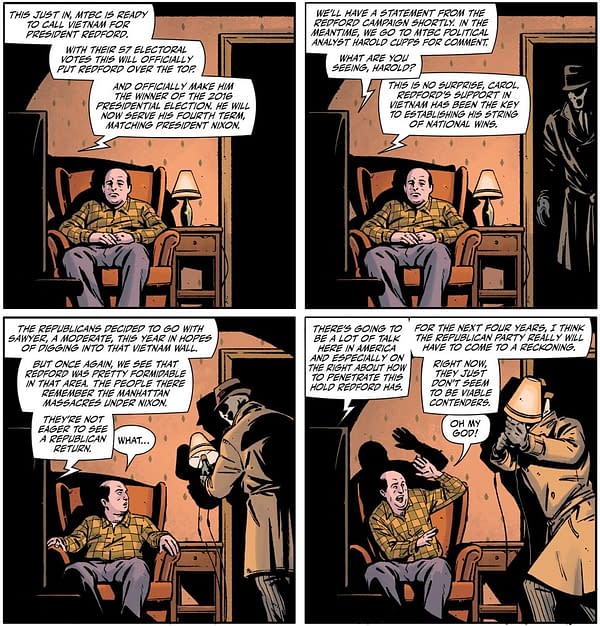 Apparently, they have 57 electoral college votes, which is two more than California. And apparently, gaining Vietnam's vote is essential to winning the election, and it is seen as a potential swing state by Republicans. But Nixon – and the Republicans – are associated with the psychic squid landing on Manhattan and the many deaths it brought with it – The Manhattan Massacres. And that after four victories by Redford, the Republicans are at a loss. Say, I wonder if there's this reality TV star looking for a political campaign to boost his media profile in this reality?
And you know whoever it is, he'll just blame Fox News for calling Vietnam early when Redford wins a fifth term, right?
RORSCHACH #4 (OF 12) CVR A JORGE FORNES (MR)
(W) Tom King (A/CA) Jorge Fornes
At last, it's time for Laura's story. The detective following Rorschach's trail turns his eyes toward the vigilante's female companion. Who is behind that domino mask, and what led her to team up with an old comic book creator to try to assassinate a controversial presidential candidate? These are the threads the detective must unravel—and they lead him to a circus sideshow and the strong man she once convinced to kill for her. Retail: $4.99 Initial Due Date: 11/27/2020 FOC Date: 12/06/2020 In-Store Date: 01/19/2021
Enjoyed this article? Share it!