It was one of those curiosities. Shelly Bond curated the female-focused comic book anthology Femme Magnifique that blew up on Kickstarter last year. But Shelly Bond also headed up a publishing imprint of her own at IDW, Black Crown. Couldn't she… you know…?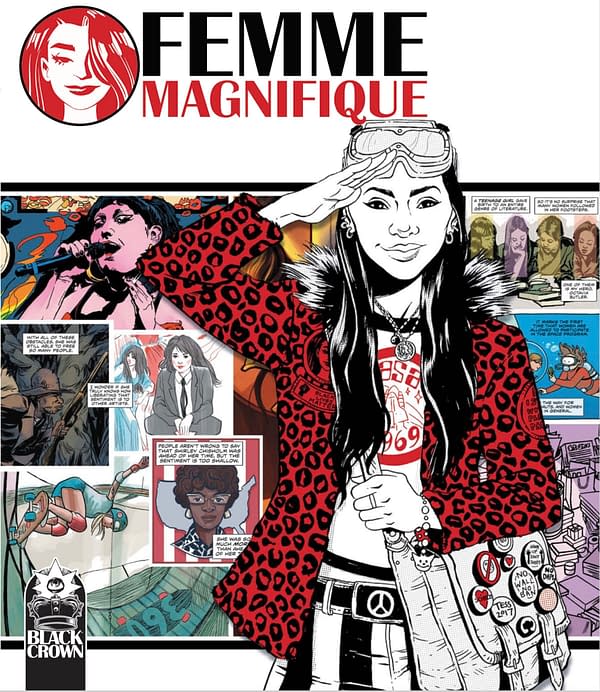 Femme Magnifique is headed back to print for a softcover edition in September. It is a celebration of 50 iconic women who shattered glass ceilings and changed the course of history in the process.
Told by over 100 comics creators from around the world, Femme Magnifique features 3-page short stories about women from the world of music, art, politics, and science. Explored from a personal angle, the subjects of these mini-biopics include Kate Bush, Octavia Butler, Rumiko Takahashi, Ada Lovelace, Misty Copeland, Margaret Sanger, Michelle Obama, Ursula K. Le Guin, Sally Ride, Harriet Tubman and more!.
Femme Magnifique was conceived and co-curated by Shelly Bond and Kristy Miller & Brian Miller of Hi-Fi Colour Design. It features contributions from such comic book luminaries as Cecil Castellucci, Marguerite Bennett, Bill Sienkiewicz, Jen Bartel, Mike Carey, Kelly Sue DeConnick, Tini Howard, Elsa Charretier, Tess Fowler, Rafael Albuquerque, Tee Franklin, Gilbert Hernandez, Ming Doyle, Matt Wagner, Jim Rugg, Gail Simone, Mags Visaggio, Marguerite Sauvage, Gerard Way, Philip Bond, Hope Nicholson, Sanford Greene, Sonny Liew, Jen Hickman, Mark Buckingham, Peter Gross, Tyler Crook, Dan Parent, and Kieron Gillen, among many others.
Maxing out at nearly $100,000 raised for the Kickstarter edition, earning over 240% of its initial goal, Femme Magnifique found its audience swiftly. Now, those who missed out on the first go-round can add this collection to their library packed with new bonus material including a foreword, behind-the-scenes process pages, and more.
"On behalf of my co-curators Brian and Kristy Miller of Hi-Fi Colour Design, I'm honored to bring an important book like FEMME MAGNIFIQUE to the masses," said editor/co-curator Shelly Bond. "Thanks to IDW for agreeing to release a softcover edition through BLACK CROWN. Tremendous thanks to over 100 artists and writers, and the thousands of Kickstarter backers from around the world, who made the original hardcover possible. In an age when many of our civil liberties are in jeopardy, I hope this anthology will resonate and inspire. Here's to 50 magnificent women — and future legends — in pop, politics, art and scence who crack ceilings in the name of equality."
The new paperback edition of Femme Magnifique will be published on September 4th and can now be pre-ordered right now.
Enjoyed this article? Share it!