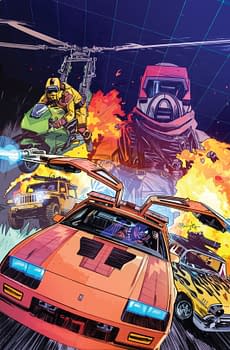 IDW is adding another Hasbro property to their publishing line coming this fall. Joining ROM and Micronauts will be M.A.S.K.
M.A.S.K. will hit comic shops later this year from the creative team of writer Brandon Easton (Marvel's Agent Carter) and artist Tony Vargas (Rot & Ruin).
While being mindful and respectful of the source material, the main drive behind bringing this beloved property into the new century is to preserve the old school qualities fans loved growing up, while also consciously infusing it with slightly more modern sensibilities. This is where sophisticated stories meet cutting edge designs while not afraid to look in the rearview mirror and pay tribute to its origins. It is the editorial and creative team's intention to focus attention on the multi-cultural heritage of the show, presenting a contemporary M.A.S.K. to fans in a unique, yet familiar, way.
M.A.S.K. launches this November as an ongoing series featuring cover art by Tommy Lee Edwards.
Enjoyed this article? Share it!