"I'm Just Pushing The Escapism" – Jeff Parker Talks Flash Gordon
Don't you hate when you meet someone and they remember meeting you before and you don't? That's how today's interview between Flash Gordon writer Jeff Parker and Captain Victory and the Galactic Rangers writer Joe Casey starts off… JOE CASEY: Have we ever met in person? I'm thinking we haven't. I'm sure we know a lot of the same people in comics, but how have we managed to avoid each other for so many years?
JEFF PARKER: We actually had lunch together in Sherman Oaks about a decade ago, thanks for remembering Joe! We were at Earth 2 Comics and went to the French place next door. In fairness, I think you had been up late the night before doing 'research.'
JC: You've had a pretty diverse career, working on a lot of different books for a lot of different publishers. So what's the Jeff Parker "brand"? Is there even one, as far as you're concerned?
JP: I don't think so, though lately I've noticed people repeatedly mentioning that I tend to do stories that aren't so heavy and are more 'comic book' I guess in a classic over-the-top sense. It's probably that I'm just pushing the escapism because I feel people have hard enough lives that no one needs to read stuff like child abuse and rape in their ray gun and flying people comics. Also I tend to do what they call "counter-programming" in network tv- if I think there's a lot of a certain thing already out there, I start to go the opposite way with my approaches. Also if you do keep up fun and light-hearted material, then it REALLY belts the reader when you go heavy!
Question Back Atcha: Do you consider things that way? Meaning, do you ever view your work in the context of what else is out there? I would think so because no one is really going to read say SEX or Godland (I don't know how to make that theta symbol) and wonder if some other writer did that, they come away knowing 'that was a Joe Casey event.' Of course, maybe you get there precisely by ignoring everything else, I don't know.
JC: Flash Gordon… which is closest to your heart: Alex Raymond strip? Original film serial? 1980 film? Filmation cartoon? Or do you take the Chaykin approach and say, "Fuck all of it, I'm doing my own thing here"…?
JP: All of those, I like something from all of them- and you may be one of the few people who remember the Filmation cartoon, which I really liked at the time and that's why I wanted Thun the Lion Man to be in the story. The Raymond original work has the scope and sheer gorgeousness that I think of, and clearly Doc Shaner does too. The movie I enjoy a lot even though I'm not going for the camp tone, but I do like Flash's crazy optimism in that and we have a lot of that in our Flash. And then there's a fair amount of Chaykining, as you say. I think if you get too reverent to source material, you can easily produce something lifeless, just a shell of what was great. That's where we go off on our own and thumb our nose at certain expectations, so the material can live and matter to readers.
JC: Tell me about Evan "Doc" Shaner. How has it been working with him? He's a beast of an artist, but what's up with the "Doc" thing? Is he a doctor of killer comic art?
JP: I think his college buddies tagged him with that name, and it's so natural that like a good nickname it keeps following him around. As for working with him, it's pretty incredible. I figured we synch together pretty well, but I wasn't expecting a giant CLICK sound and then what was to follow. I sometimes feel I don't even need to write script, I could call him and say "so Flash is going to— you know what needs to happen Shaner." He and Jordie just blow me away on this book, they're powerhouses. It has a classic feel without really emulating what came before, and it has the spark of cartooning that makes it alive.
JC: Shouldn't you have written the Batman '66/Green Hornet thing that just came out? What's with these random celebrity writers swooping in and snaking you out of a gig that was rightfully yours? I mean, what the fuck, Parker?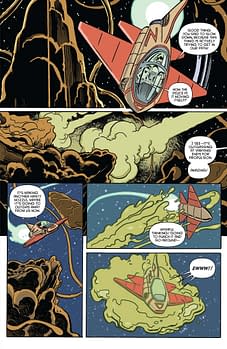 JP: I know, it's bullshit, right? But I actually didn't mind because it's been great to watch Ralph Garman pour his heart into that book, it's always been near and dear to him and he's really doing fine work. Also I think a lot of writers have been irritated by my stranglehold on something they've always wanted to work with, and I have been learning to share. I mainly wanted to start '66 off because I was so afraid someone else might not get the tone right and make fun of the material. But I'm coming back with more. It's also cool to have some of these stories I can read just for me.
JC: Who wins in a cage match… your Flash Gordon or my Captain Victory? Keep in mind, you've got Shaner, but I've got Fox, Rugg, Farinas, Fiffe, Dalrymple, Mahfood, Marra and Willumsen…
JP: Well that's hardly fair, jumping us with a gang. And also it's right there in the name, when you call yourself Captain Victory, you kinda know the way things are going. My hat is off to you, opponent!
For more on Flash Gordon, click here.
For more on Captain Victory and the Galactic Rangers, click here.