Could Immortal Hulk #20 and The Green Lantern #9 Suggest a DC/Marvel Comics Crossover
Reading two green books today… Immortal Hulk #20 and The Green Lantern #9, they seem to merge together slightly. While in Immortal Hulk #20 by the superb continuing team of Al Ewing and Joe Bennett, they elaborate on previous issues tying in the nature of gamma radiation with magic, what might be going on. You know, as told by Bruce Banner's father in hell. So, you know, your mileage may vary as to the veracity.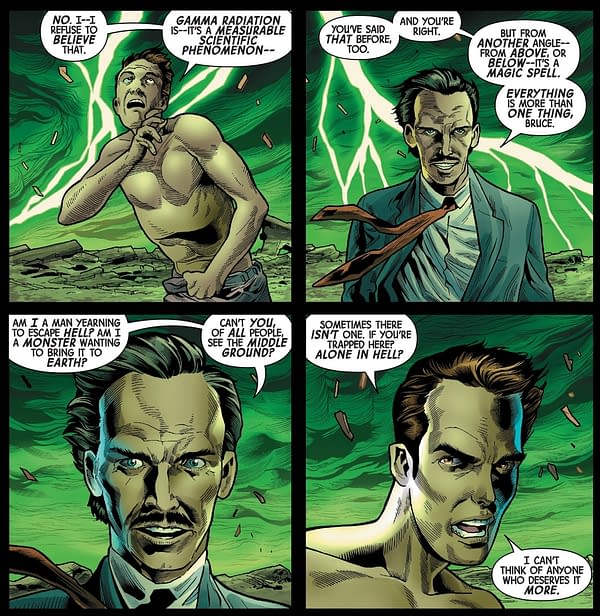 But did anyone wonder just what Grant Morrison may have been intimating in today's The Green Lantern #9 with Liam Sharp? Ewing is publicly a great admirer of Morrison's work – could this have been a reach back?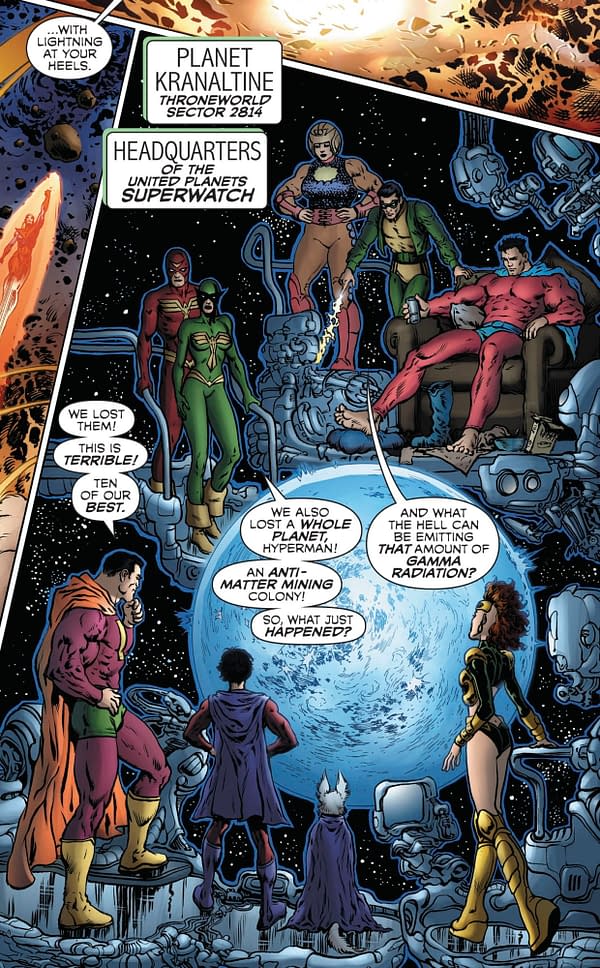 You don't just pull gamma out of your comic book arse. The Green Lantern's powers have also often been referred to in magical terms – the original Alan Scott version, the idea of a wishing ring etc… and now Hal Jordan is fighting evil wizards in swords and sorcery lands. And after all, the parallel dimensions of the DC Universe are also at play…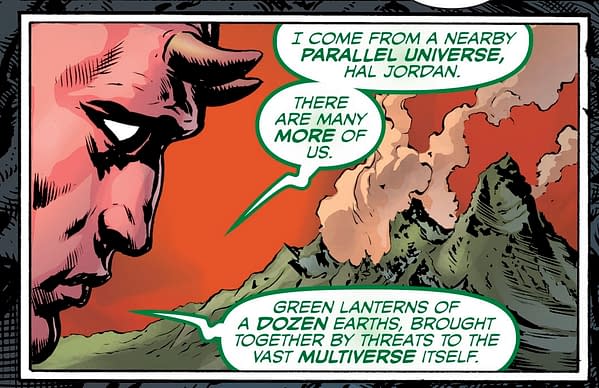 He's from Earth 20. Could the dial be turned up even further to 616?
GREEN LANTERN #9
(W) Grant Morrison (A/CA) Liam Sharp
On the medieval fantasy planet of Athmoora, Sir Hal of the Lantern-a.k.a. Hal Jordan-must do battle with the evil wizard Ah-Bah-Nazzur, scourge of the Four Kingdoms! What is Ah-Bah-Nazzur's secret? And what does it have to do with the looming extinction-level Multiversal threat that leaves countless dead super-beings in its wake?In Shops: Jul 03, 2019 SRP: $3.99

IMMORTAL HULK #20
(W) Al Ewing (A) Joe Bennett (CA) Alex Ross
Bruce Banner is being hunted on two fronts by two dead loved ones turned nightmarish, implacable foes. The stage is set for a brutal three-way confrontation between the ABOMINATION… the HARPY …and the IMMORTAL HULK.
Rated T+In Shops: Jul 03, 2019 SRP: $3.99