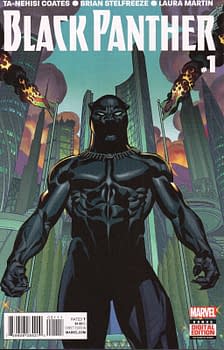 Black Panther may well be the Wonder Woman of Captain America: Civil War. With everyone going "ooh", and "I'd like to see more of that character" and "when is their solo movie out? That long??"
We mentioned that a copy of the original Black Panther first appearance in comics from 1966 had sold for $90,000 in the wake of the release of the new film.
Well, I have been sent evidence that one on-line seller is suddenly doing a brisk trade on Amazon Marketplace selling the more recent Black Panther #1 by Ta-Nehesi Coates and Brian Stelfreeze for $20 each, including postage. eBay prices have not caught up with this yet, but it's an indication of where this may be going.
Enjoyed this article? Share it!