In the Wake of New DC Comics Social Media and Press Guidelines. Patrick Zircher Quits Twitter
This morning, Bleeding Cool leaked the letter sent to DC Comics creators regarding new DC Comics social media and press guidelines. Here are a few reactions.
Most decided to start following the guidelines immediately by not saying anything. But some appear to have taken it further, with DC Comics creator Patrick Zircher choosing to take this moment as the time to make a quick announcement.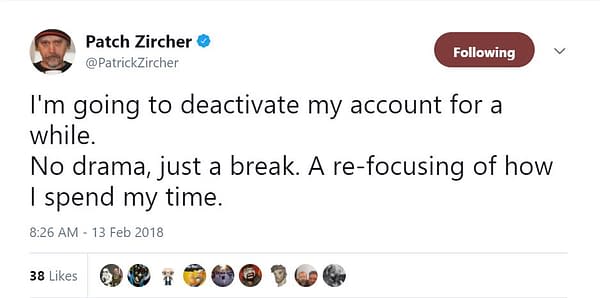 However, there were other creators in focus. Comic creator and art director, Tim Doyle told Bleeding Cool,
While on the surface it seems like a good step, I think it could have a chilling affect on the free speech of their employees and freelancers. Also- I'm afraid it's just too broad. There is no mention of homophobia, transphobia, misogyny, or racism. They use catch-all phrases, but it leaves a lot open to interpretation. While obviously they can't write an "Anti-Ethan Van Sciver policy" (and let's be clear, Ethan is what it is in response to) I think you'll see a lot of people who just post political stuff get swept up in this. Also-these are guidelines, and not rules- it contains a lot of recommendations and suggestions, but nothing concrete, and no talk about consequences, in regards to online behavior. I honestly don't think this will solve anything, and the whiners over at Diversity and Comics will still feel both persecuted by the industry, and enabled by their association with Ethan, as always. I'd much rather see them institute a 'don't be a dick' rule, but I guess that's not appropriate HR speak.
Others contacted me worried that all sorts of people could go through DC Comics creator social media history looking for anything to use against them. While others asked how it would affect creators who took a break from DC Comics only to return? Still others saw this new DC Comics social media policy as a way for them to stand out in the marketplace against Marvel Comics, whose creators can be more outspoken.
Lots of people found very contradictory confirmation on their own outlook on things.
Ethan Van Sciver did not respond to inquiries.