Invisible Woman #1: Marvel Time Strikes Again [Preview]
Marvel time is a funny and often aggravating thing. Because Marvel demands that their superheroes remain as marketable as possible, that means that they must constantly remain in their mid-twenties, even while maintaining decades worth of storyline continuity. As a result, things that happened in the 1960s, such as the Fantastic Four gaining their powers and learning how to use them, must continuously be pushed later. So, though the Fantastic Four's origins are intrinsicly tied to the space race, as we see in this preview of Invisible Woman #1, it seems that the FF gained their powers only slightly earlier than 2009.
The preview is set 10 years ago, as Invisible Woman is attempting to smuggle someone into Bahzelstan.

But as we see when things start to go south…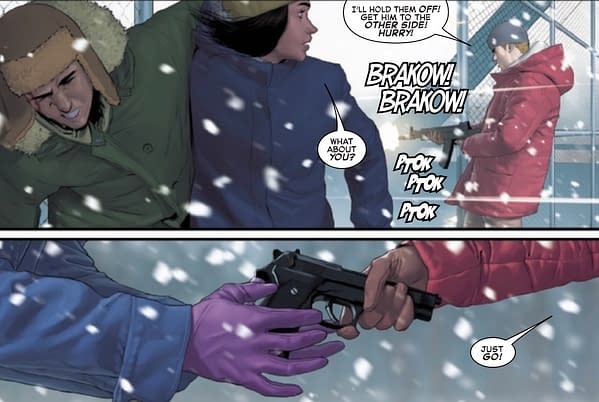 Susan is only just learning how to properly use her powers.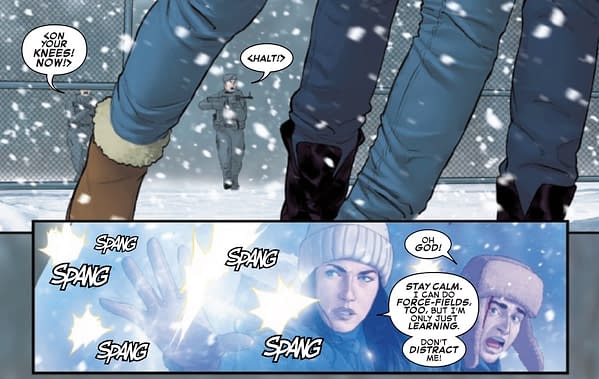 So when did they launch that rocket? Was it after the first Fantastic Four movie came out? And were they listening to Soulja Boy during the flight?
Invisible Woman #1 hits stores on Wednesday.
INVISIBLE WOMAN #1 (OF 5)
MAY190740
(W) Mark Waid (A) Mattia De Iulis (CA) Adam Hughes
Fresh from the pages of FANTASTIC FOUR, for the first time Susan Storm-Richards stars in her own limited series – and the secrets about her past revealed therein will shake readers' perceptions of the Invisible Woman forevermore! Years ago, she undertook an espionage mission for S.H.I.E.L.D. – and now it's up to her to save her former partner from death at the hands of international terrorists!
Rated T
In Shops: Jul 10, 2019
SRP: $3.99