Marvel Promises a Very Different Marvel Universe in 2020, With Iron Man and Incoming
Yesterday's Tony Stark: Iron Man gave us a very different Tony Stark by its end. The series has been hard on sci-fi regarding artificial intelligence and the reveal that Tony Stark… is not Tony Stark. He is the memory of him, in digital form, embedded into a recreated human body, encased in armour. But today it went from cerebral Ex Machina stuff to the body horror of David Cronenberg and The Fly. Is he life, Memorex or something else entirely?
With the December 2019 final issue solicitation of Tony Stark: Iron Man for the end of December, promising something very different for 2020. Marvel has been teasing an Iron Man 2020 event, and the comic has filled its cast with characters more familiar to those who read the Machine Man 2020 series from the eighties, with Aaron Stark, Jocasta, Machine Man, Baintronics and more.
And promising, as a result, a very different 2020 Marvel Universe.
At the end of 2019, the boundaries between man and machine are blurred and broken… and the Marvel Universe will be a very different place in the year 2020. A new Iron Age is coming.
It is notable that Tony Stark: Iron Man writer Dan Slott will be part of the creative team of Incoming #1, which promises that a murder mystery will affect everything in 2020 too. Could that be where it is all set up? Iron Man does seem to be part of that comic…
But note that lots of Marvel Comics titles are getting 2020 cover variants… including Iron Man. Here's a look at some of those covers and the solicitations for Tony Stark Iron Man and Incoming.
TONY STARK: IRON MAN #19
DAN SLOTT & CHRISTOS GAGE (W) • FRANCESCO MANNA (A)
Cover by Alexander Lozano
2020 VARIANT COVER BY LARRY STROMAN
VARIANT COVER BY PETE WOODS
THE ULTRON AGENDA FINALE!
What if there is no Tony Stark? What if there is only the Iron Man? At the end of 2019, the boundaries
between man and machine are blurred and broken… and the Marvel Universe will be a very different
place in the year 2020. A new Iron Age is coming… and you do NOT want to miss this pivotal issue.
32 PGS./Rated T+ …$3.99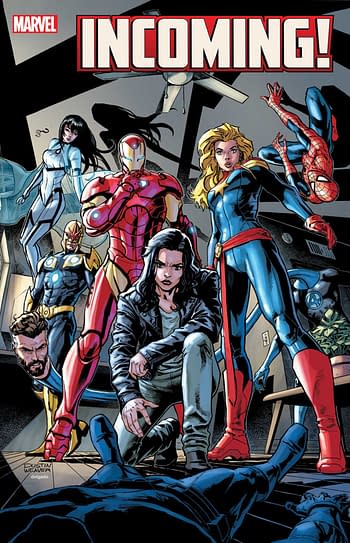 INCOMING #1
AL EWING. DAN SLOTT, CHIP ZDARSKY, KELLY THOMPSON, GREG PAK,
EVE L. EWING, MATT ROSENBERG, ED BRISSON, SALADIN AHMED, TINI HOWARD,
JONATHAN HICKMAN, GREG PAK, DONNY CATES & JASON AARON (W)
HUMBERTO RAMOS, JIM CHEUNG AND MORE! (A)
ONE WILL UNITE THEM!
A mysterious murder brings together the heroes of the Marvel Universe in the search for a killer – but no one can imagine where the trail will lead, or how it will affect everything in 2020 and beyond! Who is the victim and who is the assailant?
The closing chapter to MARVEL's 80th year, which will connect the dots of everything that happened in 2019 and propel the narrative into the year that is to come! Featuring the Avengers, the Fantastic Four, the X-Men, the Guardians of the Galaxy, Daredevil, Spider-Man, the Champions, the Agents of Atlas, Valkyrie, the Immortal Hulk, Jessica Jones, Venom, Ghost Rider, the Masked Raider and more!
96 PGS./ONE SHOT/Rated T+ …$9.99