Is 20XX One of 2019's Best Comics? [REVIEW]
What do you get when you mix biotech, segregation, telekinesis, pandemic, gang warfare, and Hickman-esque attention to detail? The Image Comics sci-fi thriller 20XX . This is one of the best, most airtight comics of the year. Somehow, it's writer Lauren Keely's first time publishing one. Artist Jonathan Luna brings the same attention to detail in his innovative black and white art.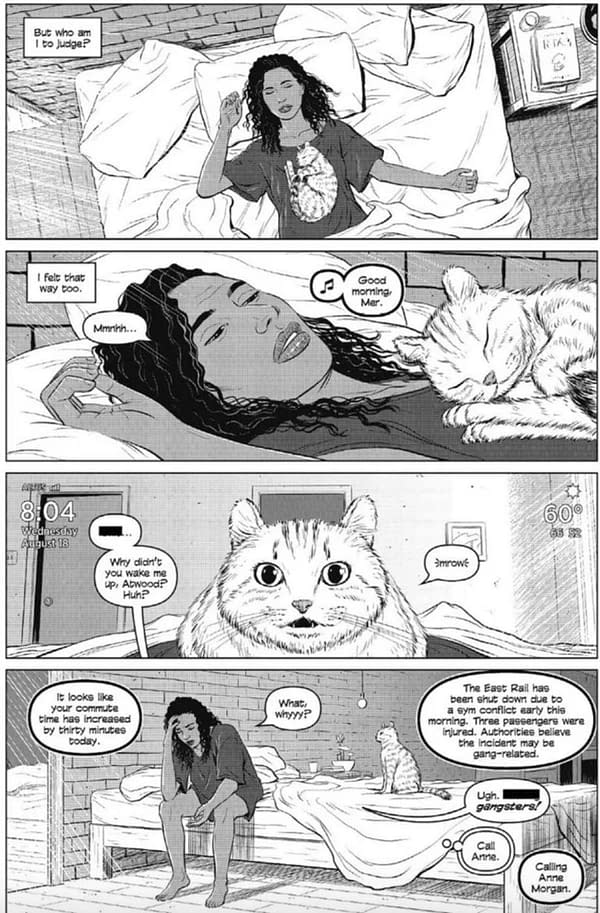 Sensational Story
The random XXs at the end of the title suggest the story takes place within the century, in a not-too-distant future. (With all the general anxiety percolating today, writers and artists are in no short supply of inspiration.)
And so the world in 20XX resembles ours: cloaked in a wet blanket of fear, ridden with political and social unrest, and inundated with technology designed to track our every move. One of the characters asks, "When did death become our new normal?" This familiar sentiment marks today's predictable news cycles.
Death is at every turn in this comic. Spontaneous eye bleeding, coughing fits, and sudden death could happen at any moment. The Bethel Virus and these symptoms have claimed millions over the past five years, ever since the permafrost melted. Keely doesn't rely on info-dumps. Instead, she seamlessly uses characterization and story beats to fill the gaps of the reader's knowledge. Comics are built on cliffhangers, and 20XX is filled with some masterful ones. Even though the final pages sort out the total confusion of the first page, readers are still left with plenty of questions.
Precise Art
Luna's lines in 20XX elevate black and white art beyond what's possible with color. At a surface level, using black and white speaks to the bleakness of life in 20XX, and embodies the chill of Anchorage, Alaska, where the story takes place. But the subtle stuff is much more exciting than the symbolic stuff.
Using wispy, almost-touching straight lines, Luna illustrates both shadow and light instead of using the industry-standard cross-hatching. A few strategically placed lines set against a white background somehow convey spruce trees. Sound effects show the vibration and volume of sound. A few wobbly lines around some hipster in a bar show that he's drunk. As the sole artist on this project, Luna took every creative liberty he could without being over-indulgent.
A Comic for the Ages
The art and writing in 20XX communicate something profound about this period in history. This comic is a prime example of Image doing what it is meant to do: giving creators the room to breathe.