Tom King's a Real Bastard – and Why He Should Write a DC Black Label Book
Batman kills babies. Tom King makes people cry. And if they're not crying, they're definitely feeling something. At New York Comic Con last weekend, the line to meet Tom King stretched across all of Artist Alley. (Those people had to buy something from his booth to earn their spot in line.) So just why hasn't DC's most critically acclaimed author written for their edgy Black Label?
If DC wants people to stop mourning the death of Vertigo and look to Black Label as the future of prestige comics, why not ask King to help define the label in its early stages? It's not really fair to say that Black Label is just Vertigo 2.0, but who are we kidding? Okay, fine, Black Label isn't just Vertigo 2.0, it produces "unique, standalone stories that are outside of the current DC Universe continuity."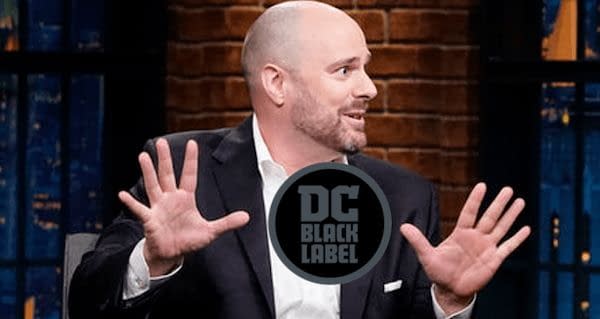 The debate on the importance of continuity in comics will never end, but the fact that a lack of continuity is the defining principle of the Black Label mature readers brand certainly says something. Most people would agree that King's best stories — like The Vision, Omega Men, and Sheriff of Babylon (a Vertigo book) — aren't burdened by continuity, and are decidedly adult. Maybe that's one reason (of many) why his 'Batman' run has been so controversial?
If DC gives Tom King the chance to run wild in a Black Label book, they will make a lot of money. According to 2018's market share calculations from Diamond, Marvel was the leading publisher at 38.24%. DC trailed behind at 30.04%. A Tom King Black Label mini won't close the gap. But it will challenge Marvel, which, under the control of family-friendly Disney, is in short supply of truly Mature titles.
Aside from existing outside continuity, Black Label stories should deal with all of the messy baggage of humanity. That's Tom King's specialty, and I've witnessed it firsthand. One day, my girlfriend started crying. I look up from my computer slowly, and see The Vision, lying face down, open, in her lap. "I know," I said, "Tom King's a real bastard."
Tom King's contribution to comics is, at this point, etched in stone. Might as well carve his face into Mt. Rushmore, and immortalize the face of that baldish, emotionally intelligent patriot. Until then, a Black Label book will do.