Marvel Team-Up relaunched earlier this year, presumably as an ongoing series, as it wasn't listed as a mini. And soon enough, it became clear it was a second Ms. Marvel ongoing series, as Ms. Marvel stayed the star for the book's second storyline as Spider-Man, star of the original Marvel Team-Up, exited.
But maybe it wasn't an ongoing after all? November does not have a listing for Marvel Team-Up, and looking back, neither does October. But Marvel's full November solicitations do have this trade paperback solicitation for Ms. Marvel Team-Up TPB, collecting the series' six issues, and without a volume number.
So was it meant to be a mini-series all along? A stealth mini-series? Or did plans change? If this is Ms. Marvel Team-Up, can we expect a new star in a new stealth mini-series in the future?
Draw your own conclusions, because Marvel doesn't generally reveal their publishing secrets. We did reach out to them for confirmation, but haven't heard back yet.
MS. MARVEL TEAM-UP TPB
Written by EVE L. EWING & CLINT MCELROY
Penciled by JOEY VAZQUEZ, MOY R. & IG GUARA
Cover by ANNA RUD
Kamala Khan puts the "Ms." into Marvel Team-Up! Ms. Marvel steps into the starring role of one of Marvel's all-time classic titles — and fittingly, the ever-sociable Spider-Man swings by to hand over the mantle! After a science demonstration at Empire State University goes awry, Ms. Marvel and Spidey find themselves tangled up in the same chaotic adventure. Is it destiny? Or disaster?! And can the two heroes put their heads together and find a way to save the day? Next, the sudden reappearance of Mar-Vell, the first Captain Marvel, draws Carol Danvers and Kamala Khan back together for an out-of-this-world adventure! But is the man behind the mask who he claims to be? And can Ms. Marvel and Captain Marvel stay on the same page long enough to find out? Collecting MARVEL TEAM-UP (2019) #1-6.
136 PGS./Rated T+ …$17.99
ISBN: 978-1-302-91831-6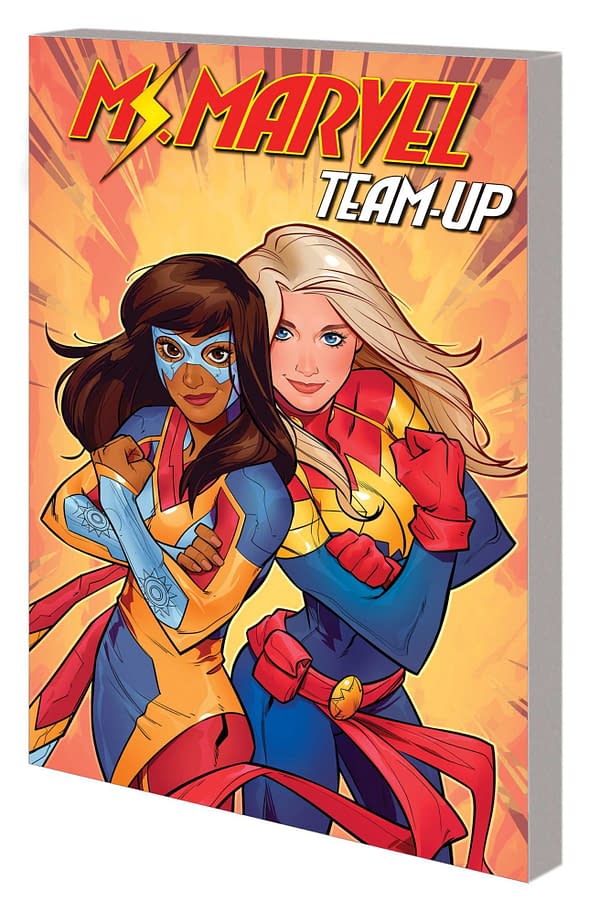 Enjoyed this article? Share it!