A character played by the great Mel Brooks once famously said, in History of the World Part 1: "It's good to be the king!" But in next week's Conan the Barbarian #4, the titular barbarian finds out that this isn't necessarily true. Conan, it seems, is taking to ruling about as well as Donald Trump. After becoming king of Aquilonia, Conan learns it's not all it's cracked up to be. Rather than reaving and slaying and doing all the things he finds mirth in, Conan is stuck sitting on the throne and listening to people whine about politics and diplomacy and infrastructure and all sorts of boring things…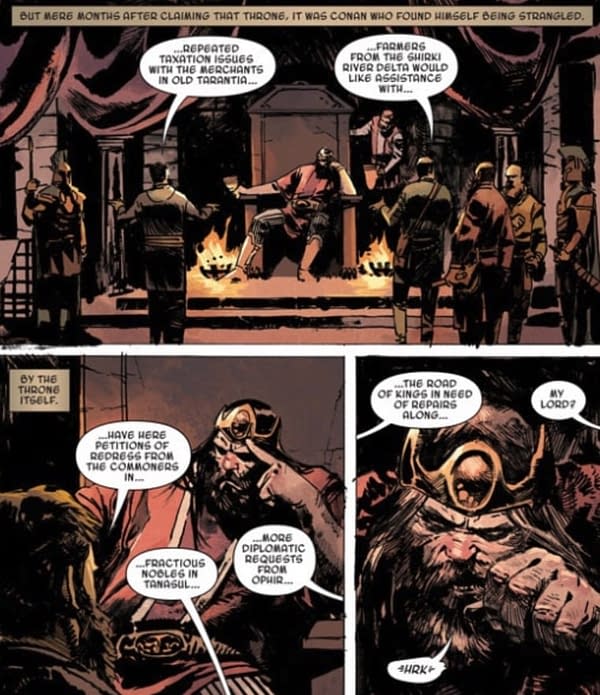 And Conan's reaction to all of this, well, let's just say he makes his feelings pretty clear…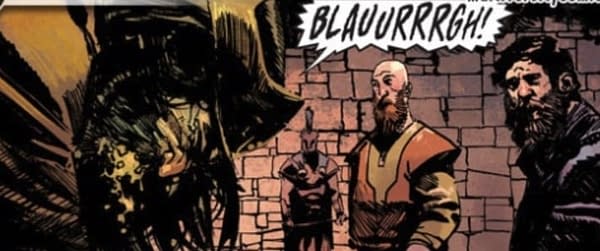 It turns out, civilized life doesn't suit Conan. And the people of Aquilonia even have a name for it…

So it turns out Mel Brooks was a dirty liar all along. Though now that we think about it, that was the whole point of that portion of the film too, wasn't it?
Multiversity had the EX-X-XCLUSIVE preview of this one, before we stole it. The watermarks are your first clue. Conan the Barbarian #4 hits stores next Wednesday.
Conan the Barbarian #4
(W) Jason Aaron (A) Gerardo Zaffino (CA) Esad Ribic
KING CONAN REIGNS AS "THE LIFE AND DEATH OF CONAN" CONTINUES!
• A hard-fought life has rewarded CONAN with the crown of Aquilonia…
• But even a monarch must face the cold embrace of death!
• The legendary adventure continues as the CRIMSON WITCH makes good on her threat to King Conan!
• PLUS: The next chapter in the ALL-NEW Conan novella "BLACK STARLIGHT," begun in issue #1!
Parental Advisory
In Shops: Mar 06, 2019
SRP: $3.99
Enjoyed this article? Share it!