Jamie McKelvie and Matt Wilson have just concluded their artistic run on The Wicked + The Divine. But what comes next? Well, here's a teaser for… something new from the both of them from Image Comics for 2020. Something cosmic, something space-based, something with a female lead? These are just assumptions…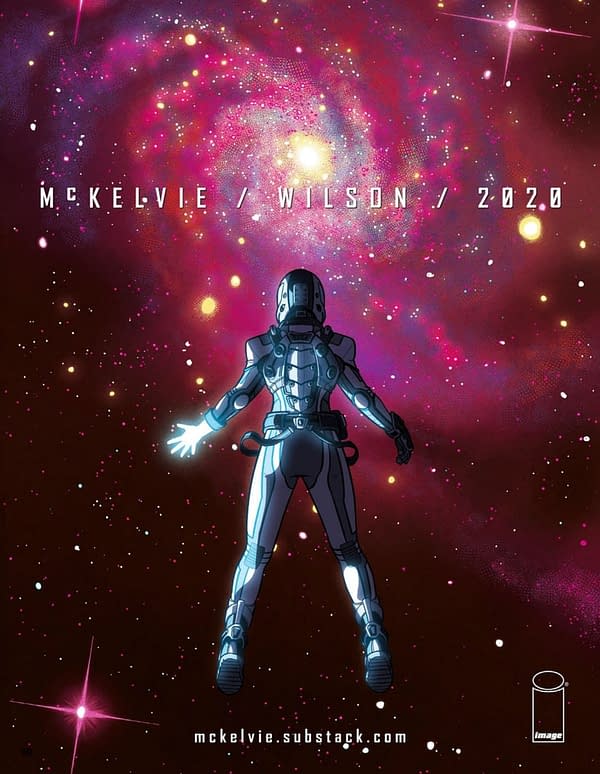 …the link is to sign up to Jamie McKelvie's newsletter. Where he will no doubt say more when he feels like it.
McKelvie is best known for his both work on books such as Phonogram, Young Avengers and The Wicked + The Divine, often coloured by Wilson. His first creator-owned series as both writer and artist, Suburban Glamour, was published by Image in 2008, with Guy Major and Wilson as colourists. McKelvie's design for Captain Marvel was used in the movie, and his style has become rather influential. However, his health has restricted his drawing speed and ability of late.
Wilson's early professional colouring work was as a member of Lee Loughridge's Savannah-based studio, Zylonol. He branched out into taking colouring jobs on under his own name, starting in 2008, this led to his first credited work on McKelvie's Suburban Glamour.
Could this work be written by McKelvie? Drawn and coloured by Wilson? Will we learn more at New York Comic Con? McKelvie's not saying anything… not yet anyway.
Enjoyed this article? Share it!