Jeff Messer Jumps From Kickstarter To Zoop With Ramona Fradon
Jeff Messer published his first two Sex, Spies & Rock n' Roll volumes through Kickstarter but for volume 3 is shifting to Zoop.
---
Mike Grell collaborator Jeff Messer published his first two Sex, Spies & Rock n' Roll volumes through Kickstarter, one of seven successful crowdfunding campaigns he's run. But for volume 3, he's shifting to Zoop, with Sex, Spies & Rock n' Roll Vol 3.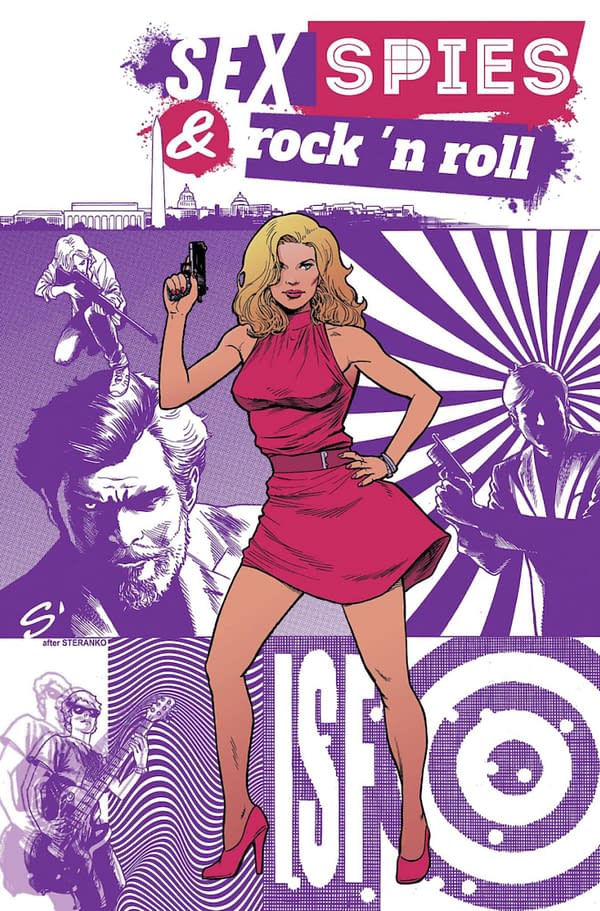 The continuing serialized adventures of "The Hitman," "Cowboy," and "Gulag-a-go-go" are combined with new stories with new sex, new spies, and more rock 'n roll. New artists from around the world (Italy, Brazil, Hong Kong, Indonesia) join the series regulars (from Mexico, Italy, Egypt, and the USA) in these retro-1980s adventures, unfolding the wider tapestry of the Sex, Spies, & Rock 'N Roll universe of characters! 72 pages, featuring an exclusive cover by Steve Scott!
Zoop is the only full fulfilment crowdfunding platform created for the fandom community, by Jordan Plosky of ComicBlitz and Eric Moss of IDW and Brzrkr, with Kickstarter's former comics outreach lead Camilla Zhang serving as Advisor. Zoop handles everything including campaign setup and management, pledge management, production, fulfillment, marketing and more.
This Ramona Fradon pinup will be in the book, as well as for sale as an art print. Best known as an artist on Aquaman, and co-creator of Metamorpho, Aqualad and the Silver Age Aquaman, she worked for sixty years in comics before retiring in 1995, though at the age of 96 she still works on occasional projects like this, as well as Spongebob Squarepants, The Adventures of Unemployed Man, The Dinosaur That Got Tired of Being Extinct, and the Art of Ramona Fradon. She was recently the inspiration for the character of Esme Martinez in Alan Moore's What We Can Know About Thunderman.
Here's what you'll find in the third volume:
The Hitman chapter 3 (6 pages)
Gulag-A-Go-Go chapter 2 (8 pages)
Mission: Afghanistan chapter 1 (12 pages)
Girl Spies Return chapter 1 (8 pages)
Operation: Nude Beach chapter 1 (10 pages)
Cowboy chapter 3 (8 pages)
Hong Kong Cool chapter 1 (8 pages)
Mission Files Dossier special text and art feature introducing new characters (6 pages)