Superstar artist, DC executive, and Marvel variant cover artist Jim Lee took to Twitter to address the public following his promotion to Chief Creative Officer of DC Entertainment after Geoff "Jeff" Johns stepped down to focus on writing. Lee, as previously reported, will continue as co-publisher… actually, make that publisher… of DC Comics as well. With all the new work on his plate, of course, Lee still hasn't had time to learn how to properly do a Twitter thread, but check out what he had to say anyway:
Thank you all for the kind words of support and encouragement the past two days! Working at DC has been a dream job (20 years counting!) and nothing is more thrilling than new challenges and opportunities. (1/5)

— Jim Lee (@JimLee) June 12, 2018
My good buddy @geoffjohns and his awesome team have set the bar high but we are all excited for what's to come! Geoff's been a great colleague and collaborator and I know what he has planned and guys—it's just amazing. A M A Z I N G ! ! ! (2/5)

— Jim Lee (@JimLee) June 12, 2018
I also want to acknowledge and thank Diane Nelson for her many years of leadership and for being a friend, inspiration and mentor. She's the one who brought me into the newly formed DC Entertainment as co-publisher 9 years ago and I literally wouldn't be here without her.(3/5)

— Jim Lee (@JimLee) June 12, 2018
Last but definitely not least, I continue on as Publisher alongside Dan DiDio. No one has more passion or energy for what we do than Dan and the events we have planned for this year and into the future are gonna be just astounding. (4/5)

— Jim Lee (@JimLee) June 12, 2018
UPDATE: Lee finished the thread with a reminder to watch Late Night with Seth Meyers tonight:
Check out writer @TomKingTK on @LateNightSeth TONITE to hear about just the first of many incredible storylines we are rolling out this year & next! #dcentertainment #dccomics #dcvertigo #madmagazine #new52 #dcRebirth #dcBlackLabel #dczoom #dcink #latenightwithsethmeyers (5/5)

— Jim Lee (@JimLee) June 12, 2018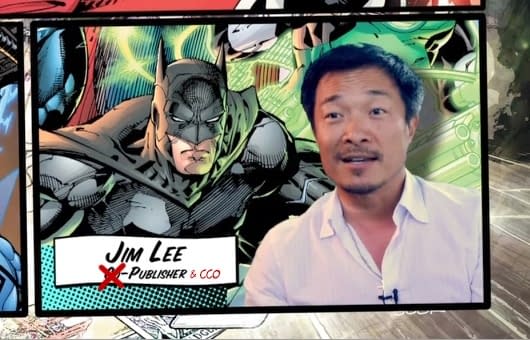 Enjoyed this article? Share it!