Jim Lee Sees Diane Nelson's #ComicWritersChallenge Gets $20K Bid
Diane Nelson, former president of DC Comics contributed a rather significant piece of comic book artwork from her office wall, to Gail Simone's #ComicWritersChallenge and yes it must have been quite the sacrifice. But that's the idea, comic people sacrificing a piece of art that means a lot to them, to raise money for Black Lives Matter-related causes. One of the final pages of DC Rebirth by Geoff Johns and Gary Frank, Batman discovering the Watchmen smiley face button that began Watchmen #1, embedded in the Batcave wall. How it got there would only be explained years later in Doomsday Clock by the same creative team. And it just got a Jim Lee boost.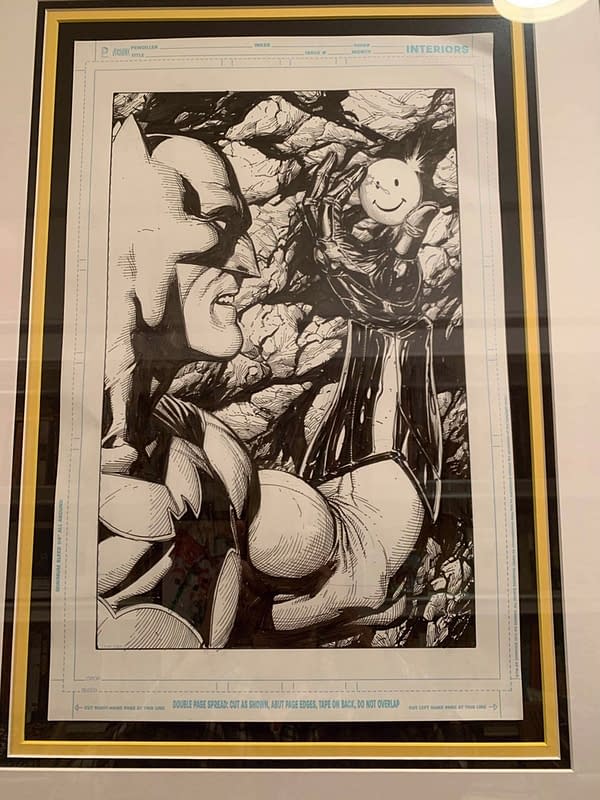 Gail Simone tweeted "I loved Diane. She had brains, style and class. If she said something, she meant it. I don't know how she heard about this event, but she said she had a page to donate, and it was one she paid for, she is taking it right off her wall, from her personal collection."
Bids went up to $12,000. Today Gail added more news, tweeting "Diane Nelson shoots me an email. She wants to add something to this package. :) Wanna see what our VERY LAST auction addition is? From the former president of DC Entertainment herself? It's this. The monster-sized DC UNIVERSE THE NEW 52 OVERSIZED HARDCOVER. I have this book, it's a BEHEMOTH, hard to find, spendy as hell, and a ton of fun to read. But that's not the end of it. What happens when we open the cover?"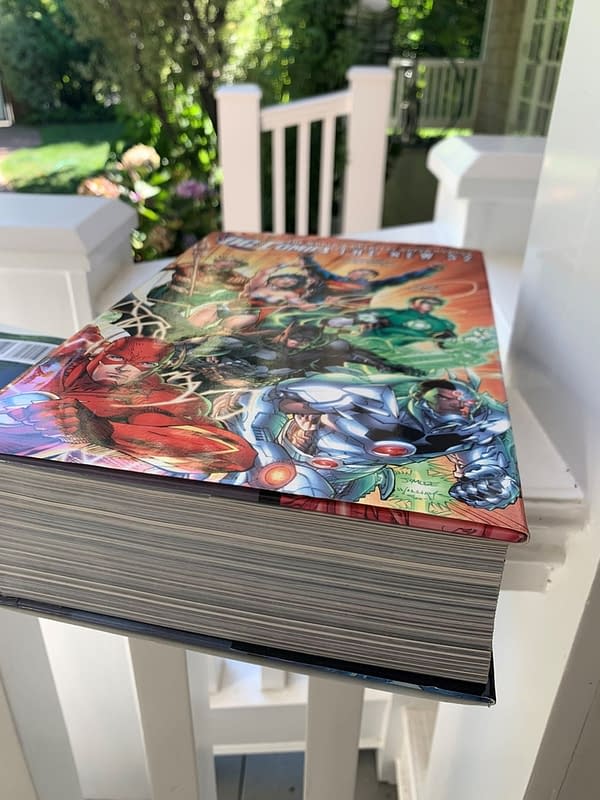 What, Gail, what? She tweets "The ORIGINAL New 52 Concept sketch design for WONDER WOMAN. By Jim Lee."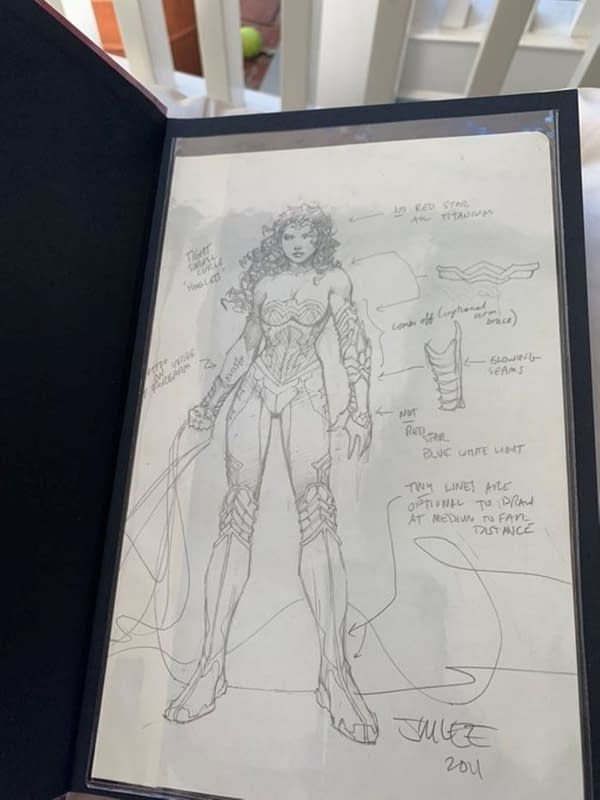 Which led Aaron Hamer, one of the #ComicsWriterChallenge volunteers, keeping the appeal going, to make a big bid for himself, of $20,000. Anyone want to beat that?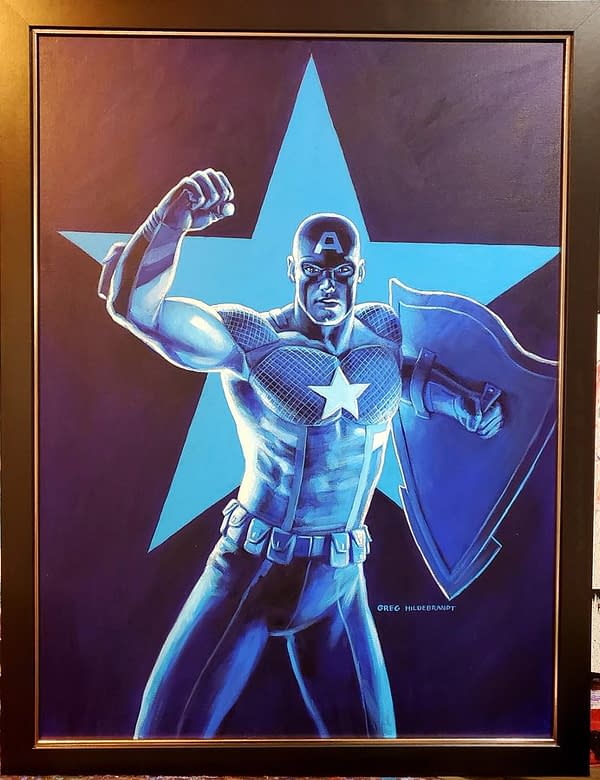 Remember there is still a Greg Hildebrandt Captain America currently at $6420…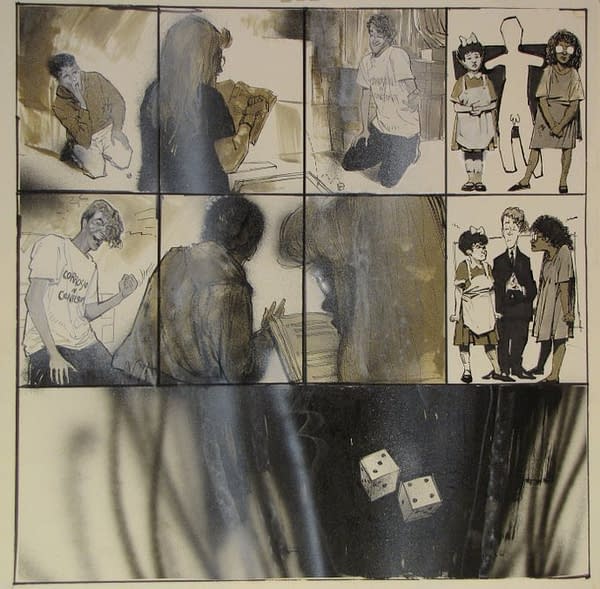 A page from the unpublished Big Numbers #3 by Alan Moore and Bill Sienkiewicz currently at $3000... donated by Paul Jenkins.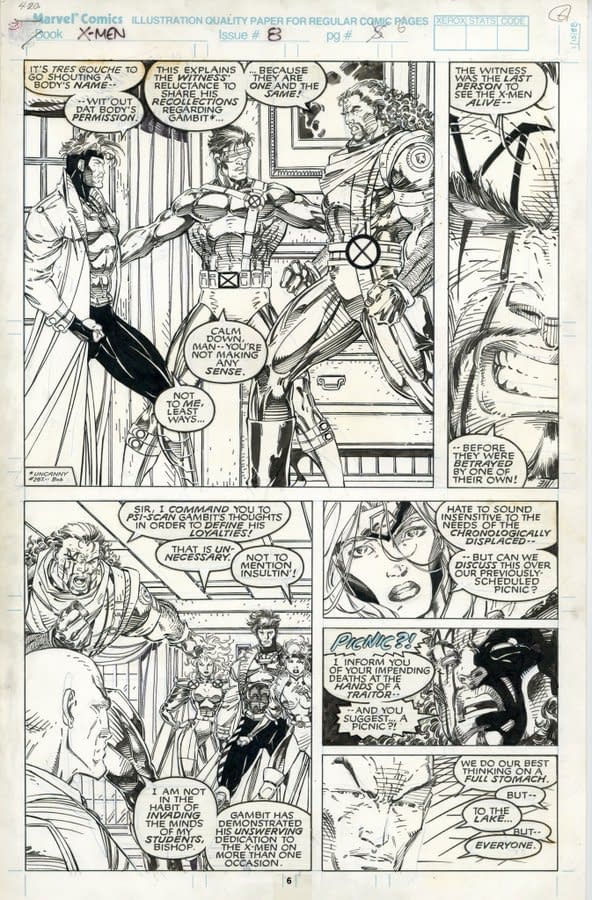 And a page from X-Men by Jim Lee, with a promise to match the top bid, currently at $18,000. With many more still, all at the #ComicWritersChallenge hashtag, for one final push. My own page is already on the way to Evanstown Illinois and feels quite inadequate in comparison…