Joanna Robinson & Dave Gonzales to Publish Unauthorized MCU History
Joanna Robinson and Dave Gonzales are bringing their articles on the MCU together for a new book. How heavily will Ike Perlmutter feature?
---
Joanna Robinson has been writing about Marvel Studios for Vanity Fair magazine for a number of years. Later this year, it looks like she will be bringing them all together with Dave Gonzales for a new book, MCU: The Rise of Marvel Studios or Marvel Inc. Inside The Rise Of The Cinematic Universe. Articles Assemble! The book is planned to be published by Liveright on the 7th of November 2023.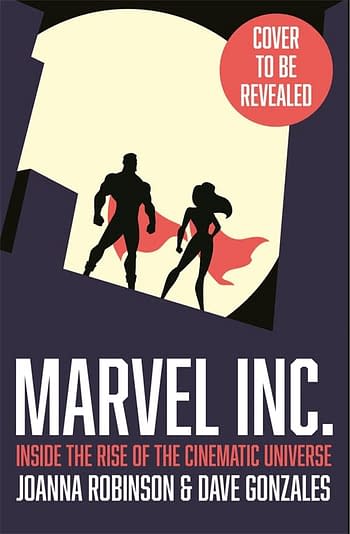 "The unauthorized, behind-the-scenes story of the most popular, lucrative, and transformative cultural phenomenon of our time: the Marvel Cinematic Universe. Marvel Entertainment was a moribund toymaker not even twenty years ago. Today, Marvel Studios is the dominant player both in Hollywood and in global pop culture. What accounts for its stunning rise? In MCU, beloved culture writers Joanna Robinson, Dave Gonzales, and Gavin Edwards draw on more than a hundred interviews with actors, producers, directors, and writers to present the definitive chronicle of Marvel Studios and its sole, ongoing production, the Marvel Cinematic Universe. As they delve into the studio's key moments―from the contentious hiring of Robert Downey Jr. for Iron Man to the negotiations over Disney's acquisition of Marvel to studio head Kevin Feige's embrace of streaming TV―the authors demonstrate that the genius of Marvel was its resurrection and modification of Hollywood's old studio system. Dishy and authoritative, MCU is the first book to tell the Marvel Studios story in full―and an essential, effervescent account of American mass culture."
I'm especially interested to read more on Marvel Chair Ike Perlmutter at the company. Bleeding Cool has covered a number of takes on his involvement, both as a bullying figure within the company, and source of great grief,, but also being used as a scapegoat by the West Coast when they don't want to justify decisions to staff, such as the fake story about refusing a female villain in Iron Man 3 because they don't sell well as toys. Previously, for Vanity Fair, Robinson reported "Though Perlmutter endorsed Marvel's decision to make its own films, he clung to outdated opinions about casting, budgeting, and merchandising that ran counter to trends in popular culture, sources close to the studio said. For example, Perlmutter, citing his years in the toy-making business, reportedly made the decision to scale back production of Black Widow-themed merchandise in 2015 because he believed "girl" superhero products wouldn't sell" and that "Director James Gunn chalked up every conflict he had making Guardians of the Galaxy to Perlmutter and the Marvel "creative committee"—a legacy of the studio's early days—which read every script and gave writers and filmmakers feedback. Said Gunn, "They were a group of comic-book writers and toy people" who gave him "haphazard" notes. The committee, for example, suggested Guardians of the Galaxy ditch the 70s music that the film's hero loves. (The movie's soundtrack, featuring retro hits, would later go platinum.) Members of the creative committee declined to comment for the story. Perlmutter also declined to comment, but a person with knowledge of his approach said, "Ike Perlmutter neither discriminates nor cares about diversity, he just cares about what he thinks will make money.""
I'll certainly be picking up a copy, to see how this all aligns given the hindsight we now have.