Once upon a time, John Byrne decided to stop going to comic conventions. His rubber stamp signature when signing reprints, "a reprint for a reprint", his high chair/desk when sketching and signing that brought him eye-level with his fans (and above his fellow comic creators), it did all set him apart.
But then in 2004 he stopped. He wrote,
When I first got into the business, I used to look upon conventions as a kind of mini-vacation. I'd go to a con, hang out with folks, meet the fans, and be back at the drawingboard Monday morning. But as years went by, it got to be Tuesday morning. Wednesday. Thursday. Monday — but of the next week. Basically, I found that I was needing more and more "recovery time" after each convention — and that recovery time was time in which the real part of my job, drawing comics, was not getting done. So I weighed the advantages (interacting with a few hundred fans) against the disadvantages (not working on books that are for tens of thousands of fans), and I decided the former did not outweigh the latter. So, after MidOhioCon 2004, no more cons for me.
Until this weekend when, at the Las Vegas Star Trek Convention 2016, he will be attending to sign his Star Trek work at the IDW booth #54 – and only his Star Trek work, including his new fumetti work New Visions Special: The Cage, in which he takes screencaps and manipulates them to tell new Star Trek stories.
IDW will also have an exclusive variant cover of the Star Trek 50th Anniversary Cover Celebration by J.K. Woodward chronicling the 50 years of Star Trekcast members, one of three variant covers limited to 250 copies each for $10 a copy. The remaining two connecting variants are exclusive variants for the Star Trek Mission show in New York City, and NYCC.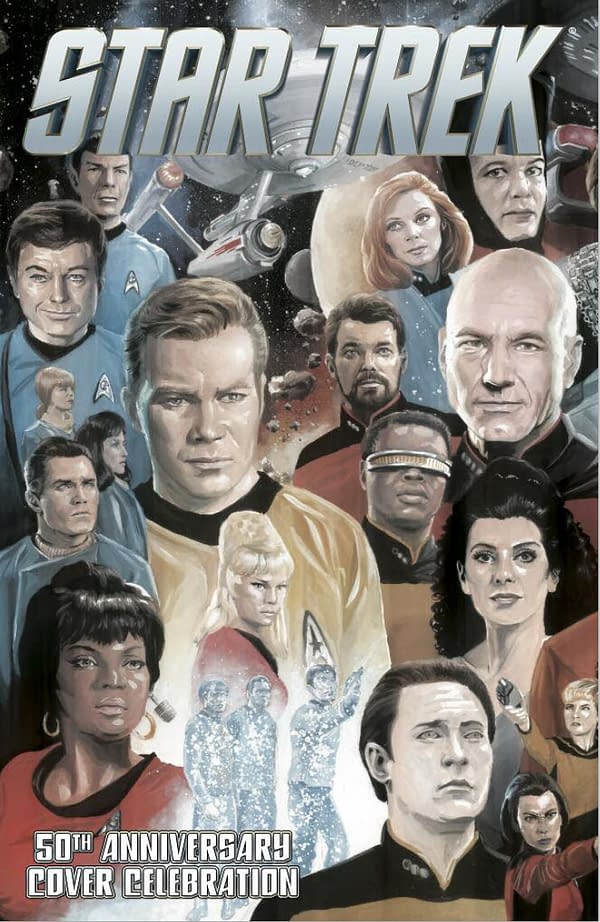 Thanks to Pete for typo check.
Enjoyed this article? Share it!