In New Mini-Comic, Jughead Shows Archie How to Pre-Order Archie #29 Before FOC
The comic book industry is the best industry in the world! Our industry is so great that in order for comic book series to survive, comic book professionals are always telling us we have to pre-order them. But figuring out how to pre-order these things on time them isn't an easy process, with multiple catalogs, a plague of reboots and relaunches, and all the distracting variant covers. This is a problem Diamond hopes to solve then, but until then, we can probably expect to mess up and forget to tell our retailer more than a few times.
Luckily, Archie Comics has taken steps to combat this problem by producing a comic that explains how to preorder comics! Check it out below: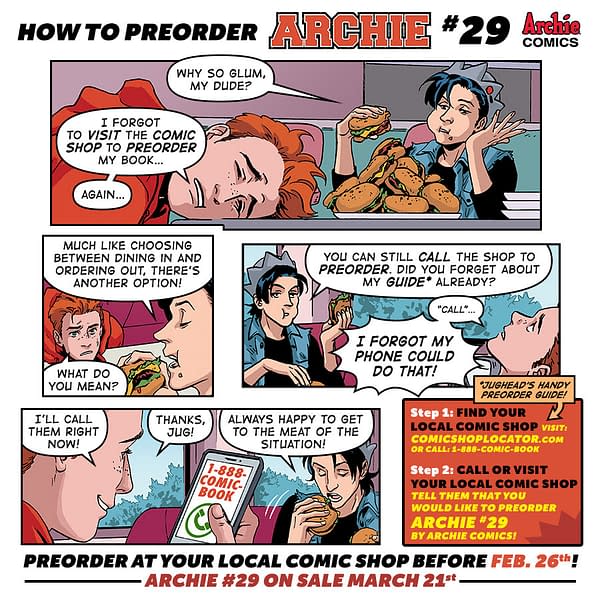 Archie also released an unlettered preview for Archie #29, and you know what that means. Check back later. For now, here they are in their original format:
ARCHIE #29
The Blossom family secret has erupted, taking all of Riverdale by surprise—and that includes Cheryl and Jason! What's the truth about their long-lost father?

Script: Mark Waid, Ian Flynn
Art: Audrey Mok, Kelly Fitzpatrick, Jack Morelli
Cover: Audrey Mok
Variant Covers: Pete Woods (B), Pete Woods (C)
On Sale Date: 3/21
32-page, full color comic
$3.99 U.S.