Juna Group Abandons Trademark Application for Harvey Comics
The Juna Group of Newburyport, Massachusetts, has abandoned a trademark application for the term Harvey Comics, after being challenged by Classic Media. The trademark application was for Comic books; Children's books; Coloring books and was made back in May. After much paperwork went back and forth between the Juna Group and the US Government, a notice of publication of trademark was made in September. Classic Media, now owned by NBC Universal, made an application to opposite it at the end of October and Juna Group pulled out a week later.
The Juna Group have previously quoted Rohit Deshpande, a professor of marketing at Harvard Business School, saying "This is a perfect time to bring back old brands. Baby boomers have grown nostalgic for the brands they grew up with, while consumers of all ages have shown a willingness to pay more for products with a reputation for high quality, which legacy brands often have."
But not every brand, it seems, is up for grabs.
Classic Media states they own and manage
a globally-recognized portfolio of well-known family and pop-culture entertainment brands, including Casper the Friendly Ghost®, Where's Waldo?®, Lassie®, Gold Key Comics, The Lone Ranger®, and new global brands Tinga Tinga Tales® and Guess with Jess®. Big Idea, a member of the Classic Media family, is the leading faith-based studio and producer of children's programming, including the best-selling animated series, VeggieTales®. More than 3,600 hours of Classic Media programming is distributed in more than 170 territories worldwide and showcased in multiple formats, including TV, film, home video, consumer products, publishing, digital, and music.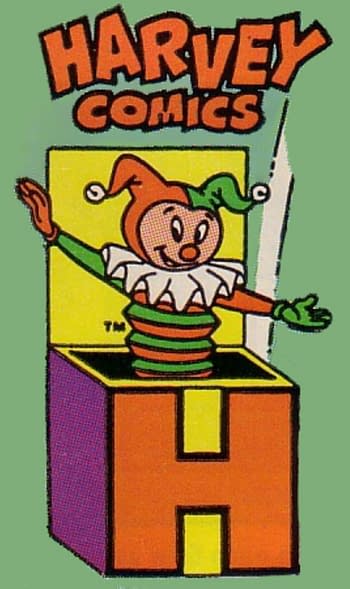 Harvey Comics was founded in by Alfred Harvey in 1941, after buying out the small publisher Brookwood Publications. His brothers, Robert B. and Leon Harvey, joined shortly after. The company ultimately became best known for characters it published in comics from 1950s onward, particularly those it licensed from the animation company Famous Studios, a unit of Paramount Pictures, starting in 1951. These include Little Audrey, Casper the Friendly Ghost, Baby Huey, and Herman and Katnip. In addition, Harvey developed such original properties as Richie Rich, Little Dot and Little Lotta. In 1958, Harvey purchased the Famous Studio cartoons, including character rights and rights to the cartoon shorts, but excluding Popeye. The Famous cartoons were repackaged and distributed to television as Harveytoons, and Harvey continued production on new comics and a handful of new cartoons produced for television. Casper the Friendly Ghost, who had been Famous' most popular original character, now became Harvey's top draw. Associated characters such as Spooky the Tuff Little Ghost, The Ghostly Trio, Casper's horse Nightmare, Hot Stuff the Little Devil, and Wendy the Good Little Witch were added to the output.
In 1989, Harvey was sold to Jeffrey Montgomery's HMH Communications, located in Santa Monica, California, renamed Harvey Comics Entertainment. In 2001 the company sold its Harvey properties and rights to the Harvey name to Classic Media. In 2016, the Harvey Comics properties returned to Universal when they acquired Classic Media's parent company, DreamWorks Animation.
So Juna Group? This brand is not for relaunching… not by you, anyway…