Today's Justice League #39 On Whether Doomsday Clock is DC Canon or Not (Spoilers)
This is a panel from towards the end of today's Justice League #39 by Scott Snyder and Jorge Jimenez. With the Spectre and the Phantom Stranger narrating the nature of the character's reality.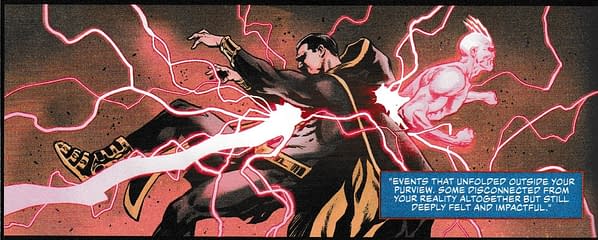 'Events that unfolded outside your purview, some disconnected from your reality altogether but deeply felt and impactful.' It's one of a number of scenes but this is the one addressed as disconnected from the reality of the DC Universe. Do you recognise it? Here it is again in Doomsday Clock #12 by Geoff Johns and Gary Frank.
What does it mean? It could mean that Doomsday Clock is, officially, not in continuity with the rest of the DC Universe, as originally planned. But that people still liked it. Now since the beginning, Doomsday Clock was meant to be the near future of DC Comics, but when its writer, Geoff Johns, stepped down from being CCO of DC Comics, the comic book got later and later, and Brian Bendis really wanted to play with the Legion, and Tom King kill off Alfred Pennyworth, despite DC's reassurances that the plan had not changed, this seems pretty conclusive proof that it had. However, the powers that be (Spectre, Phantom Stranger, Scott Snyder) also give the Justice League a choice. A door to walk though. That will lead to… everything.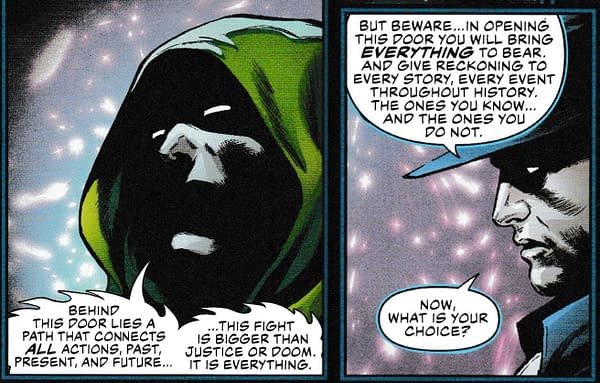 Could this be the 'everything happened, everything matters' nature of the four generations of the DC Timeline? Because, you know what, Doomsday Clock did that too…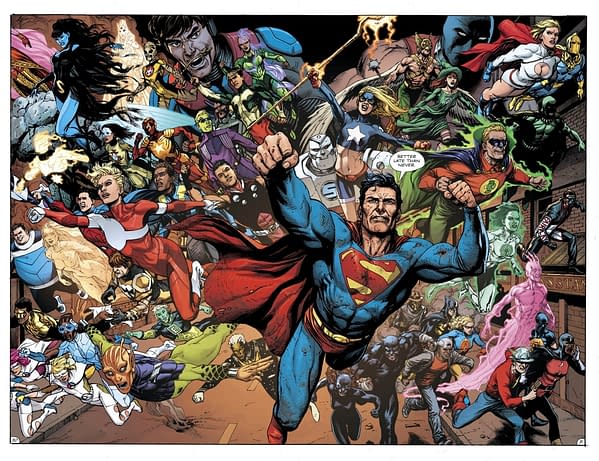 Cheeky Superman… looks like there may be a way through after all. I get the insider word in DC's direction that Doomsday Clock did happen in continuity- but has been hidden from everyone in the DC Universe. All the contradictions – Alfred, the Legion, Superman's identity and the return of Jonathan and Martha Kent – will be revealed as part of the DC Timeline. Even if, right now, none of it makes a lick of sense. Look, Doomsday Clock was DC Comics' biggest selling series over the past two years, they are going to want everyone to know that, continuity wise, it mattered. But how? We'll just have to wait. But I also talked to Scott Snyder, who was up early with the kids, and he seemed to agree.
"The idea is that everything happened – and happened IN continuity – everything mattered, Doomsday Clock, Year Of The Villain, stories old and new, there's just a story reason why it doesn't seem that way on the surface right now. Bottom line, we need to reward fans for their dedication and passion for all the characters, for all these great stories, and say – now let's do a big, crazy story that shows the connections, some obvious, some secret, a story that's celebrates and rocks the whole DCu and – above all- let's have some fucking fun doing it."
Are you intrigued? I'm intrigued… that sounds very much like Death Metal doesn't it? We get a Metal-ish panel too with Bizarro Superman riding a Pterosaur…
JUSTICE LEAGUE #39
(W) Scott Snyder (A) Jorge Jimenez (CA) Tyler Kirkham
In the wake of the Justice/Doom War, the Justice League finds themselves stranded at the far end of the universe and facing a challenge they've never faced before. But what will they find on their journey? Has their battle with Perpetua had consequences reaching farther across the cosmos than they ever imagined? Superstar scribe Scott Snyder says farewell to the Justice League with a special story that both winds down all the things he started in issue #1-and nods toward everything that comes next in the DC Universe.In Shops: Jan 29, 2020
SRP: $3.99
Justice League #39 is out today from DC Comics… I bought mine from Piranha Comics in Kingston-Upon-Thames. Piranha Comics is a small south London comic store chain with a small south-east store in Kingston-Upon Thames's market centre, which runs Magic The Gathering nights on Fridays, and a larger south-west store in Bromley, which also runs Magic nights and has an extensive back issue collection and online store. If you are in the neighbourhood, check them out.