Kieron Gillen and Declan Shalvey's #ArtCred Project Reveals The Importance Of Comics Artists to Stories
Tomorrow, Kieron Gillen will be holding a Guardian masterclass at Amnesty International's London HQ, talking about creating comic books. But you don't have to pay out so much money to get the benefit of his tutorship. Because last month, creators Kieron Gillen and Declan Shalvely had an idea. Something to demonstrate the importance and impact of comic book artists on a comic book page, faced with a media that often only praises the writer, rather than the penciller, inker and colourist. So they set up something called Project Art Cred, with scripts by Gillen from a non-existent Super-Man comic book.
Here's the script.
SUPER-MAN KieronGillen/Assorted Mysterious Artists

Hi

Super-man is, of course, a very different and legally separate character to Superman. Clearly, if you, the artist, choose to interpret the visuals in a manner akin to the famed father of superheroics, it is beyond my control. You artists are mysterious elfin creatures, whose raw creativity I would not dream to curtail.
Anyway! This is one page, five panels. I was playing with a few other rough ideas, some striking an elegiac poetic mood, some speaking to the fundamental morality of the character, and some just being really angry satire… but I figured that dumb is best. This is quite dumb, but hopefully includes a few fun things to play with, and should work with a different effect in many different styles. Which, I guess, is the point, right?

I tend to write heavy, but in this case I'm going to write a little looser. I always say that I'm very pro seeing your interpretation of the script rather than any attempt at holy writ…. and in this case, that's obviously doubly true. Add panels, details, whatever. Do what you do. Can't wait to see it.

PAGE 1

1.1 Tight on a construction worker, sitting in a mechanical digger. What kind? For the sake of the story, doesn't matter – something heavy duty. Indulge your inner 5 year old who loved diggers.

Pick something from here, basically… http://www.cat.com/en_US/products/new/equipment.html

It's probably tight enough that we can't see much of what's surrounding them. All we can see is that the worker is in distress. They're screaming, panicked. Something very wrong is happening, clearly.

Only strange thing – we may see some foliage leaking into the page.

Can be a silent panel or we can have a HELLLLP! dialogue here. I think it'd work silent.

NO DIALOGUE

1.2 And we pull out, revealing the situation. The digger and driver are resting in the top branches of an enormous animated tree. Think Treebeard from Lord of the Rings having a really bad day, rampaging through the streets of our classical super-man urban metropolis.
And Super-Man is flying in, clearly on the way to rescuing the worker from this predicament.
If you want the back story, I see that a construction company has basically started cutting down some trees in a forest, not knowing there's some manner of Tree people there. And now the trees are angry and on the rampage. If you want you can have other trees and saplings causing havoc, but clearly isn't essential. One big mean tree is all we need.

I'd say this is the largest image on the page.

NO DIALOGUE

1.3 Super-man carrying the digger away from the tree, safely. The angry Tree reaching out with knotted branch fingers after them, failing to pull them from the sky.

NO DIALOGUE

1.4 And the Digger has been placed on the ground, the driver waving as

Super-man flies away in the background.

Key thing – We can see the digger's branding. It is a CAT digger.

(If you want, it's possible that you could frame panel 1.3 so we have the branding prominently enough in it. If so, you could lose this panel and regain space on the rest of the page. As long as it's clear it's a CAT digger, that's fine.)

NO DIALOGUE

1.5 And we hard-cut elsewhere. We're in the metropolis' premier newspaper, in the editor's office. His star reporter has been pitching a story, and been told no. She looks outraged, and is clearly about to launch into a defence of the story. The Editor is cutting in, dismissively. The reporter probably looks a lot like Lois Lane and the editor probably looks a lot like Perry White. Probably.

REPORTER: BUT! IT WAS SENSATIONAL! HE–

EDITOR: SUPER-MAN SAVES CAT FROM TREE IS JUST NOT NEWS.

NOTE: Feel free to add your twitter handle and the #artcred at the bottom of the page. //end//
And here's what they received.
From Stephen Byrne.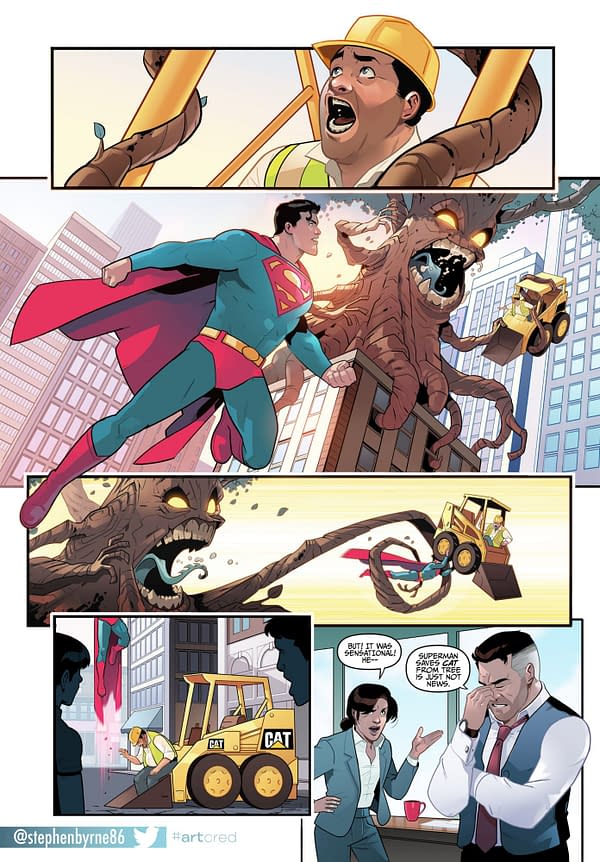 From John Cullen.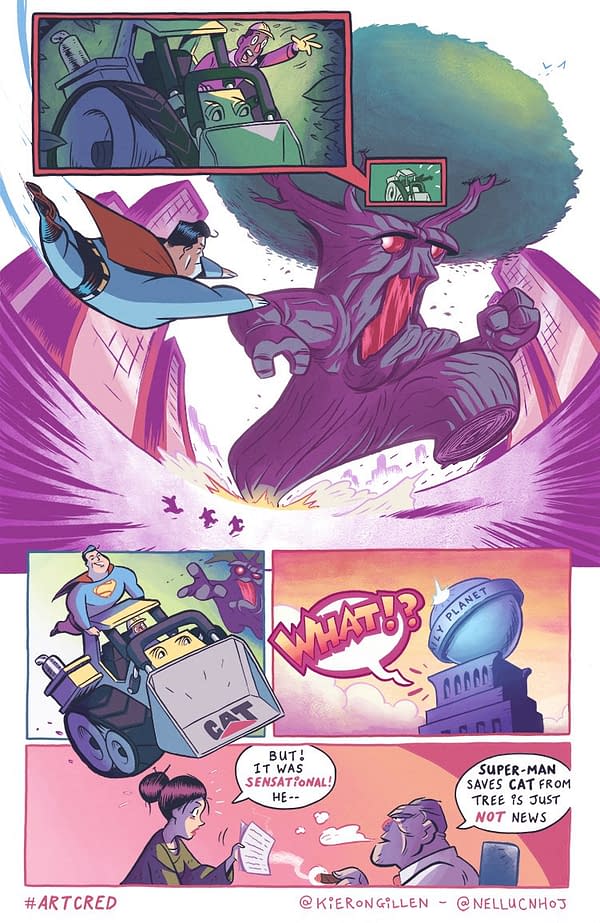 From Arthur Goodman.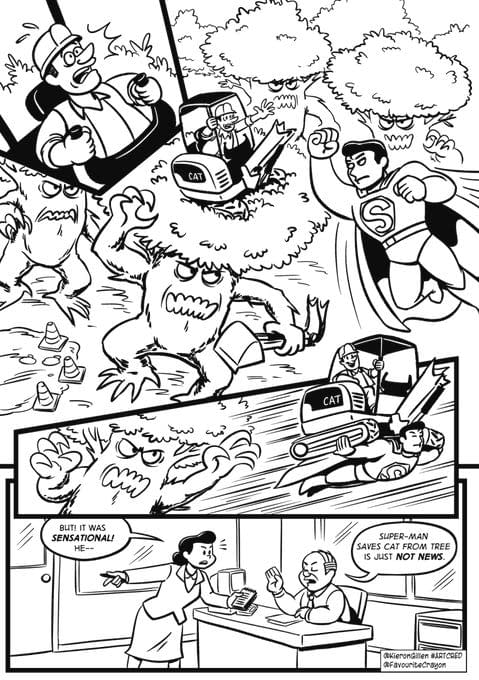 From Grey Wizard.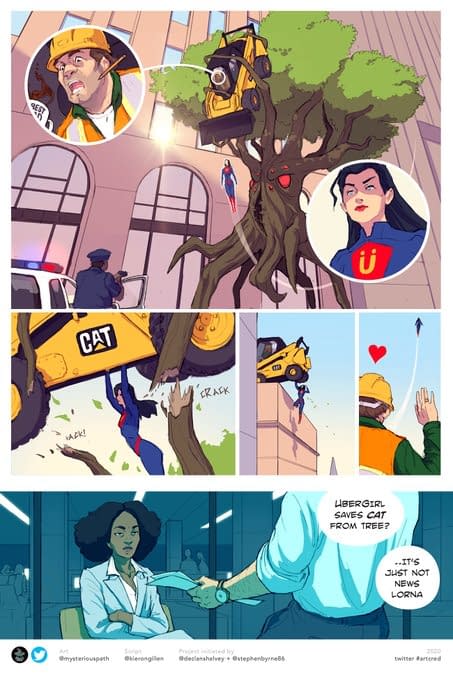 From Graham Corcoran.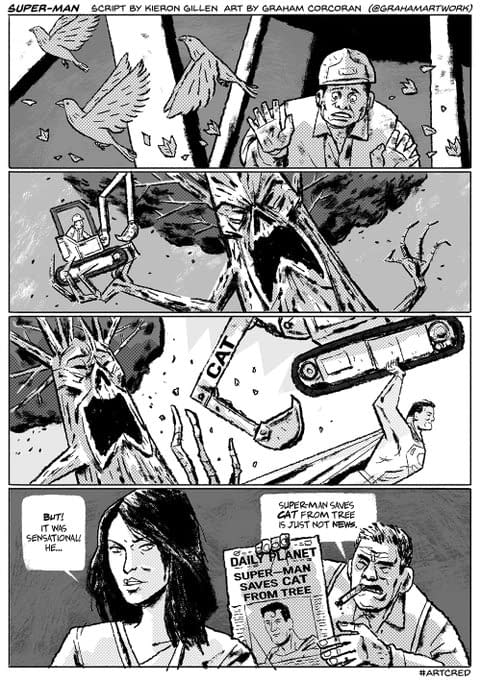 From PJ Holden.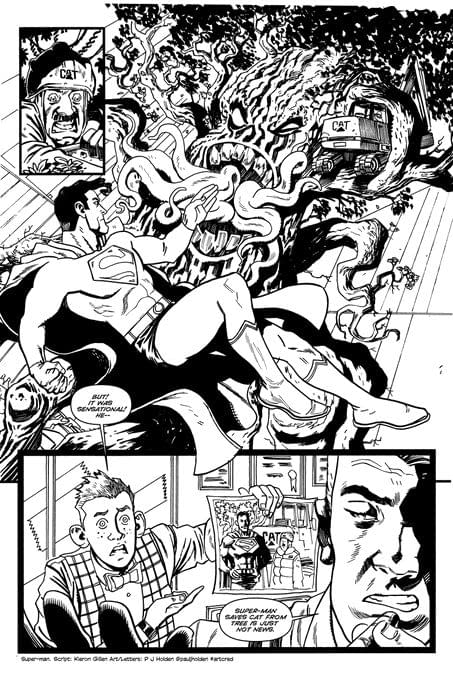 From Peter James Maggs.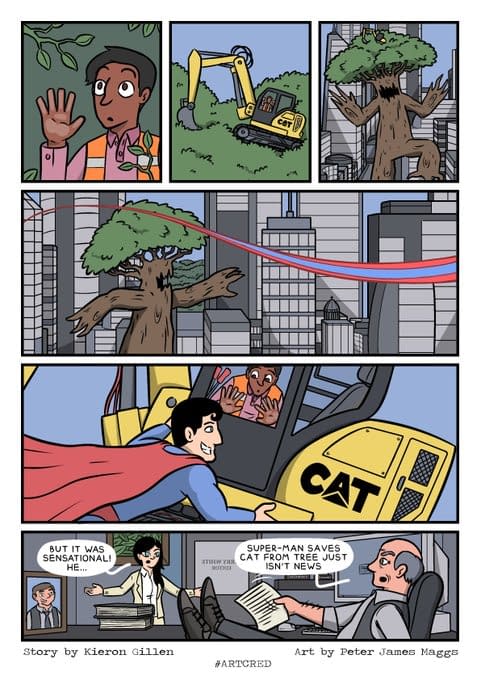 From Chris Miglorino.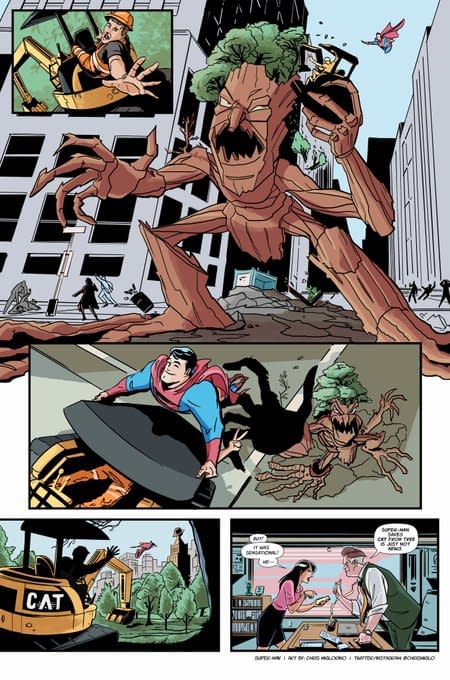 From Jorge Munoz.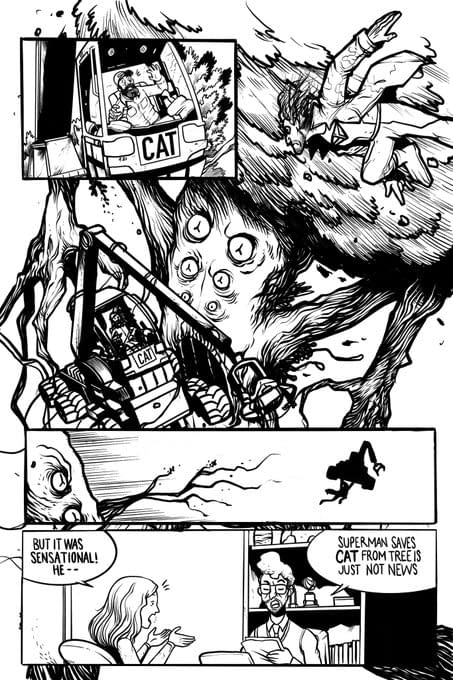 From Colin Craker.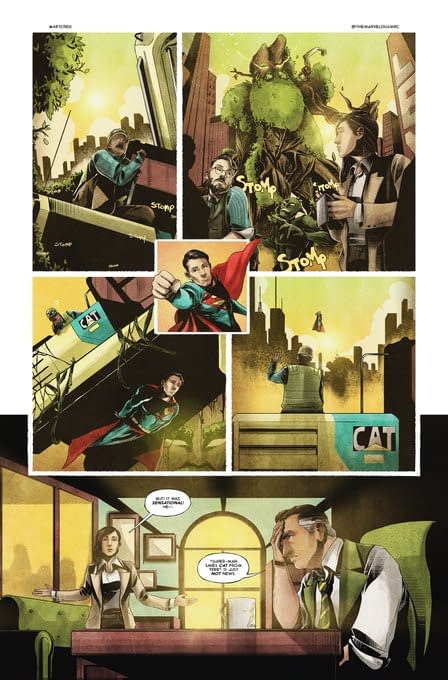 From Alex Bertram-Powell.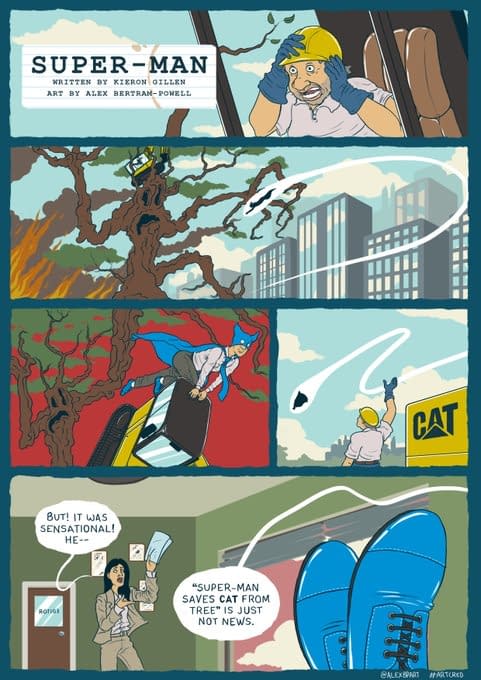 From Caio Oliveira.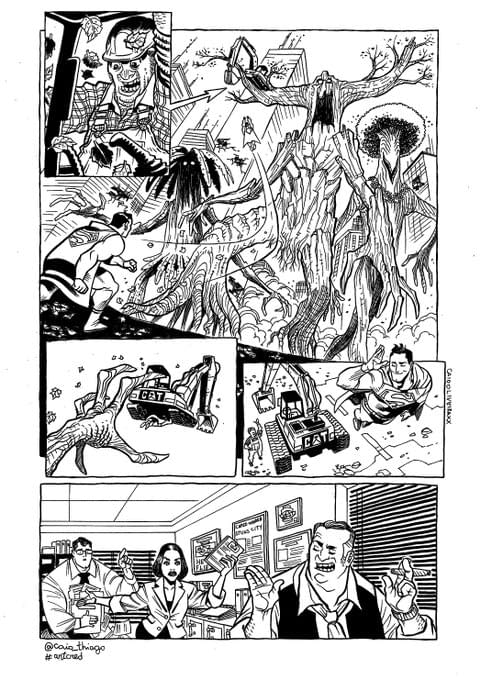 From Shaun Thatcher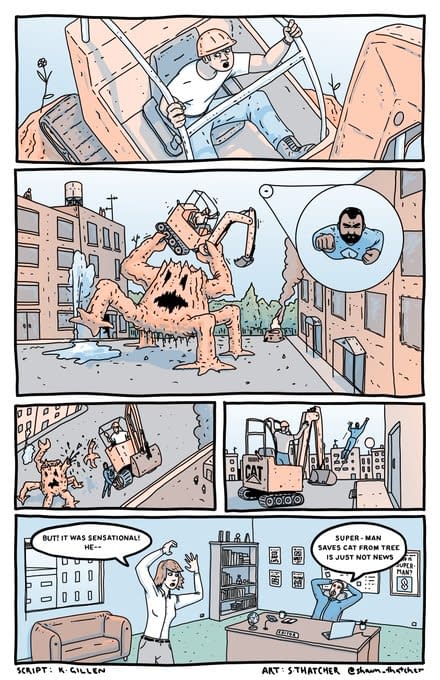 From Patrick Mulholland.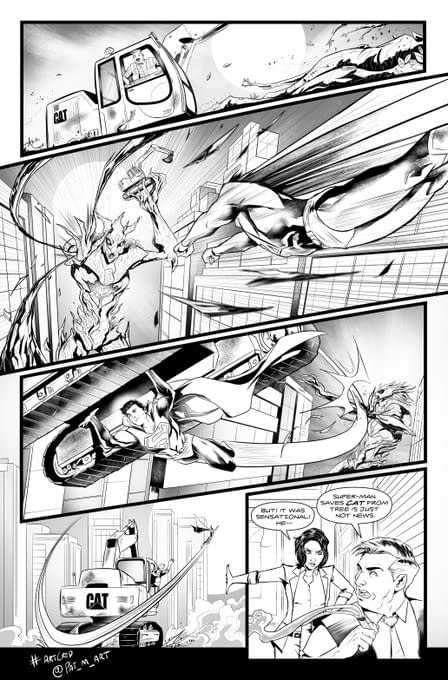 From Luke Kemp-James.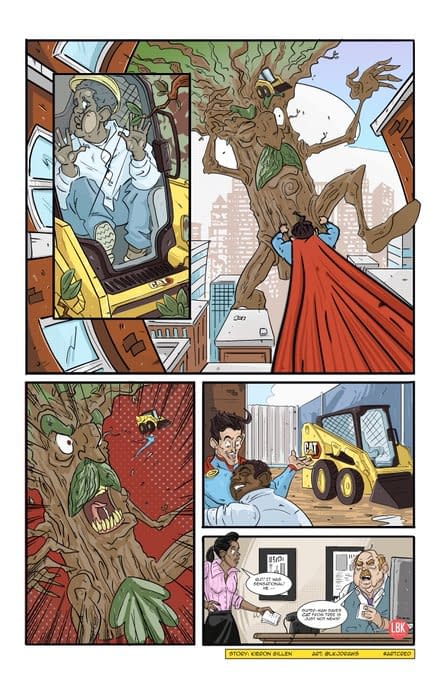 From Desi Aponte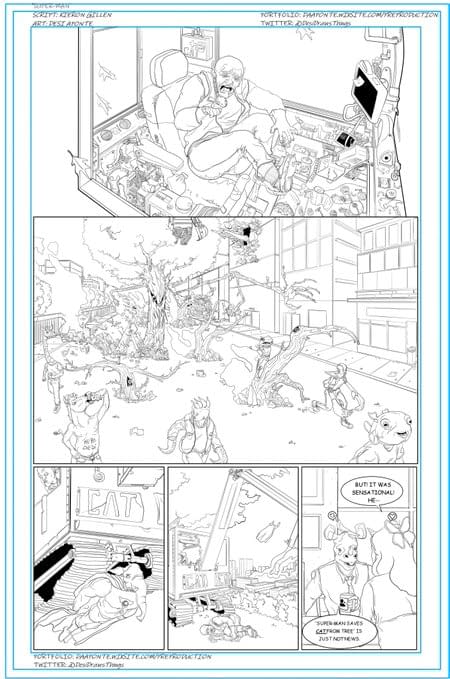 From John Grosjean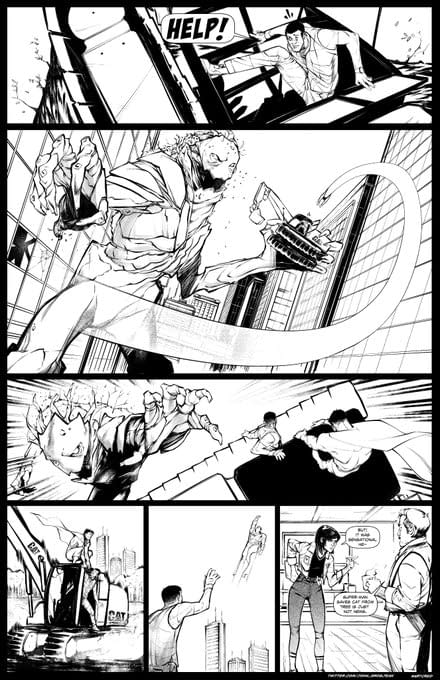 From Conor Boyle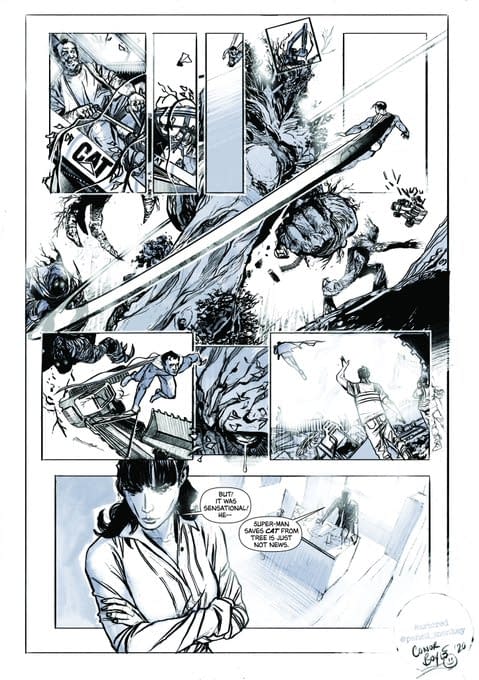 From Jace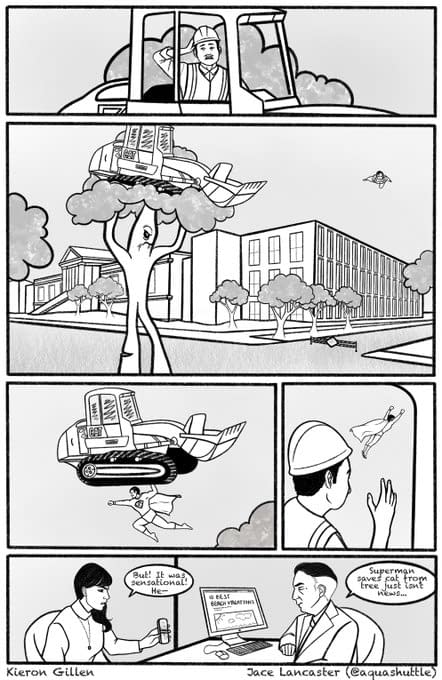 From Red Phacelia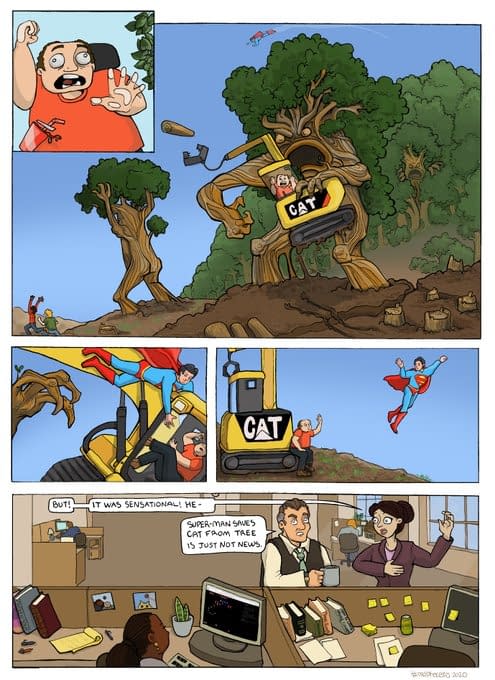 From Catarina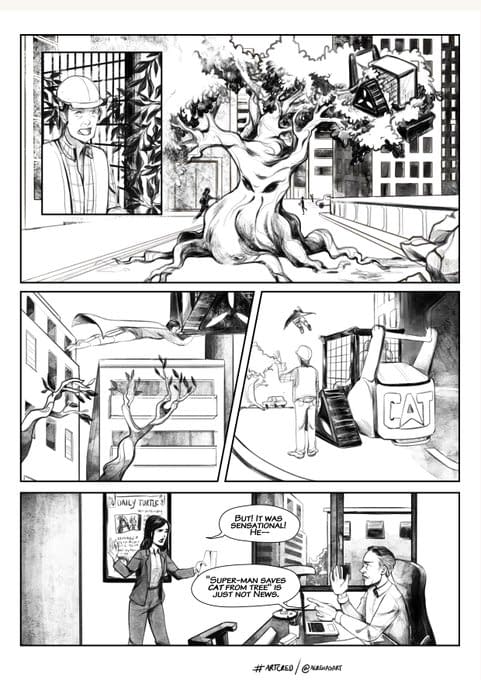 From Planeta Satélite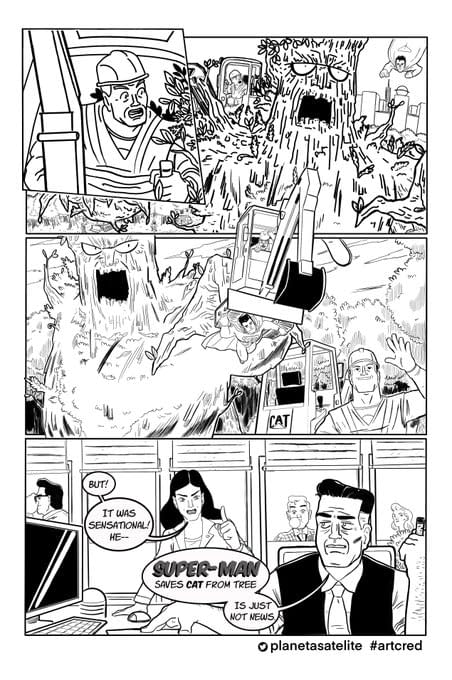 From Jeremiah Schiek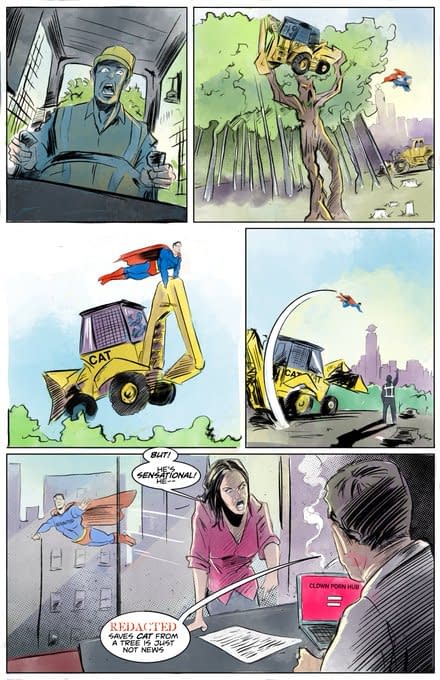 From Jeffrey Brown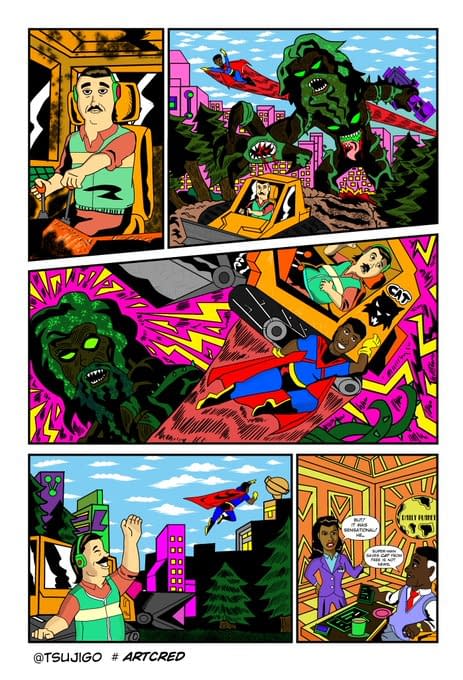 From Bevis Musson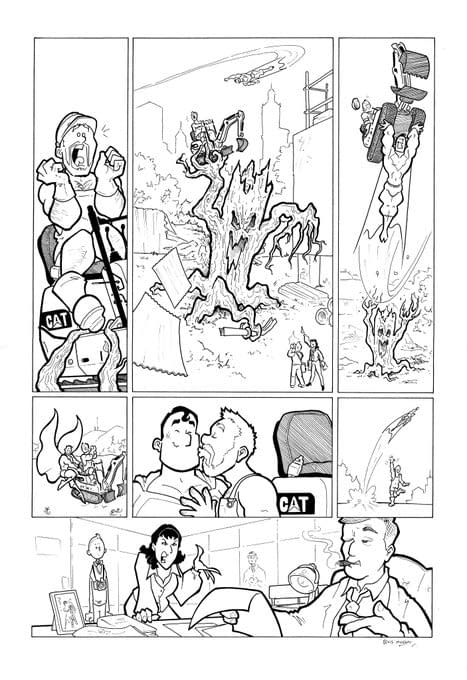 From Juho Kilpeläinen.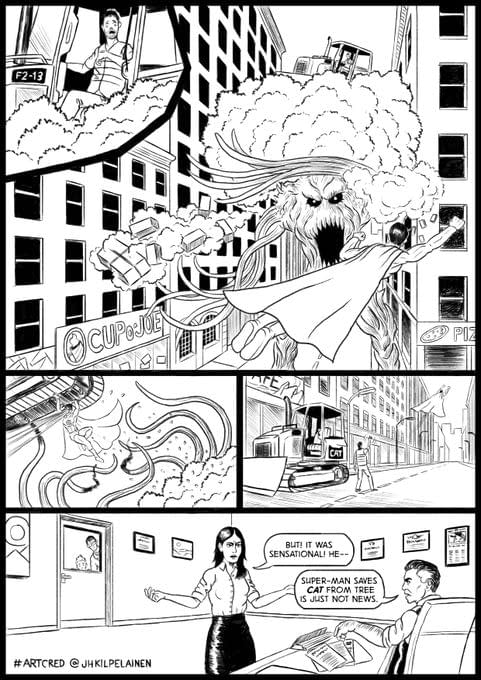 From Ian Elliott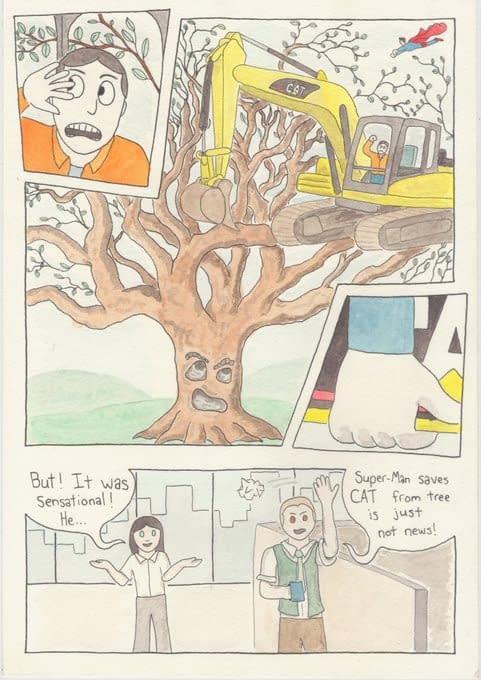 From E. M. Fields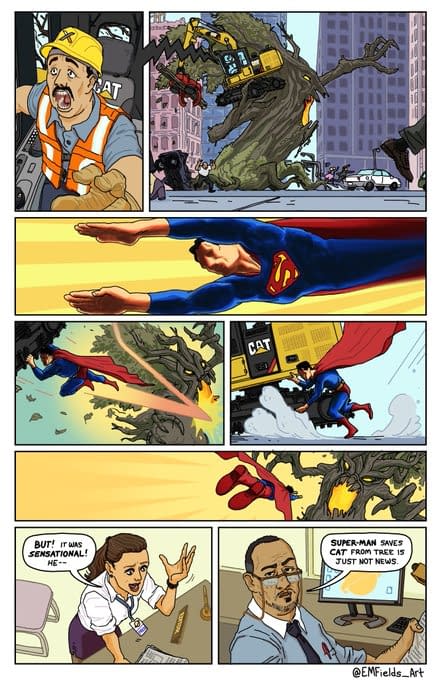 From jay are gee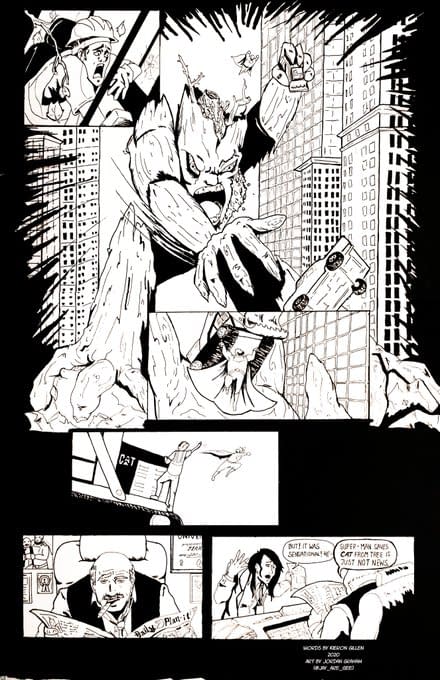 From Bill Masuku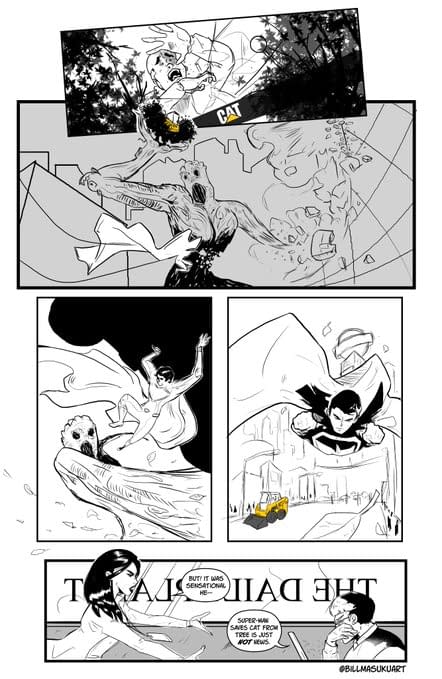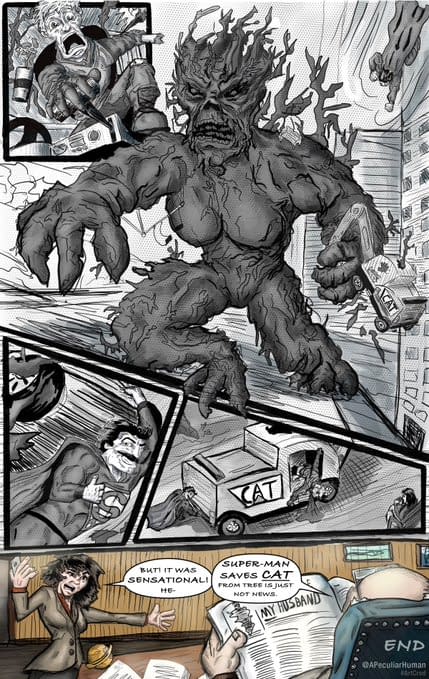 From eelmoji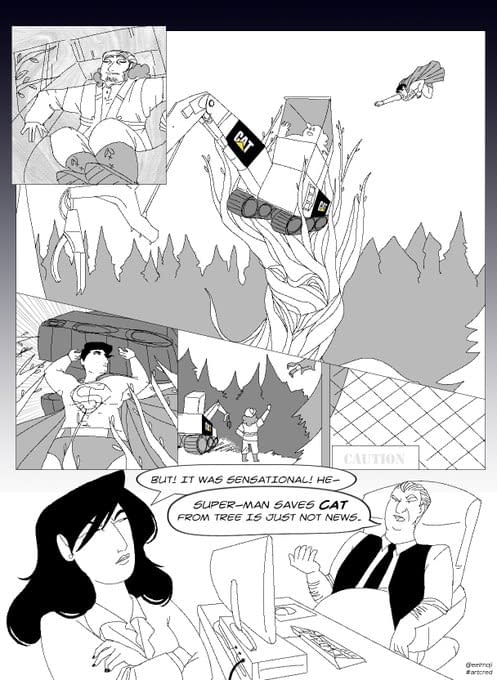 From Grant Henry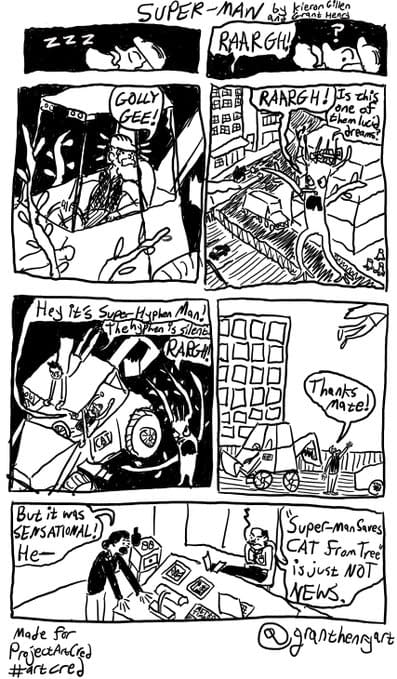 From Michael Deusinterra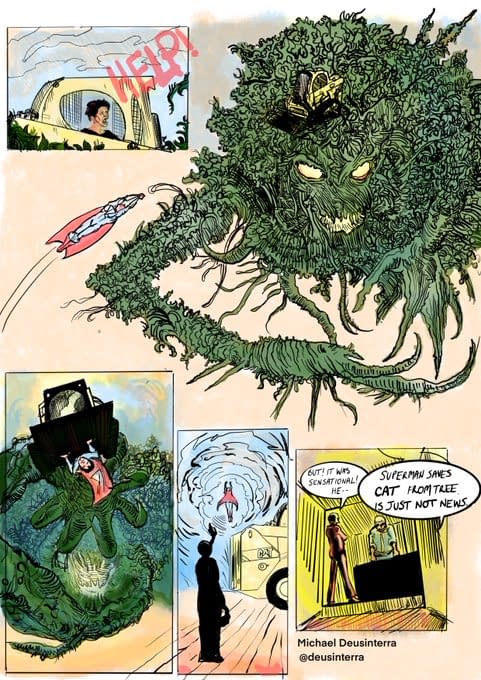 From Conor.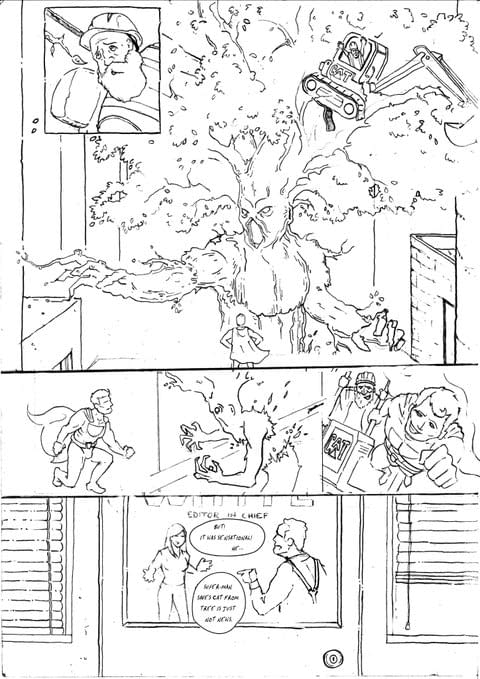 From Martin Siles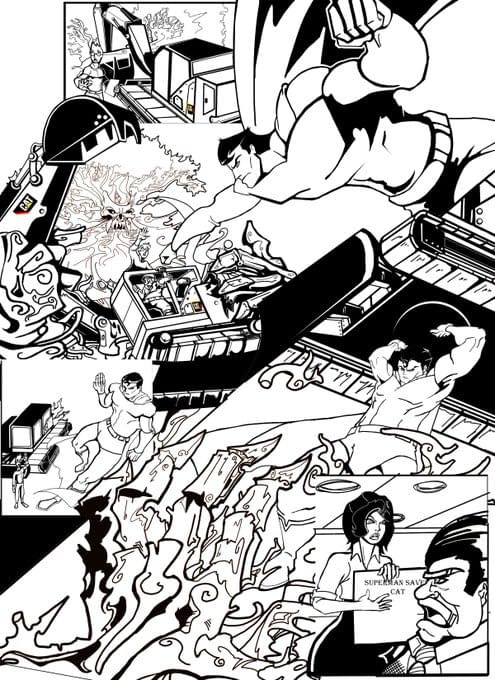 From Noah Sayers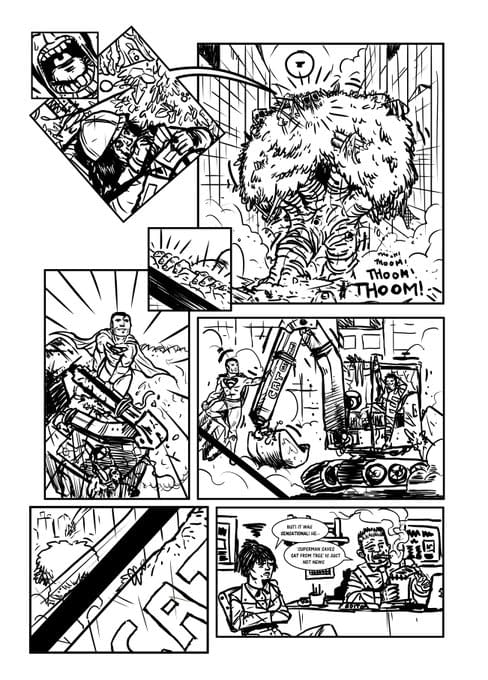 From Fabrice Cornette.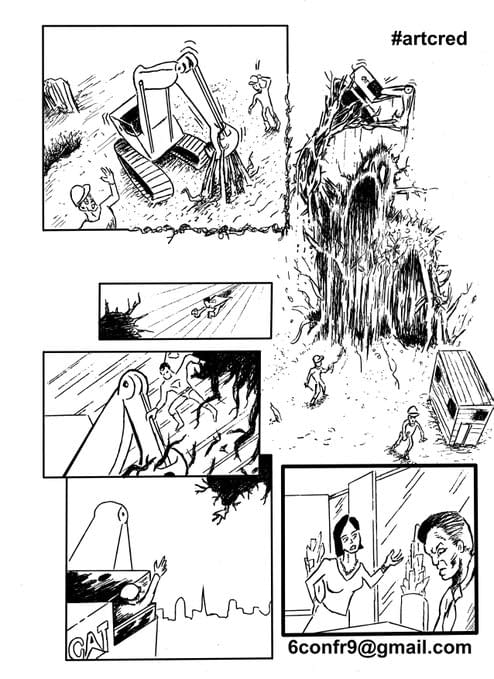 From Tone.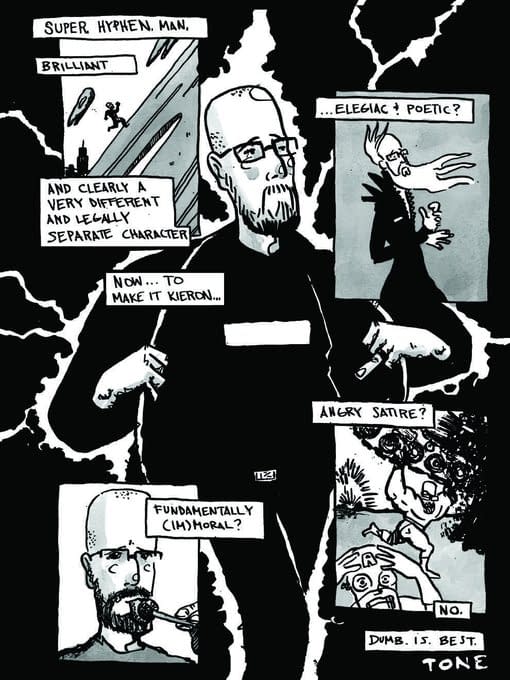 From Grayson Rogers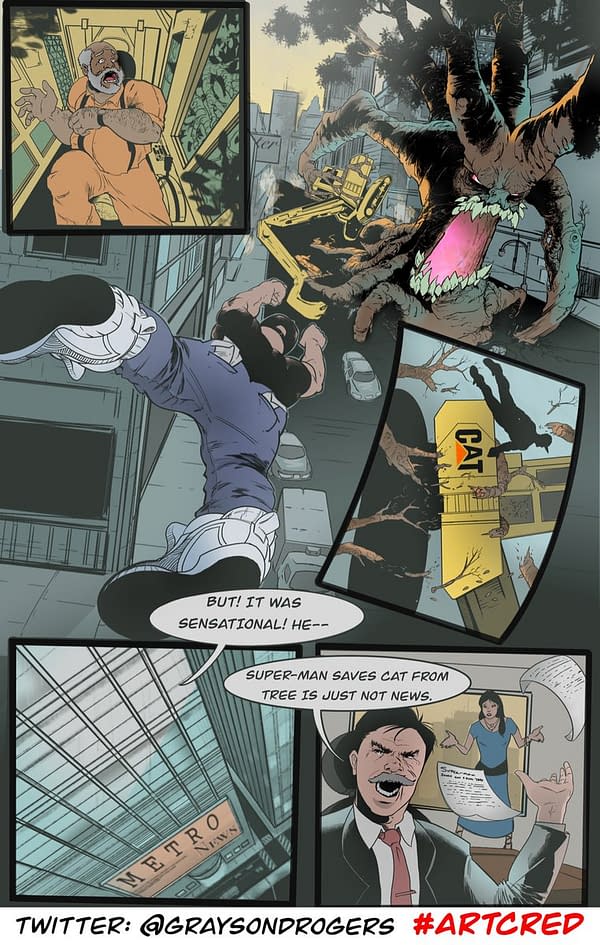 And from Declan Shalvey himself – but layout only.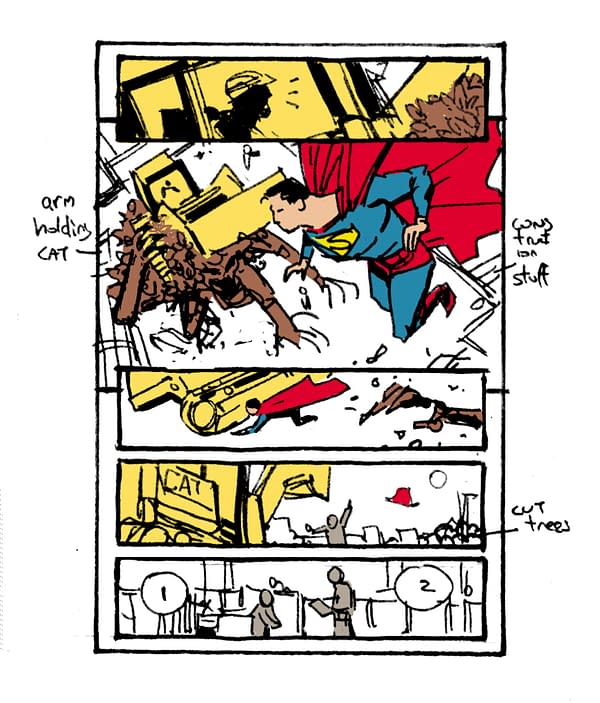 Come on, Guardian masterclass, beat all that..