King Of Nowhere #1 Outsells Ice Cream Man #1 – Latest Salvo In Boom Vs Image Comics
Despite Image co-founder Erik Larsen publicly launching a war with rival Boom Studios amid concerns raised by ComicBook.com's James Viscardi that Boom would overtake Image the #3 publisher, yesterday it seemed like perhaps peace was on the horizon.
Boom founder Ross Richie issued a series of tweets early Monday morning where he agreed with Image's Eric Stephenson about the need to help the industry grow by cutting the number of comics that publishers are releasing. He seemed to reach across the aisle to form an alliance with Image, calling out Marvel, DC and other premiere publishers for not doing their part to reduce output.
That prompted Image co-founder Jim Valentino to offer words of support to Richie on Facebook:
But Erik Larsen wasn't having any of it.
And he's right. But nevertheless, King of Nowhere #1, Boom's new launch from their latest Image defectors in W. Maxwell Prince (Ice Cream Man) and Tyler Jenkins (Peter Panzerfaust), has orders at FOC just a few copies short of 15,000 – outselling Maxwell's acclaimed 2018 Ice Cream Man at Image, which launched with just over 10,000 orders while Peter Panzerfaust #1 launched with just over 5000.
This comes just after Si Spurrier and Christian Wildgoose's Alienated #1 outsold nearly every creator-owned launch of his career, closing in on the numbers for Spurrier's Cry Havoc at Image. Which itself followed hot on the heels of Boom announcing full series reprints of their biggest 2019 creator-owned series, including The Red Mother #1 from Image defectors including Jeremy Haun (The Realm) and Danny Luckert (Regression).
Certainly, Image has Decorum #1 from Jonathan Hickman and Mike Huddleston that Image thinks will outsell his X-Men, but will that help them create some distance from Boom in the race for market share – or will that 2% gap close further between the two publishers? Though as Erik Larsen eludes, that was just for a month or two…
But don't sleep on King of Nowhere #1, as you might remember that W. Maxwell Prince's Image series Ice Cream Man went back to press on issues #1 and #2 quite quickly. I wouldn't be surprised if this is heading to a second printing sooner than later.
King of Nowhere #1 arrives in comic shops on March 4, 2020.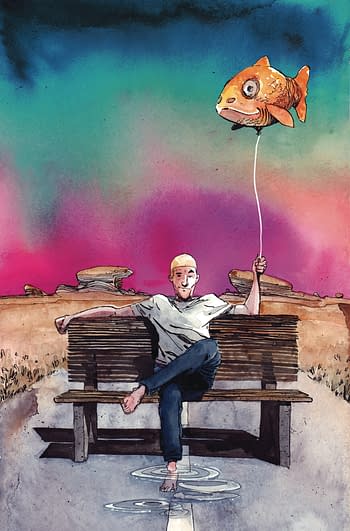 KING OF NOWHERE #1 (OF 5) CVR A JENKINS
(W) Maxwell Prince (A/CA) Tyler Jenkins
* Eisner Award-nominated writer W. Maxwell Prince (Ice Cream Man) comes to BOOM! Studios with Eisner-nominated artist Tyler Jenkins (Grass Kings, Black Badge) for an unforgettable thriller that explores the miraculous, the mundane, and all the mysteries in between.
* Lovable drunken lowlife Denis awakens on the outskirts of a mysterious village called Nowhere, home to a friendly populace of deformed, mutated, just-left-of-normal citizens-and he has no memory of how he got there.
* But just when Denis starts to regain his memories, his past catches up to him… literally.
* What at first seems like merely a bad trip quickly heightens into a drama of mistaken identities, small-town conspiracy, and high-stakes fantasy fulfillment. In Shops: Mar 04, 2020 SRP: $3.99