Kitty Pryde Owns the Trademark on the X-Men
The current trademark for X-Men is owned by Marvel Characters, as you might expect. But in the Marvel Universe itself, Marvel seems to have lost the rights. In today's Astonishing X-Men #13 by Matthew Rosenberg and Greg Land, Havok looks to create his own X-Men team, recruiting from within the X-Mansion, only to hit a snag.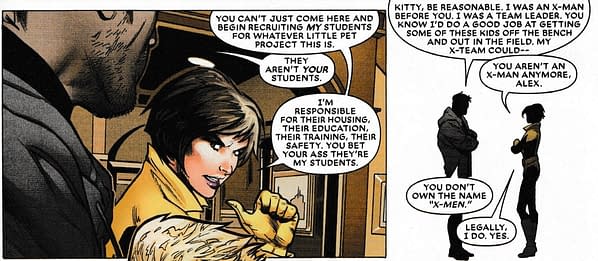 The X-Men own their own trademark, at least as far as it goes to creating superhero teams known as the X-Men. Which does suggest they could have sued the likes of X-Force, X-Factor, or other knock-off teams if they had wanted. Also…

…it looks like the trademark was registered by Charles Xavier and passed to Kitty when he died. Now that he is back as X — will he want the trademark back too? Registration Wars coming to a summer event near you soon…
ASTONISHING X-MEN #13
(W) Matthew Rosenberg (A) Oscar Bazaldua (A/CA) Greg Land
A NEW ERA BEGINS NOW!
The Reavers are back, and they have a new weapon that only Havok knows about. It's going to take a ragtag group of X-Men to save a world that hates and fears them! But after his villainous turn, can any of the X-Men really trust him? Can he blame them? Havok! Beast! Dazzler! Warpath! Colossus! It's an all-new, all-different kind of X-Men story from the minds of Matthew Rosenberg (PUNISHER) and Greg Land (INCREDIBLE HULK)!
Rated T+In Shops: Jul 04, 2018
SRP: $3.99
Trademarked Kitty Pryde.