"I Knew Going In How The Godeater Could Be Defeated." – Justin Jordan Talks Evil Ernie: Godeater
Justin Jordan talked to Byron Brewer about Evil Ernie: Godeater #5, the tale's grand finale, on sale in December from Dynamite. Covers by Lucio Parrillo and Ben Templesmith.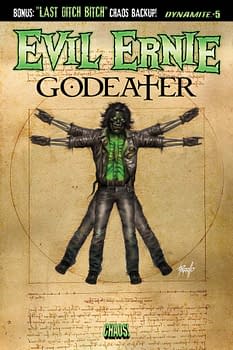 BYRON BREWER: Justin, coming in December is the grand finale of your imaginative romp with Evil Ernie in the Chaos Universe. What has it meant for you as a comics writer?
JUSTIN JORDAN: Evil Ernie was one of those foundational books for me, which changed how I looked at comics. So getting to work on an Evil Ernie book was really, really cool.
BB: Your concept of the Godeater certainly gobbled its way through the series, defeating the Hosts of Heaven, the Armies of Hell and even the warriors of legendary Valhalla. As December approaches, do you feel like maybe you were painting yourself into a corner, making the villain unconquerable?
JJ: Fortunately, I knew going in HOW the Godeater could be defeated, so it was mostly a matter of making sure we got the sheer scale of the threat of the Godeater across while not making the way to defeat it seem like a total deux ex machina.
BB: However this book comes out – and whole universes have been destroyed before (Marvel just terminated several) – do you look for it to have (if he survives) a lasting effect on Ernest Fairchild going forward?
JJ: Well, there's implication of a huge game-changing thing maybe having happened in the end. One that could change Ernie a whole lot. And the world a whole lot more.
BB: I know this may seem strange, but, heck, with Thanos having already had a series and getting another, not to mention the Legion of Doom at DC, would it be tough for you to write a Godeater series (should it survive)? Very cosmic! JJ: Oh man, I think the Godeater is cool, but it's basically made of hunger and hate, and hunger and hate on a multi-cosmic level. I don't think there's a way to tell a story about just it. But, hell, I'll give anything a shot.
BB: With the grand finale upon us, Justin, did you, looking back, tell the tale you desired? Were there any plot points left out for space or brevity you can tell us about or, conversely, something you wish you had NOT put in now?
JJ: I have to say, I got to write almost precisely the comic that I started out trying to write. Which, you know, you don't get to do as often as you would like in a creative field. Ultimately, I'm pretty proud of how this all ended up.
BB: And what did you think of the art of Colton Worley? Did it portray the horror AND humor you were trying to evoke in the series?
JJ: I liked it! Colton created some rad, ethereal visuals for the book, and I think it got the mood across that we were aiming for.