We always love it when Mark Millar rewrites history. In an interview with Entertainment Weekly, he recalls the origin of his Ultimates series with Brian Hitch.
Brian and I pretty much ran the Ultimate line ourselves. He did Spider-Man and Fantastic Four, I did X-Men and Ultimates. It's funny to look back on now, but I had been begging them to relaunch the Avengers. Marvel had no interest in bringing the Avengers into the Ultimate line; they said those characters are dead and no studio was interested in them. I was always a really big Avengers fan. I got some credibility from doing Ultimate X-Men; that was the No. 1 book when it launched. So they said, would you want to do Ultimate Wolverine? I said no, no, I'd love to do Avengers. They won't even let me call it the "Avengers" because they thought Avengers was such a dead franchise that I had to call it "Ultimates" instead. It's crazy to think now that Avengers was such a diminished name in the industry, and Marvel had no faith in at all. But what was great was they let me do whatever I wanted because they expected nothing from it.
Well, Kurt Busiek, who was writing the Avengers comic at the time and who left the series as a result of the Ultimates existence, wanted to set the record straight.
Lovely to see my AVENGERS run still getting crapped on at this late date. It was one of Marvel's top books at the time, so Mark is, perhaps, misinformed.https://t.co/dNTrdAqMlA

— Kurt Busiek Resists (@KurtBusiek) April 9, 2018
We never get to see the whole story at once, but from my end, I'd told Tom Brevoort that if they did ULTIMATE AVENGERS I'd seriously consider leaving AVENGERS, and he told me a few days later that they wouldn't do that, so I stuck around and did The Kang Dynasty.

— Kurt Busiek Resists (@KurtBusiek) 9 April 2018
So may be my request had some weight and they just told Millar a story, or it may have been complete coincidence — it's true that the Jemas-era PTB weren't fond of our approach, but we were still one of the top books at the company and outselling "cool" titles like DAREDEVIL.

— Kurt Busiek Resists (@KurtBusiek) 9 April 2018
But my reasoning was that if they did ULTIMATE AVENGERS, they'd invariably promote it as the cool new thing, an improvement on that old uncool existing book, and I didn't want to be working on a book that the publisher was dissing.

— Kurt Busiek Resists (@KurtBusiek) 9 April 2018
With ULTIMATE X-MEN, they launched it, it was promoted as the cool thing, then afterward Grant took over the mainline X-MEN and it got to be "new and fresh." On Spider-Man, I think it was similar.

— Kurt Busiek Resists (@KurtBusiek) 9 April 2018
So when they did ULTIMATES, which was ULTIMATE AVENGERS in all but name, I knew it was time to take a bow and leave, so that the next creative team could be new and fresh, rather than hanging around and getting labeled old and fusty.

— Kurt Busiek Resists (@KurtBusiek) 9 April 2018
No particular hard feelings on my end — I went off and got to be new and fresh on books like CONAN. That's just how comics work.

— Kurt Busiek Resists (@KurtBusiek) 9 April 2018
But my end of the story is that they didn't call the book ULTIMATE AVENGERS because I asked them not to, not because AVENGERS was a dead franchise. Marvel back then wished most of their books were selling as well as we were.

— Kurt Busiek Resists (@KurtBusiek) 9 April 2018
And I think our run's clearly been valued over time, in terms of all the nice reprints and such. ULTIMATES did very well, too — nobody needs to shit on one book to promote the other.

— Kurt Busiek Resists (@KurtBusiek) 9 April 2018
Hang on Kurt, have you never read any of Mark Millar's marketing plans? That's exactly what you always do…
I decided to look up the January 2001 numbers and here you go: pic.twitter.com/FCMZXbMviw

— LaniserStark (@LanisterStarkAr) 9 April 2018
And here was a report from the time from a certain column back in the day…
BUSIEK LEAVES AVENGERS OVER ULTIMATES

On the Avengers Comic Board, Kurt Busiek revealed one of the main reasons why he left Avengers:

"I don't have any real complaints about the book itself, but I knew that if they did an "Ultimate Avengers," it'd trigger exactly the kind of "Which one is better?" "Which one sucks?" argument that it has, and that an Ultimate Avengers book would have that whole "We're not boring and stodgy like the old versions of the characters" aspect as part of its promotional thrust. And I didn't want to have anything to do with that.

"And sadly, calling it ULTIMATES instead of ULTIMATE AVENGERS didn't change that a bit.

"It's entirely possible for someone to come along and be cool on AVENGERS after ULTIMATES is launched. It happened on both X-MEN and SPIDER-MAN, after all. So I think Geoff Johns has a fine shot. But whoever was on the books when the Ultimate version happens would be recast as 'the old guard,' as the avatar of what has to be discarded to make the new stuff new and fresh. And that's not a bullseye I particularly want to stand on, thanks.

"If I'd had a ton of stuff I still wanted to do with AVENGERS, I might've thought more seriously about makin a fight out of it, but as I said at the time, I'd accomplished what I'd set out to accomplish on the book. And I don't much like the idea of being on a book that's being treated as a loser by its own publisher, implicitly or explicity, as part of selling something new.

"Don't take this as sour grapes — I have no problem, in theory, with the Ultimate program. I like Mark Millar. I like Joe Quesada. We get along just fine. [I don't know that I've ever met Bill Jemas, but I'm sure he's a swell guy too.] And I'd have no problem writing a MAX book, or some of the new, glossy, big-budget movie approach to the Marvel characters (I've been talking with Tom Brevoort about one or two ideas on that score, even). But being "the old guy" on a book that's getting the Ultimate treatment is like dressing up in a geek costume and hanging a "Kick Me" sign on your back. There's no way to do it well.

"Better to let someone who can be 'the new guy' come in, and then go do something that can be "new" yourself…"
But just in case anyone had any doubts…
I like Mark.

— Kurt Busiek Resists (@KurtBusiek) April 9, 2018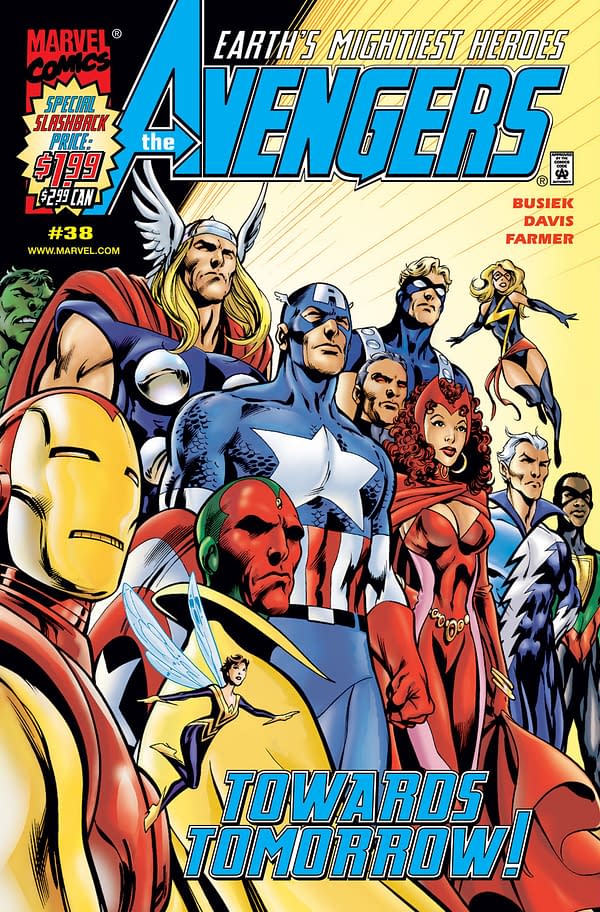 Enjoyed this article? Share it!