Kyle Baker's Plastic Man: Rubber Banded Actually Has A Rubber Band
Kyle Baker and Scott Morse had a critically-acclaimed and Eisner and Harvey award-winning run on Plastic Man back in 2004. It is now being collected in a DC Deluxe hardcover edition, but the planned collection is getting an unexpected upgrade before publication. And now Plastic Man: Rubber Banded – Deluxe Edition is getting another FOC date in a couple of weeks for retailers to order, alongside the news that it will ship with a specially designed rubber band holding it closed, patterned on Plastic Man's belt.
The "belly band" measures two inches high and 0.05 inches thick, which is hardly anything at all. But it will stop all the mad ideas that Kyle Baker crammed into two years worth of storytelling from escaping and infecting inferior comic book collections on neighbouring shelves. Consider it a form of social distancing.
Plastic Man: Rubber Banded — The Deluxe Edition is on Final Order Cut-off on July 20th with an on-sale date of October 20th. And these days its better to pay with plastic as well, just to be on the safe side, right?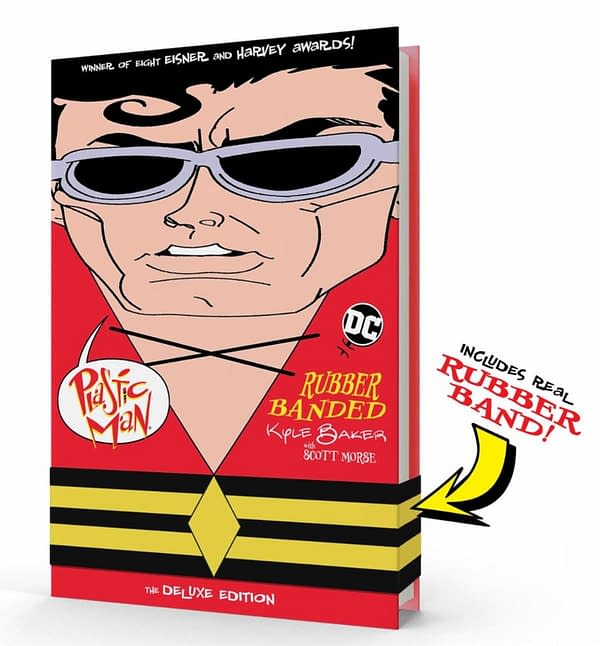 Might this catch on with other superheroic belts being repurposed by DC Comics in this fashion? I
PLASTIC MAN RUBBER BANDED DLX ED HC
DC COMICS
MAR200664
(W) Kyle Baker, Scott Morse (A) Scott Morse (A/CA) Kyle Baker
In this title that collects Plastic Man's 2004 series in its entirety for the first time, Plastic Man must come to terms with his criminal past when the FBI assigns him to catch his underworld alter ego, Eel O'Brian. Can Plas clear his name? Maybe, with the help of his beautiful, ruthless new partner, FBI Agent Morgan. Or maybe not, thanks to the completely useless help of his old crime-fighting sidekick, Woozy Winks. Collects Plastic Man #1-20.