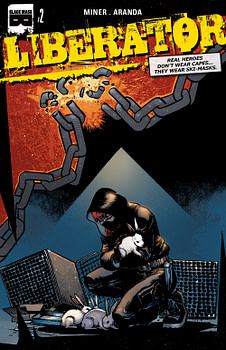 By Hannah Means-Shannon
I've gradually become acquainted with the guys behind Black Mask Studios (co-founders include Matt Pizzolo, Steve Niles, and Brett Gurewitz) through helping edit the Alan Moore essay currently running in Occupy Comics #1-3, though with a growing team of comics creators working on their line-up, it's a big enough group that I haven't met all the interesting folks producing Ballistic, Twelve Reasons to Die, and now, Liberator. Black Mask was founded to act as a distribution route for Occupy Comics itself, and its wider array of comics have moved from Kickstarter to production with a heavily creator-owned emphasis. The comics all have something of an idealistic motivation behind them; they deal with topics that more mainstream comics are unlikely or unwilling to touch, and as such, they convey some of the "punk" ethos behind Gurewitz's Epitaph Records. In short, they want to pose a challenge to the status quo in comics, both in story content and art.
Liberator is a particularly strong example of a cause-driven comic, striving to bring attention to the animal rights movement. But it's not a pamphlet or a simple cry for social change. It's a story-driven work, meant to engage, question, and entertain, and perhaps, lastly, to make a statement in a way that a manifesto would not be capable of doing. By involving the reader in the story, by portraying animal suffering directly, it creates an experience rather than drawing attention to an idea, and suggests that keeping things simple, and refraining from plugging only one method of enacting change, is the best way to speak to the reality of the problem itself.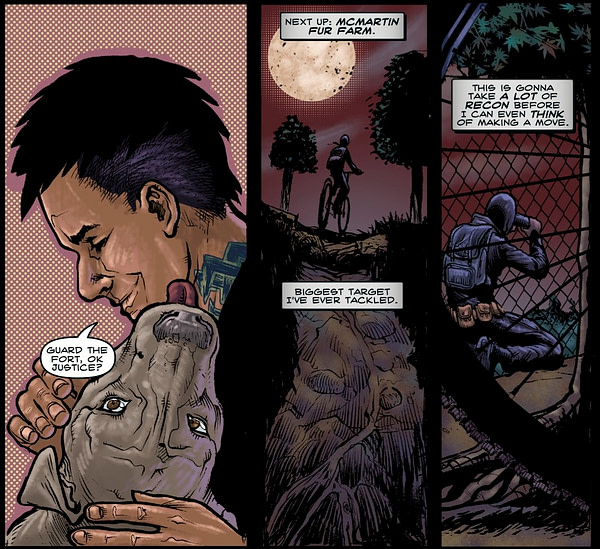 Written by Matt Miner, Liberator follows the life of animal rights vigilante by night, coffee shop barista by day, Damon Guerrero, whose life is far from perfect. In fact, it's downright confusing and frustrating. In issue #1 we meet Damon through his first-person narrative of his cause and mission as he frees fighting dogs and lights up a compound so that he can "sleep" at night. Then, Clark Kent-like, he gets routinely bullied at work and scrapes through the daylight hours. What makes Damon interesting is that he speaks in nearly super-heroic terms about his mission in life but then flips into a more ordinary mode where he questions closely the different approaches to animal rights activism, such as his friend Jeanette's constant protest visibility and arrest record. He critiques these modes of making oneself heard and the reader can sympathize with his decision to take things into his own hands, even as we might question the danger he's putting himself in by going so far outside the law.
Issue #2, out this week, is, however, more than just the next instalment of the story. In many ways it's a call to readers who haven't picked up the story yet to rectify that and get on board. There are two main features recommending issue #2 to readers. Firstly, the artwork in issue #1, by Javier Sanchez Aranda, is highly original in style, loaded with detail and rich colors, but it is also finding its way in creating a new comic world. Issue #2 represents a noticeably confident shift into full gear when it comes to the art of Liberator. Things come together in a way that tightens up the visual storytelling. More panels make a strong statement and stick in the memory, and action gets more iconic. The overall effect is that the comic is becoming something to be reckoned with as the art and the narrative reach a kind of highly charged balance.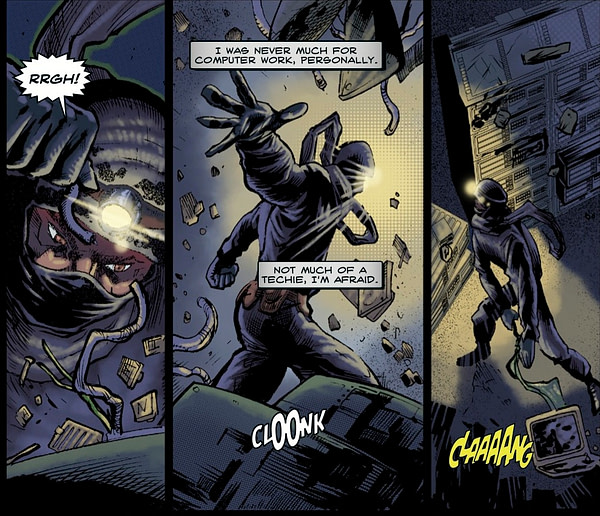 Secondly, and this is related to the first point about developments in Aranda's art, the story becomes more complex and risky in an already risky scenario. What could be more risky than a young vigilante bringing his passion to life through rescuing abused animals in increasingly destructive statements against abusers? Well, how about adding a second vigilante to that equation? Damon finds himself lured into alliance, and has to determine whether his previous policy of working alone, which has indeed kept him safe so far, is one that he should really compromise. And if he does wade more deeply into confederation, what kinds of risks is he willing to take for others? This amplifies his already questioning attitude about what methods are effective to try to bring about change, and whether he wants to be a "martyr" for the cause like so many others rather than chalking up the minor, but more personally meaningful victories of each rescue. Issue #2 becomes more psychological, but also more action-driven and both serve the story very well.
Issue #2 confirms that Liberator is going to carry its own structure through the established arc without any signs of wearing thin. It's actually going to escalate in intensity instead of laboring under the weight of the challenging concepts its handling and exploring. That's the evidence that a "cause" comic has gone beyond a simple object lesson and become significant storytelling. Liberator was already an ambitious project with plenty of heart, but when you add demonstrable skill to the comic itself, then you have a strong contender for making waves in comics. The second issue is one to check out, and the series is one to follow as one of the most original voices taking a stand among creator-owned comics, and reminding us again that comics can, indeed, tell any kind of story that creators want to tell and that readers want to read
.Liberator is written by Matt Miner, Pencils/Inks are by Javier Sanchez Aranda,
Colors are by Joaquin Pereyra, and Letters/Editing are by Vito Delsante. Cover art is by Yildiray Cinar, with colors by Rod Reis. It is published by Black Mask Studios.

Hannah Means-Shannon writes and blogs about comics for TRIP CITY and Sequart.org and is currently working on books about Neil Gaiman and Alan Moore for Sequart. She is @hannahmenzies on Twitter and hannahmenziesblog on WordPress. Find her bio here.