[rwp_box id="0"]
When Wolverine first appeared in The Incredible Hulk, he looked like this.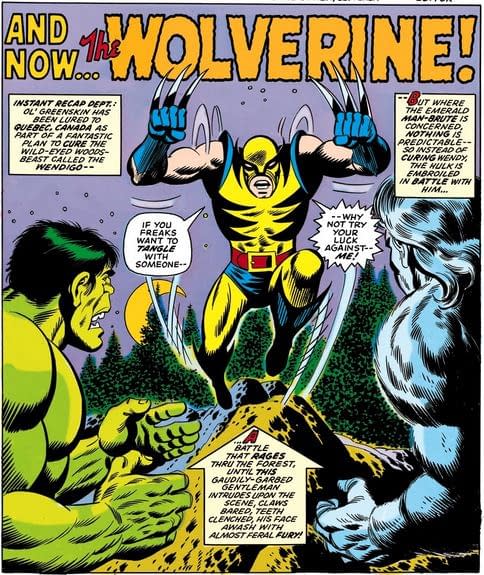 He really got the Hulk and Wendigo's attention then. But why did he look that way? Well, the colours were the same as the University of Michigan's Wolverines team colours.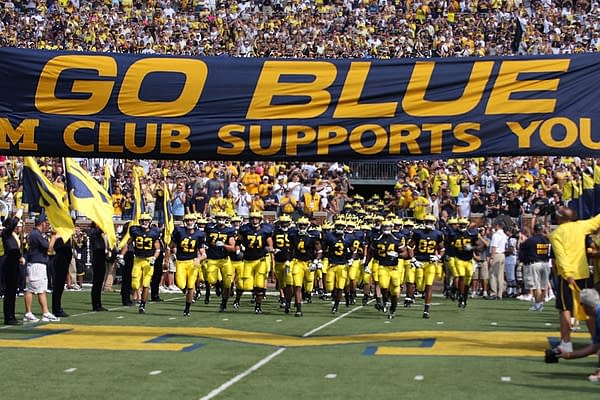 But in The Return of Wolverine #1 published on Wednesday, we get a new explanation. Now, beware the comic book has hallucinations within dream sequences within impossible events, with all manner of narrators, so what exactly happens in the comic is up for debate. And an amnesiac Wolverine has little to judge anything by. So we get to hear all about the bad guys and their Syndrome-like plans.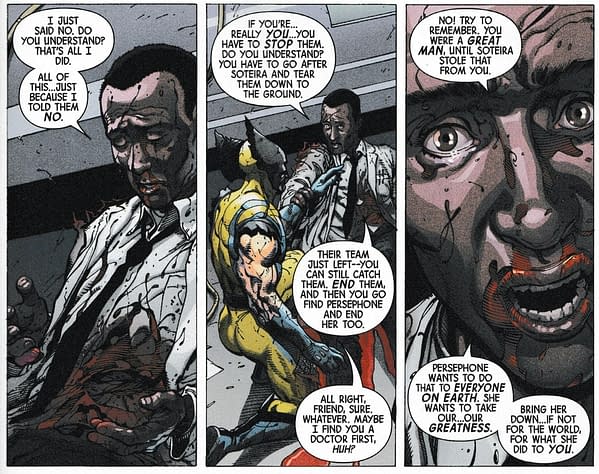 As Wolverine has repeated flashbacks, laying out signs of a life that he must have lived, sometime…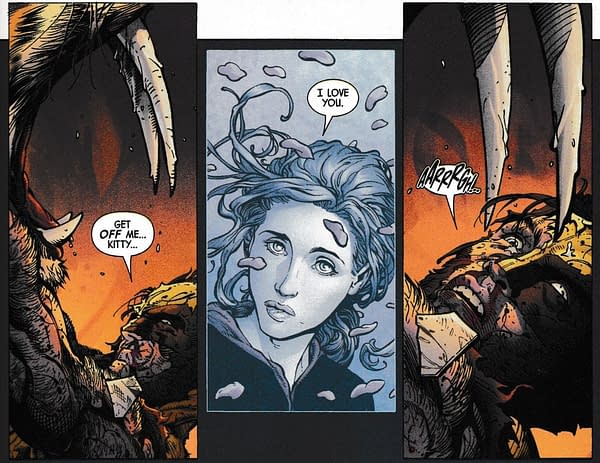 And actually meeting the previously teased Persephone and getting some forewarning about the mental state her company Soteira has seemingly put him in.
But even if Wolverine has forgotten exactly who he is, there are people there to remind him and give him context to try a piece everything together.
Including why his original suit was blue and yellow.
To emulate the Weaver Bird and their distracting ways.
Works on Hulks and Wendigoes too. Fashion tips aside, the comic allows Wolverine to run through his own head, with the reader knowing far more than he does – but not knowing everything about where he is now, or what is going on with him. More than anything it harkens back to those Weapon X stories from Marvel Comics Presents, with Wolverine once again the subject of the machinations of corporate science with unknown people wanting to use him for unknown reasons. Especially as artist Steve McNiven and Jay Leisten are doing their level best to emulate the comic book style of Weapon X writer/artist Barry Windsor-Smith. It's the true elephant in the room in this book, as frankly BWS deserves some kind of royalty from this 'tribute'. It pervades every page, every panel as the piece together just who this Wolverine is.
And the impact of Wolverine returning is nothing near as big as, say the Fantastic Four return. We have had Wolverine in Old Man Logan throughout and there hasn't been an occasion where he wouldn't fit in as well as the original Logan. So the insistence by the comic book that this matters, that his life matters and his return is a big thing, may fall flat. Wolverine never really went anywhere – and he doesn't seem to here. He doesn't even get the hot claws we had been promised beyond an opening page.
But it is a very pretty book, if you like BWS. In fact it may dazzle and distract, just like those Weaver birds…
Return Of Wolverine by Charles Soule, Steve McNiven, Jay Leisten and Laura Martin is published on Wednesday. Here's a preview.
RETURN OF WOLVERINE #1 (OF 5)
(W) Charles Soule (A/CA) Steve McNiven
HE'S BACK, BUB.
Parental Advisory In Shops: Sep 19, 2018
SRP: $4.99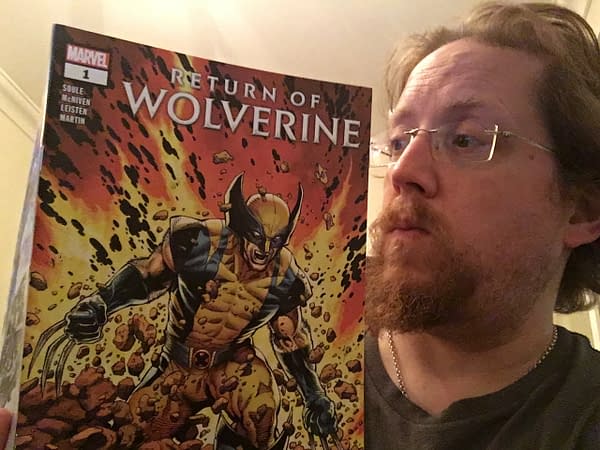 [rwp_box id="0"]
[rwp_reviewer_rating_stars id="0"]
Enjoyed this article? Share it!