WARNING: That Major X-Men Wedding Spoiler, Revealed in Full
A certain comic book out on Wednesday has been hitting the spoiler internet. On the basis that as a result it is quite likely that no retailer has ordered enough copies of X-Men Gold #30, Bleeding Cool is about to spoil the hell out of that issue even more. Basically, we want to give you a chance to secure a copy from your retailer ahead of everyone else who hasn't read Bleeding Cool.
What happens is that will get more spoilerific until we go down. Stop when you feel you've had enough. Can we also ask that you choose not to share images or details further without similar spoiler warnings? There are boards full of spoilers, dedicated to them — keep them isolated there. I mean, once the mainstream news runs it tomorrow, it will be harder to avoid — but not impossible. Good luck and thank you. We start with a visitor. Where is Wolverine? Well, he's not at your wedding, Kitty. Is this the big spoiler? The big return of Wolverine? Is that it?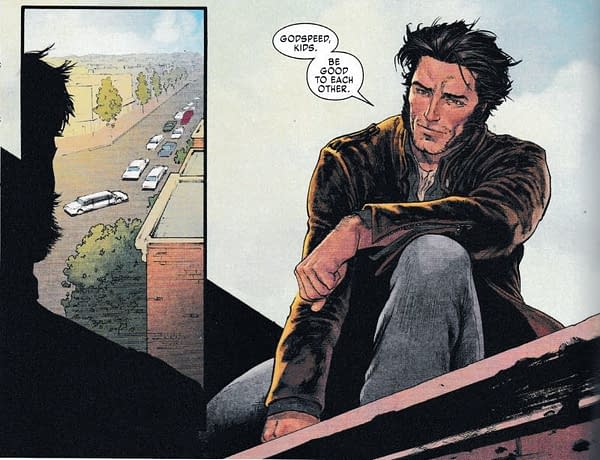 No. So, Kitty Pryde and Colossus are getting married. And it has given Kurt Wagner the idea to make an honest woman out of Rachel. Phoenix. Prestige. Hound.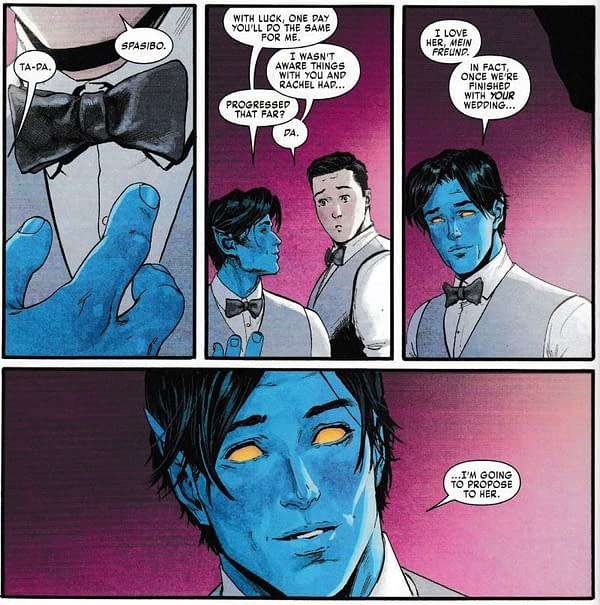 So is that it? A double wedding? Kitty and Kurt and Rachel and Piotr, a right royal Excalibur wedding?
No. Yes, another warning. Why? Because not only do you not get a Kurt/Rachel double wedding with Kitty and Piotr, you don't get a Kitty/Piotr wedding at all. You can discover why yourself, but I totally blame Illyana. And now for another warning. Your last. Seriously, back out now… Okay, fine, why not. At least we didn't run it on the headline, unlike what the New York Daily News probably will go with.
Instead, we get a certain Gambit… talking at a certain non-wedding… to a certain Storm…
…and thinking about a certain person. And then everyone who watched those X-Men cartoons in the nineties, or read those Jim Lee X-Men comics — and Andy Kubert comics when Lee went away, will suddenly come over all funny…
We have met you, Remy Etienne Lebeau, Gambit, and we have also met you, Anna Marie, Rogue, and hey you're at a wedding, you've been drinking a little… why not? I mean, it's a terrible thing to do to Kitty and Piotr, but…
Oh, that's cool, they're fine with it. So do we have an answer? What about vows?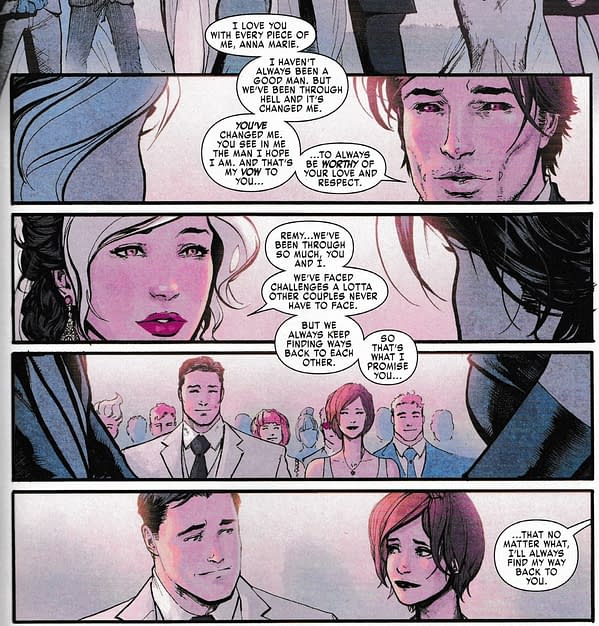 In the words of Jim Bowen, Kitty and Piotr, look what you could have won… and for Remy and Anna Marie, the future awaits.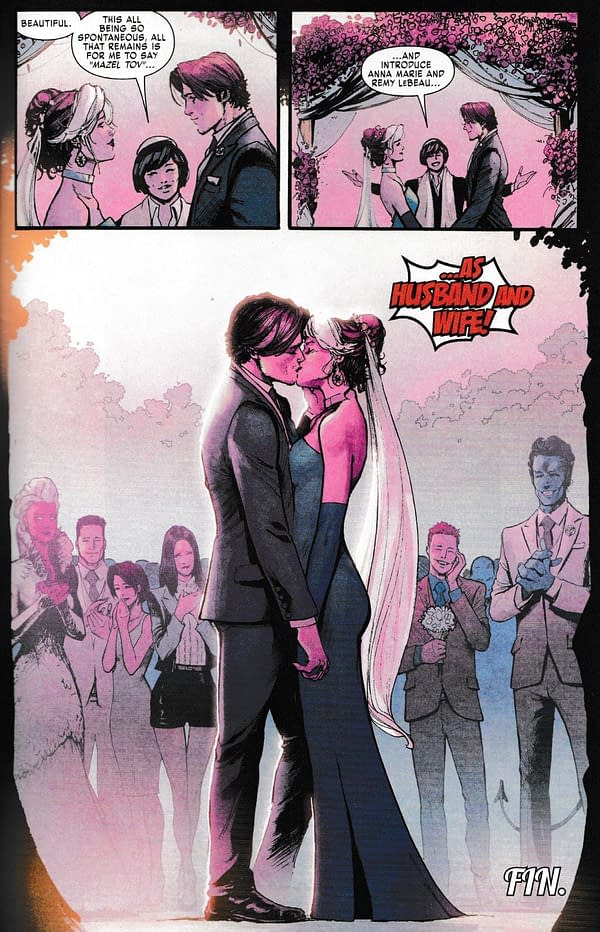 And that's it, but not quite.
Because remember that X-Classified series that Marvel has been teasing? That Bleeding Cool revealed was actually called Mr & Mrs X? That would be by Kelly Thompson and Oscar Bazaldua? And that wouldn't have a Mr & Mrs Rasputin because that just wasn't going to happen?
Well. From the writer of the acclaimed Rogue & Gambit…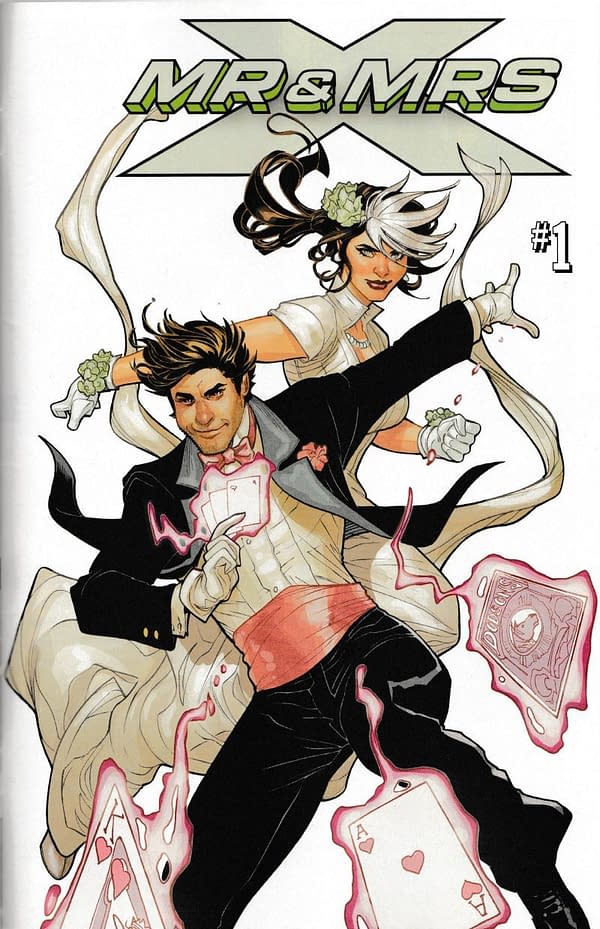 Mr & Mrs X, a new comic book featuring the married adventures of Rogue and Gambit. Let's have the rewritten solicits for the first three issues..
MR. & MRS. X #1-3 Written by KELLY THOMPSON • Penciled by OSCAR BAZALDUA Covers by TERRY DODSON Issue #1 – VARIANT COVER BY J. SCOTT CAMPBELL Issue #1 – VIRGIN VARIANT COVER BY J. SCOTT CAMPBELL Issue #1 – VARIANT COVER BY HUMBERTO RAMOS Issue #1 – VARIANT COVER BY SKOTTIE YOUNG Issue #2 – VARIANT COVER BY JEN BARTEL Issue #3 – VARIANT COVER BY PHIL NOTO

ALL-NEW ONGOING SERIES BEGINS THIS JULY!

To the surprise of everyone, the Marvel Universe's hottest couple has tied the knot! But there's no time to enjoy wedded bliss when ROGUE and GAMBIT find themselves tasked with protecting a mysterious package that just about everyone in the galaxy is trying to steal. What secrets does this package hold that everyone from the Imperial Guard and the Starjammers to Technet and Deathbird (with an entire Shi'ar rebellion in tow!) will risk everything for?! Perhaps more importantly, is there anything worse than DEADPOOL crashing your honeymoon? 32 PGS.(EACH)/Rated T+ …$3.99 (EACH)

NOTE:This title was previously listed as X-Classified in Marvel Previews. Retailers, please check the Marvel Mailer for more details!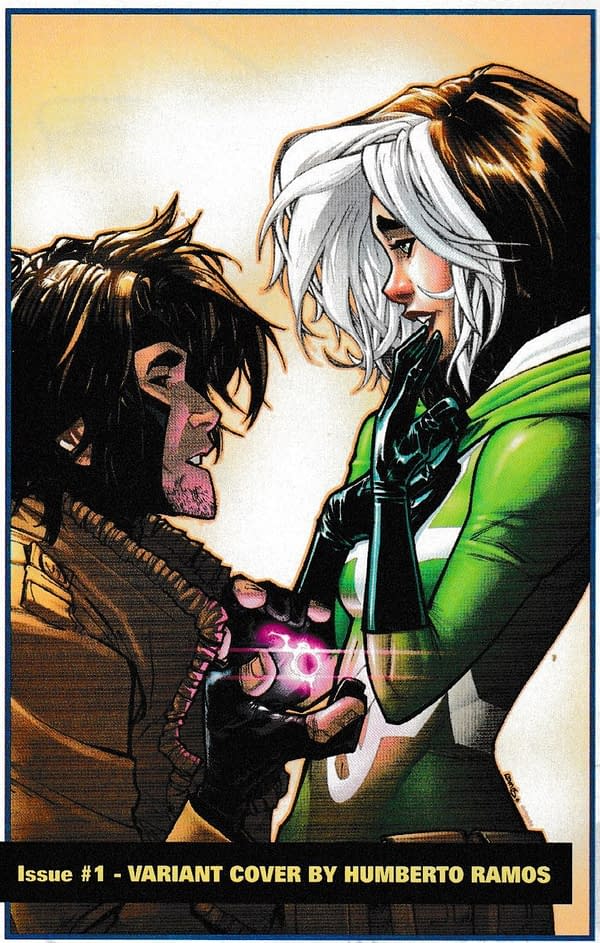 That's right, derring do, heisty, space stuff and the golden couple of the '90s. Finally tying the knot and proving that, yes, you can do entertaining superhero comics with married couples. Maybe Mystique should take note…
Have you stopped screaming yet?
Oh, and we're not just finishing with the covers. In for a penny, in for a pound, why not get some pages from July's first issue to drool over?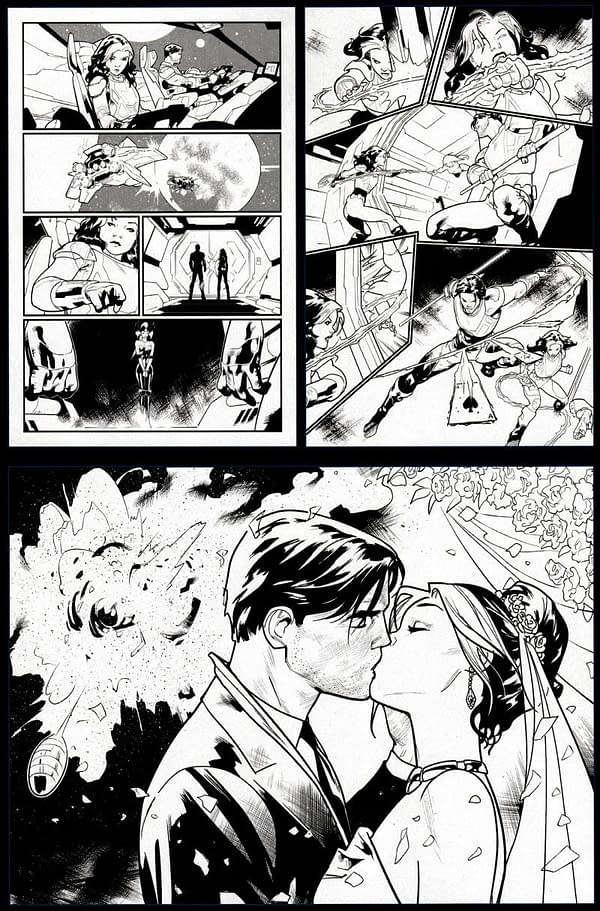 Forgotten Kitty and Piotr? So had we… you'll have to wait for the subsequent issue for that one…