Marauders #5 is the Wolverine's Weiner X-Pick of the Week for January 1st, 2020
Last week saw just two X-books hit the stands: X-Men #4 and Marauders #5. When the flagship X-Men comic goes head to head with everyone's beloved Kate Pryde bender book, which will come out the winner? Find out below!
---
Sworn to sell comics for Marvel executives who feared and hated the fact that Fox owned their movie rights, The Uncanny X-Men suffered great indignities, but thanks to a corporate merger and a line-wide relaunch, the X-Men can finally get back to doing what they do best: being objectively the best franchise in all of comics.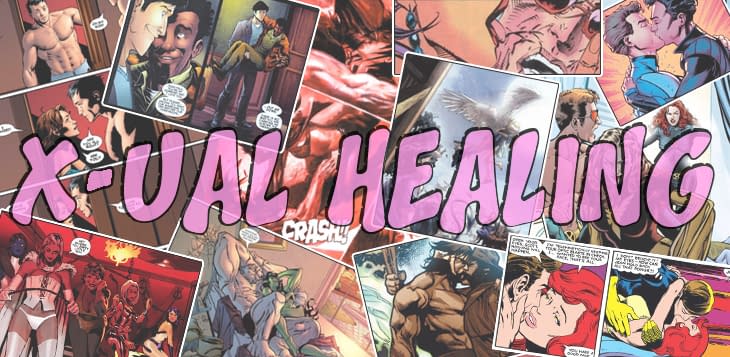 ---
Wolverine's Weiner X-Pick of the Week
This week, I recapped two X-Books: X-Men #4 and Marauders #5. Here's what we said about them:
---
X-MEN #4 DX
OCT190906
(W) Jonathan Hickman (A/CA) Leinil Francis Yu
The Krakoan leaders attend and economic forum to show the humans what real power looks like
Rated T+
In Shops: Jan 01, 2020
SRP: $3.99
This issue really served to spell out the Krakoan agenda as well as anything. Magneto's diatribe about turning all of humanity's economic and social tools against them was badass, even if Magneto was chewing his food the entire time he was talking, which is gross. Xavier and friends are very confident, though you know what they say: pride goeth before a fall. This is one of those issues where, yeah, it was fun to read, but did this one scene really require an entire issue? It surely could have been accomplished in a few pages, but comic book creators these days seem to think they're making prestige television rather than comic books that cost $4 a pop and take a month until the next episode. As storytelling in another format, the issue was great, but I feel that this sort of thing fails to live up to the potential of the comics medium. It could have easily been the storyboards for an episode of a television show. Sure, you can pretend your comic is a television show, anyone can do that. But a television show can't be a comic. Play to comics unique strengths and get rid of the excessive decompression, for chrissakes.
Of course, I understand I'm yelling at clouds here as this is just how comics are done these days. I hope Hickman does get to pursue his TV writing career after he's done with all this though, it will probably make him very happy.
The bottom line: the issue was enjoyable, an effective character study of Xavier, Magneto, and Apocalypse, and packed with clever dialogue, but decompression is one of my pet peeves and also a fact of life in comics today, so my ranting about it is probably pointless.
---
MARAUDERS #5 DX
AUG198991
(W) Gerry Duggan (A) Matteo Lolli (CA) Russell Dauterman
The Marauders are caught between the forces of Madripoor and the Black King's machinations! Thankfully, they have TWO Omega Level mutants onboard…
Rated T+
In Shops: Jan 01, 2020
SRP: $3.99
Marauders has been a good book from the start, but it's really hitting its stride now that all the characters are positioned. A lot of ground was covered in this issue, quite a few characters got their time to shine, and we're starting to see all of the backstabbing and plotting bear fruit just five issues in. This is largely because Marauders and some of the other supporting X-books like Excalibur make full use of the comics medium, which is in contrast to Hickman's core X-book work, which is paced like a slow-moving prestige television show and takes forever to get to any point. Another way Marauders differs from the core title is that Hickman has spent sixteen issues in HoXPoX and X-Men using the characters to establish his grand premise, while Marauders explores how that premise has affected its misfit cast, how they're reacting to it, and what they're doing to control their own narratives in this strange new world. One could argue that the latter wouldn't be possible without the former, but either way, I really enjoy the latter a lot more.
Of course, at risk of sounding like an old man yelling at clouds (again), I could point out that, back in the day, all of this stuff would have been combined into one single title so that readers get a little bit of everything, rather than needing to read a line of six or more ongoing series just to get the full range of story a single title use to provide, but you've probably gotten the point on how I feel about that by now, right?
---
After careful consideration of all the details, I decided that Marauders #5 was the X-Men comic which provided the feeling closest to a belly full of tubed meat grilled by a hairy Canadian with adamantium claws on a hot Summer day. Congratulations to the creative team for becoming the Wolverine's Weiner X-Pick of the Week.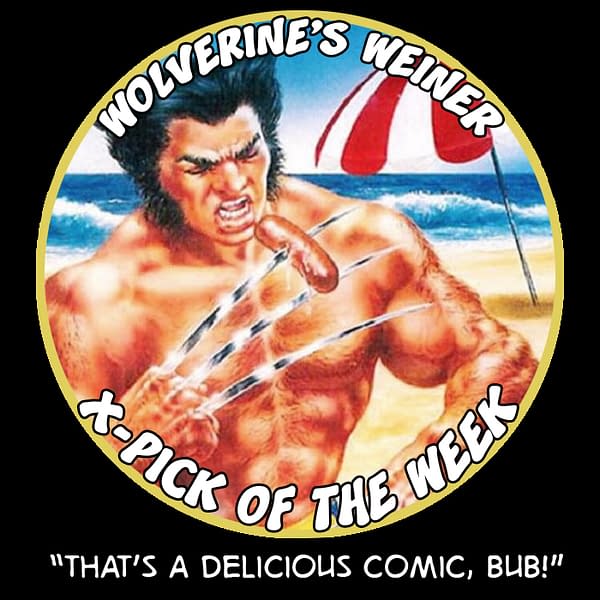 Past weiner winners:
12/25/2019: No X-Books
01/1/2020: Marauders #5
---
That's all for last week's books… but soon we'll be revealing the Wolverine's Weiner X-Picks of the Year for 2019, celebrating the best and worst (but mostly the worst) in X-Men comics for 2019. See you then!
Read more X-ual Healing here: