Marie Lu to Adapt Her Own Batman Novel, Nightwalker, as a Graphic Novel
At the American Library Association meet for the launch of the DC Ink and DC Zoom line for younger readers, for the Young Adult Zoom line, they announced that Marie Lu would be adapting her own Batman: Nightwalker novel as a graphic novel for November next year.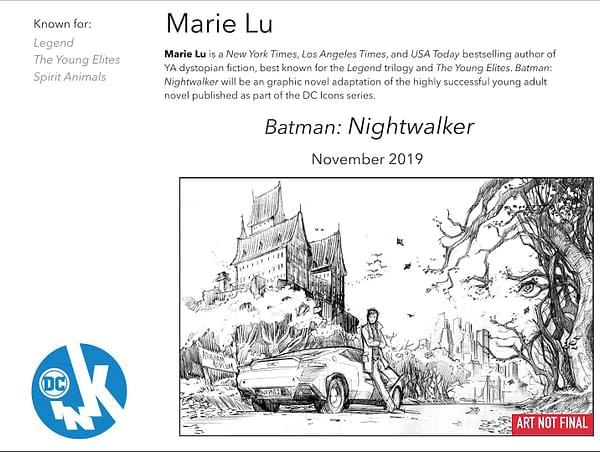 Here's the listing:
Before he was Batman, he was Bruce Wayne. A reckless boy willing to break the rules for a girl who may be his worst enemy.

The Nightwalkers are terrorizing Gotham City, and Bruce Wayne is next on their list.
The city's elites are being taken out one by one as their mansions' security systems turn against them, trapping them like prey. Meanwhile, Bruce is about to become eighteen and inherit his family's fortune, not to mention the keys to Wayne Industries and all the tech gadgetry that he loves. But on the way home from his birthday party, he makes an impulsive choice and is sentenced to community service at Arkham Asylum, the infamous prison that holds the city's most nefarious criminals.

Madeleine Wallace is a brilliant killer . . . and Bruce's only hope.
The most intriguing inmate in Arkham is Madeleine, a brilliant girl with ties to the Nightwalkers. A girl who will only speak to Bruce. She is the mystery he must unravel, but is he convincing her to divulge her secrets, or is he feeding her the information she needs to bring Gotham City to its knees?

In this second DC Icons book–following Leigh Bardugo's Wonder Woman: Warbringer–Bruce Wayne is proof that you don't need superpowers to be a super hero, but can he survive this game of tense intrigue, pulse-pounding action, and masterful deception?
To get more details on these announcements, check out the ASA category tag.