Marvel Comics Presents: The Time Namor Got Political About Pollution in 1989
Marvel Comics' January solicitations bring with them some of the best news we've heard in a long time: the long-awaited return of Marvel Comics Presents! The fondly-remembered anthology series, which ran from 1988 to 1995, was published bi-weekly and featured four stories, some serialized and some one-shots, from a mixture of current Marvel creators, brand new creators, and older veterans, and at its best, Marvel Comics Presents allowed Marvel to take some chances on stories a little more offbeat than those featured in their regular titles.
Such was the case with Dying in Paradise, a story featured in Marvel Comics Presents #33. Written by Don MacGregor, with pencils by Jim Lee, inks by Christopher Ivy, and colors by Marsha McGregor, the story is completely silent, with no captions, speech, or sound effects. And contrary to some nonsensical online arguments that comics from the 1980s didn't feature blatant political messages, this wordless story makes a big statement about environmentalism.
It begins with the King of Atlantis merrily frolicking throughout a scenic natural landscape in nothing but his bracelets and his tight green speedo — Imperius Rex! It's a lovely day until Namor's winged feet touch down right in the nasty nasty.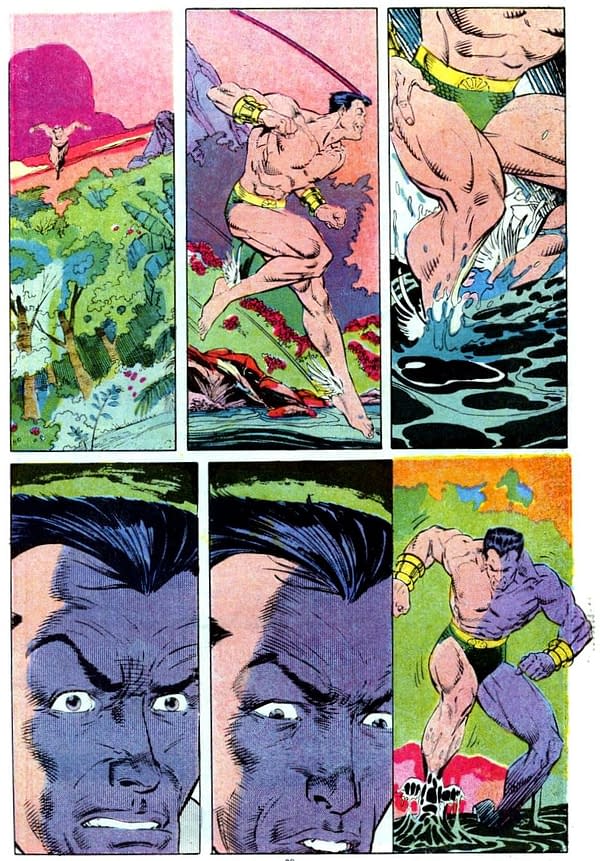 Oh no! The water is polluted with a thick black yuck! Displeased, Namor discovers that a nearby factory is causing the pollution. He sees a bird in distress and rescues it, even though it's not one of Namor's own creatures of the seas.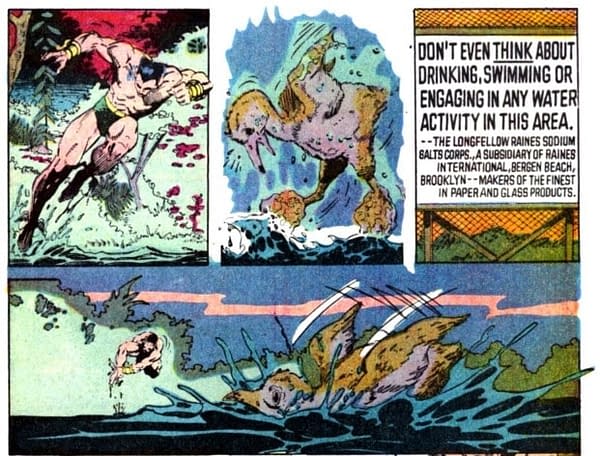 Heading up for an aerial view, Namor witnesses the scope of the pollution's damage to the river, which extends into the horizon.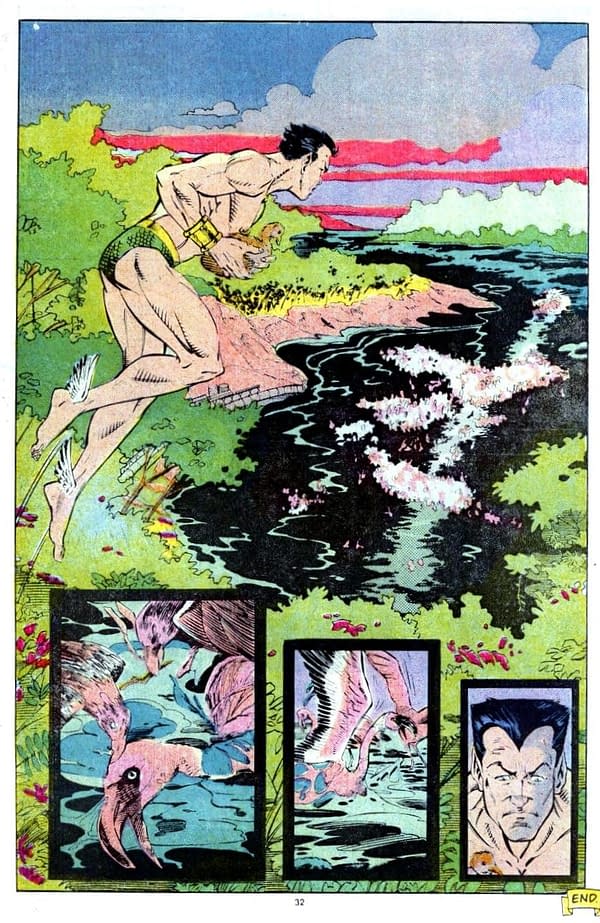 This story published in November of 1989, following the Exxon Valdez oil spill that took place earlier that year, as well as the more directly similar to the one depicted Ashland oil spill of 1988, which polluted the Monongahela River in Pennsylvania. One of the biggest oil spills in history had occurred in the Gulf of Mexico in 1980. So the story was directly relevant to current events of its time, and still today, if one considers that oil spills still routinely occur amidst other environmental concerns. Namor's expressions of anger and sadness at the effect of business on the environment was a clear political stance, taken in Marvel Comics Presents, back in the 80s.
Can we expect the same thing from the series when it returns next year?
The new Marvel Comics Presents hits stores in January.
MARVEL COMICS PRESENTS #1
CHARLES SOULE, ANN NOCENTI, GREG PAK (W) • PAULO SIQUEIRA, TOMM COKER & MORE (A)
COVER BY ARTHUR ADAMS & FEDERICO BLEE
VARIANT COVER BY RON LIM
VARIANT COVER BY MARCOS MARTIN
HIDDEN GEM VARIANT COVER BY ADI GRANOV
VARIANT COVER BY TBA
THE CLASSIC MARVEL SERIES RETURNS FOR MARVEL'S 80th ANNIVERSARY!
Three titanic tales celebrating the first decade of Marvel stories! First — an all-new tale of the man they call the Wolverine begins in the 1940s! Then comes Captain America, the first Avenger of World War II still fighting for freedom today! And finally, the untold tale of Namor and the atom bomb!
40 PGS./Rated T+ …$4.99