Marvel Comics' January solicitations bring with them some of the best news we've heard in a long time: the long-awaited return of Marvel Comics Presents! The fondly-remembered anthology series, which ran from 1988 to 1995, was published bi-weekly and featured four stories, some serialized and some one-shots, from a mixture of current Marvel creators, brand new creators, and older veterans, and at its best, Marvel Comics Presents allowed Marvel to take some chances on stories a little more offbeat than those featured in their regular titles.
In previous installments, we've seen Namor get political about pollution, Spider-Man take a fall for animal rights, and Marvel mock a beloved Republican president. But for this next story, published in Marvel Comics Presents #42, Marvel had some political statements to make in the context of the final year of Margaret Thatcher's reign as Prime Minister and leader of the Conservative party in the United Kingdom. Called The Establishment, this story was written by Fabian Nicieza with art by Kieron Dwyer and letters by Diana Albers.
The story stars Union Jack, with Joey Chapman under the mask. Unlike the previous Union Jacks, Chapman is a working class hero, and this story makes that clear as Chapman kicks things off by getting in the middle of a confrontation between the police and some street punks vandalizing a castle. But Union Jack doesn't help capture the vandals. Instead, he assaults the police and lets them get away.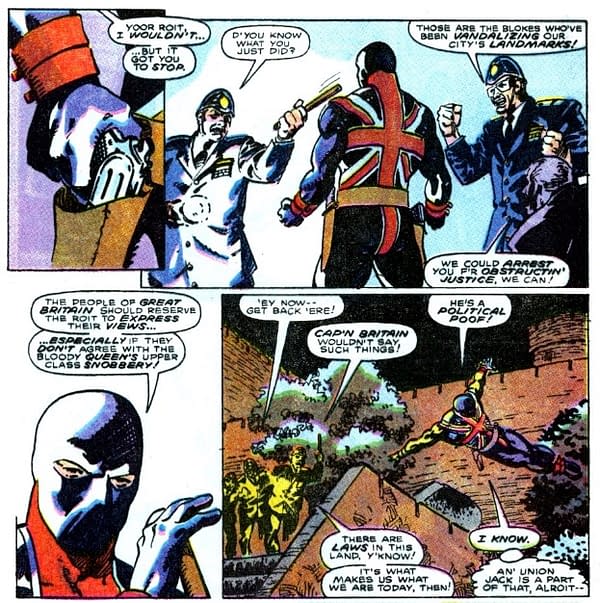 Did Union Jack just call Captain Britain a "political poof?" Yikes!
Union Jack also doesn't mince words when it comes to his motivations. It isn't that he doesn't respect the flag he wears on his costume. In fact, he feels that the right to protest and resist is the very essence of patriotism. Plus, he's no fan of Thatcher.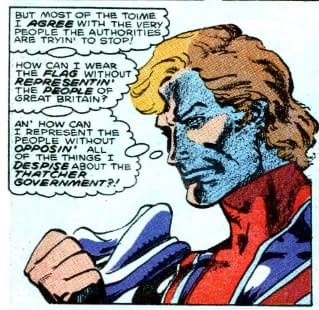 We later learn that those same vandals are actually Union Jack's drinking buddies. But when he learns that they plan to deface the home of the deceased Falsworths, the previous Union Jacks, Chapman decides that he does draw the line when the target isn't just the Tories.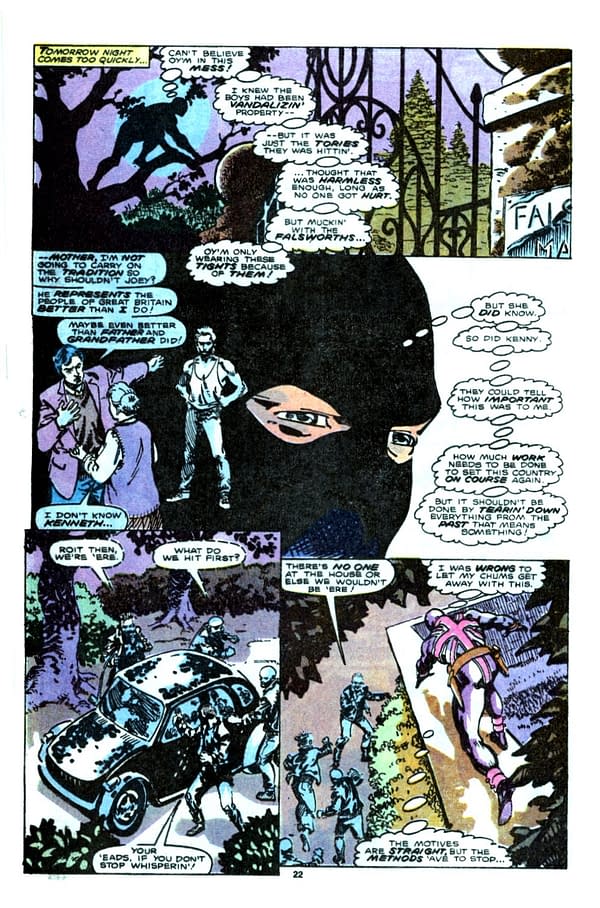 While Chapman advocates resistance against Thatcher's government, he does draw the line somewhere before complete anarchy. As Chapman struggles with his own internal conflict, this story gets more complicated than the previous three we've covered.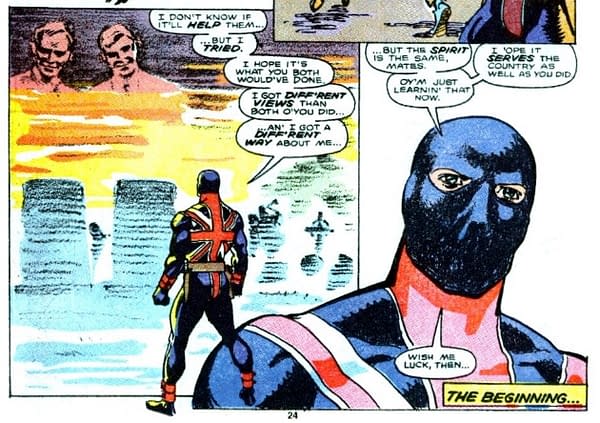 Some feel that comic books have gotten more political these days, but even back in the glory days of 1990, Marvel clearly wasn't afraid to explore political issues in depth in a story explicitly designed for that purpose. Also, Fabian Nicieza writes Joey Chapman's accent the exact same way we write Rich Johnston's.
Can we expect the same thing from the series when it returns next year? The politics, not the accent, we mean.
The new Marvel Comics Presents hits stores in January.
MARVEL COMICS PRESENTS #1
CHARLES SOULE, ANN NOCENTI, GREG PAK (W) • PAULO SIQUEIRA, TOMM COKER & MORE (A)
COVER BY ARTHUR ADAMS & FEDERICO BLEE
VARIANT COVER BY RON LIM
VARIANT COVER BY MARCOS MARTIN
HIDDEN GEM VARIANT COVER BY ADI GRANOV
VARIANT COVER BY TBA
THE CLASSIC MARVEL SERIES RETURNS FOR MARVEL'S 80th ANNIVERSARY!
Three titanic tales celebrating the first decade of Marvel stories! First — an all-new tale of the man they call the Wolverine begins in the 1940s! Then comes Captain America, the first Avenger of World War II still fighting for freedom today! And finally, the untold tale of Namor and the atom bomb!
40 PGS./Rated T+ …$4.99
Enjoyed this article? Share it!