Marvel Comics Very First Superhero, Revealed (Avengers Spoilers)
In this week's Avengers #26, set in the dawn of man, as part of the Avengers 1,000,000 BC storylines, we get to meet the first superhero of Earth, sixty-six million years ago, as a result of the asteroid that hit Earth and wiped out the dinosaurs. Well, almost all the dinosaurs. Because one got lucky and, courtesy of the same asteroid, a Tyrannosaurus Rex became the Star Brand.
Star Brand was created by Jim Shooter and John Romita for the 1986 New Universe series of the same name, published by Marvel Comics, which started as a White Event that changed the world. Set in its own universe, the Star Brand was created as a gift from an alien race, creating a Superman-like superhero but one who was a little more selfish and carefree with his powers. When John Byrne took over, the series, that carefree nature saw him wipe out the entirety of Pittsburgh by mistake, and eventually reveal that the alien story was a lie and that the Starbrand was a self-perpetuating time event, creating itself and indeed the original White Event that gave powers to people on the Earth,
After the New Universe ended after three years, the Star Brand popped up sporadically in the Marvel Universe, such as the series Quasar from DP7 team Mark Gruenwald and Paul Ryan. Then there was a brief trademark-serving revival from Warren Ellis within the Newuniversal series. But it was Jonathan Hickman who revived it most spectacularly in his Avengers run, having both the Star Brand and another New Universe force, the Nightmask, reinterpreted as natural events generated by the Earth – or indeed other planets – as a natural cosmic defense mechanism.
When creating the Avengers 1,000,000 BC team, Jason Aaron also included a Hulk-like Star Brand character, though his origin was not clear. This week's Avengers #26 clears that up. And along the way introduces us to the Marvel Universe's very first superhero. And not the caveman that the solicitations suggest. There is one who came before that.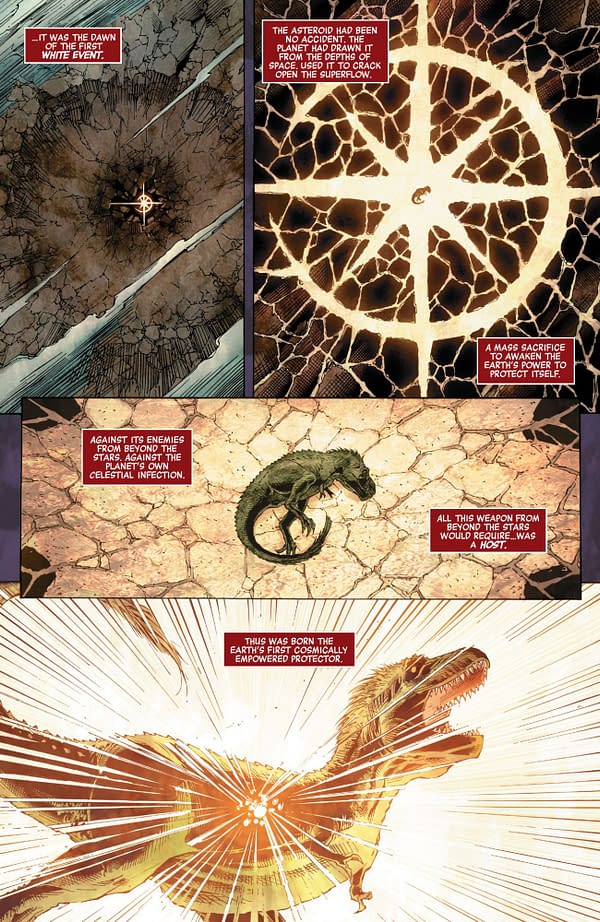 The asteroid crash of sixty-six million years ago is now reinterpreted as a White Event, and giving us a Tyrannosaurus Rex as the first Starbrand and for that matter, the first superhero of the Marvel Universe. Defending the Earth from the Kree.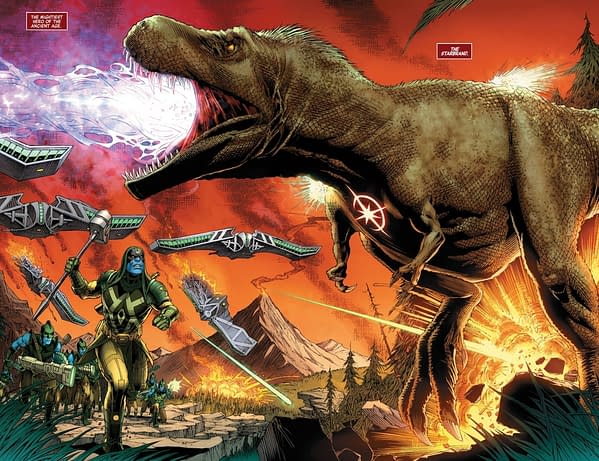 He or she precedes the previously seen members of Avengers 1,000,000 BC by a cool sixty-five million years, as well as the first Inhumans, the Eternals, Deviants and the likes of Moon Boy and Devil Dinosaur. Say, any chance of Moon Girl crossover event to come
AVENGERS #26
(W) Jason Aaron (A/CA) Dale Keown
A PREHISTORIC SAVAGE… WITH THE POWER OF THE STARS!
Legendary artist Dale Keown (The Incredible Hulk) is here to unleash the secret, savage origin of the biggest, nastiest, most cosmically-powered caveman who ever lived: the original Starbrand, one of the mighty Avengers of One Million B.C.
Rated T+ In Shops: Nov 20, 2019 SRP: $3.99