Marvel Comics Vs. Pittsburgh's BLKYLO Black & Yellow Apparel Over Skull Imagery
Anyone trying to register a trademark with a white upper image of a skull, front-on, on a black background, be warned. Marvel lawyers are after you.
Such as BLKYLO, Black & Yellow Apparel, a Pittsburgh clothing company who had a shirt with this image, featuring the Pittsburgh skyline as negative space against the skull's upper teeth.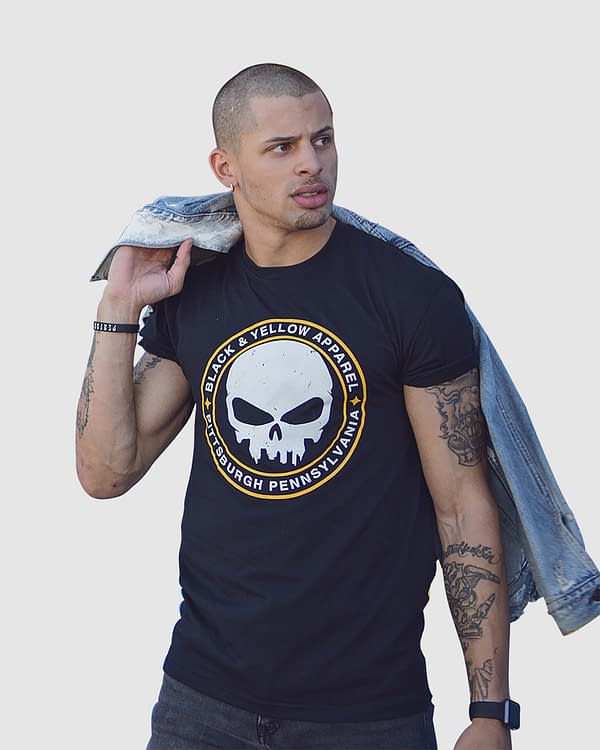 Well, Marvel Comics is objecting to this, specifically on the grounds of its similarity to a certain Punisher logo. Linda K. McLeod of Kelly IP in Washington DC has successfully filed a motion to extend the time period in which to object to the trademark. It has been granted until the 11th of April 2018.
It will be a busy week, in a similar case from last year, Marvel has been given until 3rd and 4th April to oppose other skull trademark registrations from Loyalty Holdings…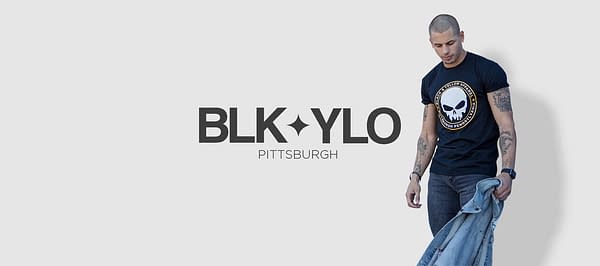 The Punisher was created by writer Gerry Conway and artists John Romita Sr. and Ross Andru, in The Amazing Spider-Man #129 in 1974.
The character is an Italian-American vigilante who employs murder, kidnapping, extortion, coercion, threats of violence, and torture in his campaign against crime. Driven by the deaths of his wife and two children who were killed by the mob for witnessing a killing in New York City's Central Park, the Punisher wages a one-man war on the mob and all criminals and employs the use of various firearms. A war veteran and United States Marine Corps Scout Sniper, Castle is skilled in hand-to-hand combat, guerrilla warfare, and marksmanship.
The Punisher's brutal nature and willingness to kill made him a novel character in mainstream American comic books when he debuted in 1974. By the late 1980s, the Punisher was part of a wave of psychologically-troubled antiheroes. At the height of his popularity, the character was featured in four monthly publications, including The Punisher, The Punisher War Journal, The Punisher War Zone, and The Punisher Armory.
Despite his violent actions and dark nature, the Punisher has enjoyed some mainstream success on television, making guest appearances on Spider-Man: The Animated Series, and The Super Hero Squad Show, where the depiction of his violent behaviour was toned down for family viewers. In feature films, Dolph Lundgren portrayed the Punisher in 1989, as did Thomas Jane in 2004, and Ray Stevenson in 2008. Jon Bernthal portrayed the character in the second season of Marvel's Daredevil as a part of the Marvel Cinematic Universe. Bernthal reprised the role in The Punisher, his own self-titled series for Netflix.
And despite being a critique of violence, he has often been celebrated by those who deal in violence, which has caused some troubling scenes. The Phoenix cosplayer last year who tried to assassinate the TV star Jason David Frank, dressed as the Punisher to do so.